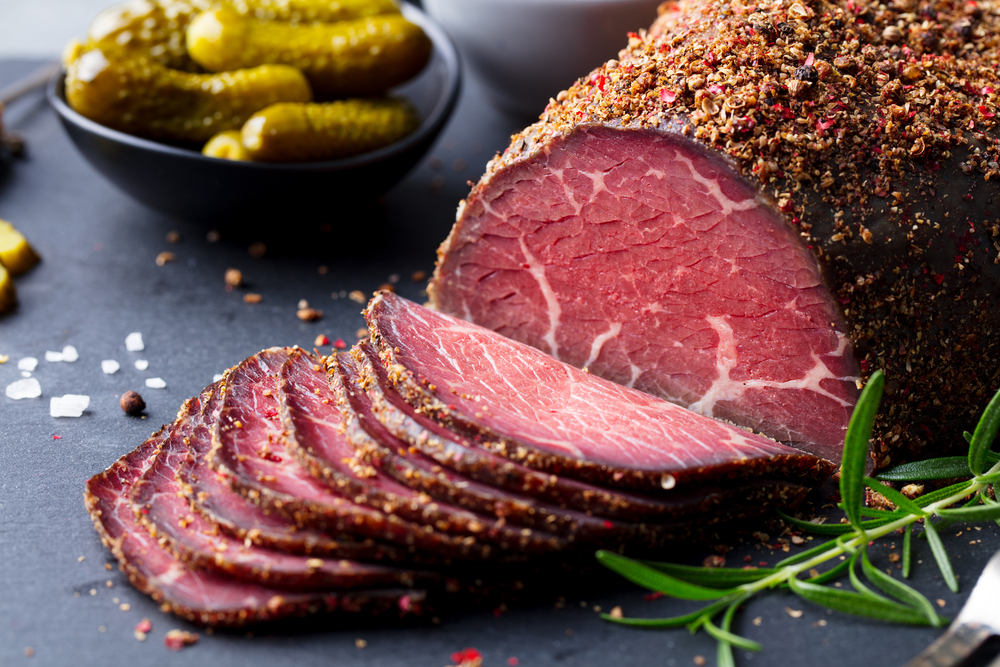 SERVES 4
YOU'LL NEED
1 English cucumber, peeled and cubed
2 ribs celery, chopped
1 roasted red peppers, chopped
1 avocado, peeled, pitted, and medium diced
1 head romaine hearts, chopped
1 pint baby spinach
½ red onion, thinly sliced
3 oz pastrami, cut into one-inch cubes
1 packet Robert Irvine FitCrunch cheddar protein puffs
Red Wine Vinaigrette
1 tbsp Dijon mustard
1 tsp honey
2 tbsp red wine vinegar
4 tbsp grape seed oil
MAKE IT
1. In a blender or a food processor, add red wine vinegar, Dijon mustard, and honey.
2. Turn blender on and slowly incorporate grape seed oil. Once oil is fully incorporated, season with salt and pepper.
3. In a large mixing bowl, add cucumbers, celery, red peppers, and avocado, and dress with red wine vinegar and mix together.
4. Next add romaine, baby spinach, pastrami, and protein puffs and toss well to incorporate. Season with salt and pepper and serve.
THE MACROS
CALORIES: 321
PROTEIN: 14 g
FAT: 23 g
CARBS: 15 g