WHAT IS ROBERT IRVINE LIVE?
While it might seem easy to explain what happens in a show for those who have never experienced it, Robert Irvine LIVE is NOT that kind of show. Much like Robert's TV shows Dinner: Impossible and Restaurant: Impossible, Robert walks into the theater with no knowledge of what he is about to face.
Instead of explaining what the show IS, it is much easier to tell you what the show IS NOT.
ROBERT IRVINE LIVE IS NOT:
A COOKING DEMO
L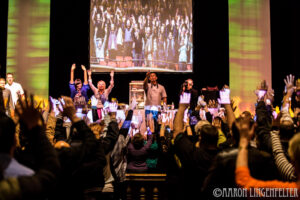 et's be clear: Robert Irvine LIVE is not a cooking demo. Is there cooking? Yes, but don't expect to sit back and watch Robert cook dishes for two hours. This is an interactive culinary experience where YOU are the star of the show, taking part in physical challenges, culinary challenges and more. Cooking is merely the vehicle for a crazy and entertaining ride.
A SCRIPTED EVENT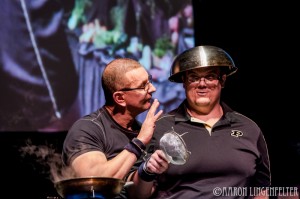 Just like when Robert walks into a restaurant on Restaurant: Impossible, Robert has no idea the challenges he will face when he steps on stage. The producers of the show develop the challenges prior to the event and reveal nothing to Robert in advance. While there are some moments that are designed to keep the show running (and not last until the wee hours of the morning), the vast majority of challenges are unknown to Robert until he receives them on stage. This means that every performance is a new and unique experience.
A "SIT DOWN FOR THE ENTIRE SHOW" PERFORMANCE
Don't expect to come to this show and just sit and watch. This is an opportunity to let loose and have a good time! Expect to stand, yell, dance (yes, dance!) and become part of the action on stage. Every challenge Robert receives will require assistance, and members of the audience serve as his sous chefs and assistants. Whether you are the worst cook in America or a Master Chef, be ready for Robert to call on you to help him complete his challenges.
LIKE ANYTHING YOU HAVE EVER EXPERIENCED
Cooking demos can be great, but they can also be incredibly boring. With Robert Irvine LIVE, we are taking the idea of a cooking show into a completely new realm. We are doing things on stage that have never been done before, where only the live audience on that night will experience them. Get ready to experience the impossible. Get ready to experience Robert Irvine LIVE!
WHAT'S NEW IN ROBERT IRVINE LIVE?
The entire show has been completely revamped in a huge way! The previous version of the show had the producers pick the challenges. In this all new show, the audience chooses the challenges, the ingredients and more! Anything and everything can (and likely will) happen!
The amount of audience involvement has gone up. Way up! Depending on the challenges chosen for the evening, up to 30 people may be called onstage to participate!
All new, never before seen video content has been produced specifically for this show. In between each challenge are videos that include interview footage of Robert retelling experiences from his military service, his shows on Food Network, and his charity work.
From the start to the end, everything in this show is all new and even better than before!