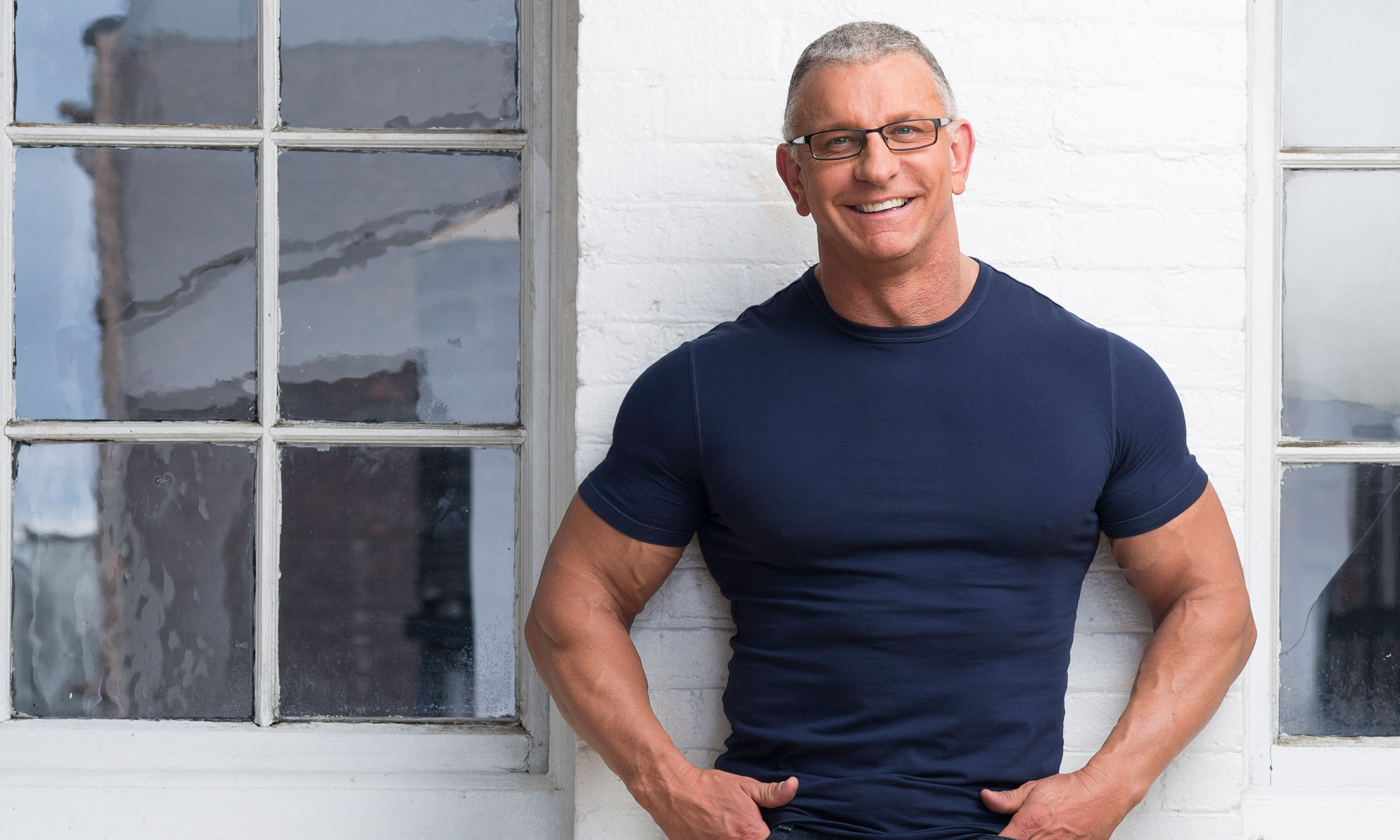 Robert Irvine is a world-class chef and entrepreneur, and a tireless philanthropic supporter of our nation's military. The host of Food Network's hit show Restaurant: Impossible, he has given struggling restaurateurs a second chance to turn their lives and businesses around in over 300 episodes and counting.
He would know a thing or two about running a successful business. In addition to his restaurants—Robert Irvine's Public House at the Tropicana in Las Vegas and Fresh Kitchen by Robert Irvine within the Pentagon—he is the owner of FitCrunch, whose protein bars, powders, and snacks are available nationwide; Robert Irvine Foods, which makes prepared, restaurant-quality dishes available in grocery stores; and the Lansdale, PA-based Boardroom Spirits, creators of handcrafted vodka, rum, whiskey, and more. Two new signature products—Irvine's Vodka and Irvine's American Dry Gin—are in the beginning stages of a nationwide rollout.
A portion of the proceeds from all of Robert's endeavors benefit the Robert Irvine Foundation. Created in 2014, the foundation gives back to our servicemen and women and first responders. Funds raised help at-need veterans and first responders in a variety of ways: training service dogs, making mental health and wellness services available to veterans in need, providing mobility devices for the disabled, and much more.
For his charitable work and service on numerous USO tours, Robert is the recipient of several civilian honors, including Honorary Chief Petty Officer of the United States Navy, and the Medal of Honor Society's Bob Hope Award.
When not filming for television or working overseas with the USO, he can be found on tour with Robert Irvine LIVE, an unpredictable interactive cooking challenge done before a live audience in packed theaters.
He is the distinguished author of four cookbooks, Mission: Cook, Impossible to Easy, Fit Fuel, and Family Table By Robert Irvine, plus the business leadership book, Overcoming Impossible: How to Lead, Build a Team, and Catapult Your Business to Success. Drawing on his vast experience both in building his own businesses and helping others fix theirs, it is the ultimate distillation of his business and leadership knowledge.
He is also the publisher of Robert Irvine Magazine, a free digital publication delivering workouts, recipes, and motivational content.
AWARDS AND HONORS
Ambassador of the Culinary Institute of America awarded in December 2007
Chef Professional from La Toque Blanche International
2001 Culinary Excellence Award granted at Carnegie Hall by the Culinary Institute of America and the American Tasting Institute
Trustee of the American Academy of Hospitality Sciences' Five-Star Diamond Award
Member of the Malta Chefs Society (MCS)
Episode of Restaurant:Impossible in the Culinary Hall of Fame
United States Navy Honorary Chief Petty Officer
Medal of Honor Society's Bob Hope Award for Excellence in Entertainment
US Department of the Army Outstanding Civilian Service Award, Spring 2016
US Department of Defense Spirit of Hope Award, 2017
Association of the United States Army National Service Award, 2020
Veteran's of Foreign Wars Distinguished Citizenship Award (First to ever receive the honor), July 2023
ROBERT IRVINE'S COMPANIES

Giving back to our nation's defenders is Robert's top priority. Since 2014, the Robert Irvine Foundation has raised money to support veterans and active duty military by funding programs to address wounds both visible and invisible. Some of the foundation's key programs include funding the training of service dogs, serving up hearty meals to thousands of service members and their families, funding counseling for first responders, providing mobility devices to injured veterans, and issuing grants directly to veterans in need.

Based on Robert's own recipes and utilizing high-quality ingredients, Robert Irvine Foods serves up smoked seasoned wings, crab cakes, seafood, smoked meats—and much more—to grocery store customers around the country. But Robert Irvine Foods doesn't just serve a growing number of faithful retail consumers; the company provides food services and custom menu planning to a wide array of military bases and other establishments around the world.

Fitness and healthy eating are two of Robert's greatest passions. He shares those passions through his FitCrunch brand, which makes protein bars, powders, and snacks to power every type of active lifestyle. From on-the-go parents to serious fitness enthusiasts and anyone in-between there's a FitCrunch product for everyone. With over $150 million in total sales, FitCrunch products are available in over 85,000 retail locations nationwide.

Robert's decades of culinary experience and highly trained palate is the guide for everything we do, from the ingredient selection, to the precision distillation process, to the bottling. He works by a simple motto: Only the best. Period.

Terra Arma's core mission and driving force is to produce the most Luxurious Hard-Use Clothing on the planet. Using natural and renewable resources, our pieces are made from the toughest conditions, with regulation compliant options for the military, police, and EMS. Terra Arma is committed to giving back to military, veteran, and first responder communities, and pledges a portion of all profits to a deserving charity aligning with our vision. Robert Irvine is co-owner of Boardroom Spirits, a craft distiller with serious attention to detail. The company's vodka, gin, whiskey, and specialty spirits are locally-sourced and produced at the company's headquarters in Lansdale, PA. Named one of USA Today's 10 Best Reader's Choice Craft Distillers in 2018 and 2019.

Robert Irvine's Public House, located in the Tropicana in Las Vegas, is the ultimate experience of the kind of pub food Robert grew up around in England, but "elevated" to a new benchmark thanks to his culinary expertise. Aside from the best wings, burgers, and flatbread pizza you could ever want, Public House boasts a huge variety of craft beer, wine, and unique cocktails. Fresh Kitchen by Robert Irvine—a fast-casual eatery with a plethora of healthy options using the finest domestic and imported ingredients available—operates within the walls of the Pentagon, serving the men and women of the Department of Defense.
TEAM IRVINE SOCIAL ACCOUNTS
The following are verified members of TeamIrvine. Included is their online handles.