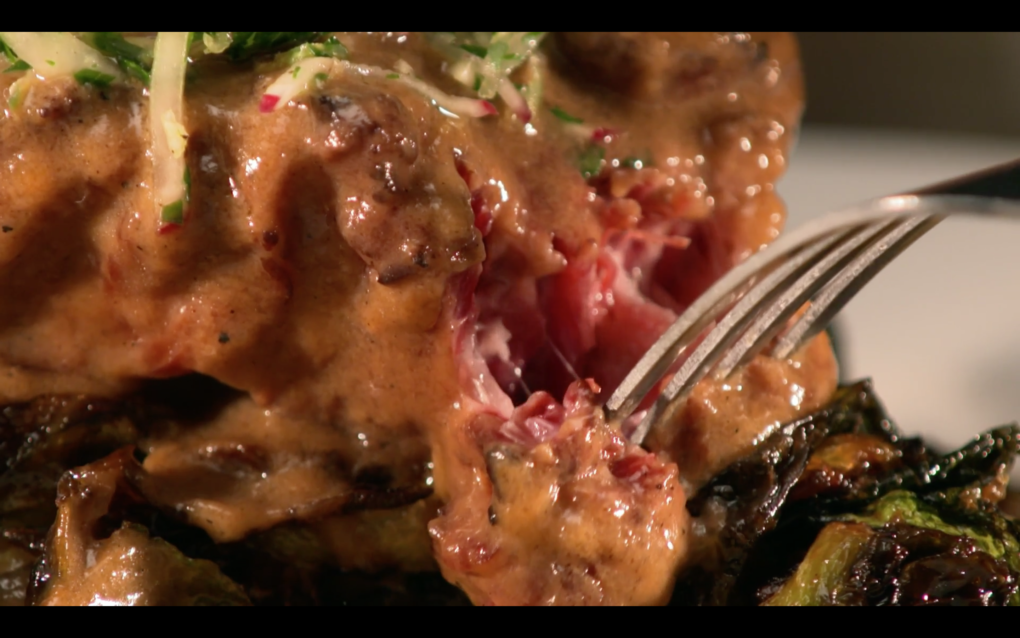 Curry Braised Oxtail with Sweet Potato Puree – As Seen on Restaurant: Impossible
From the episode, "Saving a Pastor's Passion"
SERVES 6
YOU'LL NEED
4 lbs large oxtail cut into 4 oz. chunks (possible substitution short ribs, brisket, or beef rib)
1 tbsp kosher salt
3 tbsp brown sugar
1 tbsp curry powder
4 tbsp grapeseed oil
1 small yellow onion, chopped
3 medium celery stalks, chopped
2 small carrots peeled, chopped
2 cloves garlic, sliced
3 tbsp green (or yellow) curry paste
1 bay leaf
1 cup red wine
2 cups coconut milk
2 cups beef stock
24 Brussels sprouts, cut in half and blanched
3 tbsp grapeseed oil
3 French breakfast radishes, sliced thin
1 bunch parsley, chopped
1 lemon, zested and juiced
MAKE IT
1) In a large mixing bowl, add salt, brown sugar, curry powder, and mix.
2) Season the oxtail with the curry and salt mixture. Allow to cure for 12 to 24 hours.
3) In a large skillet or Dutch oven style pot, add grapeseed oil over medium-high heat.
4) Place oxtail into the pan and allow to sear on both sides. The oxtail should be dark brown in color.
5) Pull oxtail from pot and set aside.
6) Add carrots, celery, and onions and cook for about 8 minutes. Allow to lightly brown.
7) Add garlic and allow to cook for 2 minutes making sure not to burn.
8) Add curry paste and cook for another 3 minutes. Add bay leaf and deglaze the pan with red wine. Allow to cook for about8 to 10 minutes or until wine has reduced by half.
9) Add oxtails back to the pot. Bring to a boil, cover and place in a 300° oven for about 5 to 6 hours.
10) Allow oxtails to cool down in the braising liquid, for about 40 minutes. Then remove oxtail from the liquid.
11) Using a blender, puree braising liquid and vegetables until mixture is smooth.
12) In a large sauté pan over high heat, add grapeseed oil and Brussels sprouts. Cook for 3 minutes on each side allowing Brussels sprouts to brown lightly. Finish with lemon juice, salt and pepper.
13) In a mixing bowl add diced breakfast radish, chopped parsley, and lemon zest.
14) On a plate place sweet potato puree (see below), crispy Brussels sprouts and top with oxtail.
15) Finish with sauce and parsley and radish gremolata.
SWEET POTATO PUREE
SERVES 6
YOU'LL NEED
2 sticks butter
1 large onion, diced
2 large sweet potatoes, peeled and diced
1 cup heavy cream
1 cup chicken stock
Salt and pepper
MAKE IT
1) In a large pot add butter and allow to melt. Add onions and allow them to sweat for about 5 minutes.
2) Add diced sweet potato and allow to cook for another 10 minutes, stirring occasionally.
3) Add heavy cream and chicken stock and bring to a boil. Then drop to a hard simmer and cook for 25 minutes.
4) Mix sweet potato mixture together using a hand mixer or a blender until smooth.
5) Season with salt and pepper and serve.