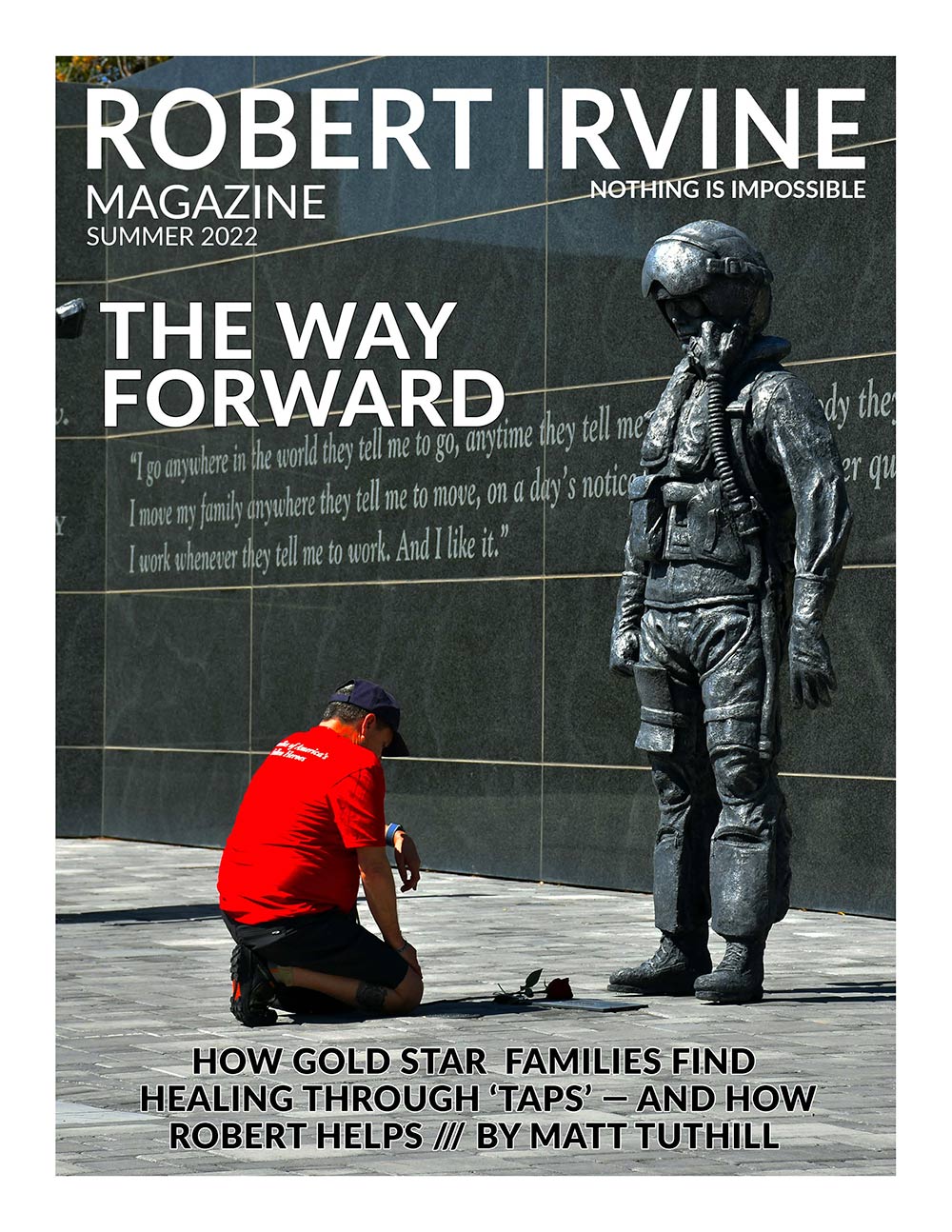 TAPS offers a way forward for the survivors of America's fallen heroes
For the surviving families of fallen servicemen and women, TAPS—the Tragedy Assistance Program for Survivors—is there to help. This summer in Las Vegas, Robert hosted a TAPS men's retreat that made fast friends out of strangers, and created a positive outlet for unimaginable grief.
BY MATT TUTHILL
Legendary Divas is a regular show at the Tropicana in Vegas. Six nights a week, and for a tiny fraction of the cost of seeing the real deal, you can enjoy a concert put on by the world's best look-a-likes—and sound-a-likes—for Celine Dion, Lady Gaga, Cher, and more, all brought together by emcee "Joan Rivers," an affable male comedian in drag who tends to work rather blue.
Every crowd features a mix of tourists who happened to be staying at the Trop, saw the dozens of posters and the giant advert on the marquee outside, and felt compelled to see what all the fuss was about.
But mostly this tends to be bachelorette party stop number one.
So when Robert Irvine led 30 men down to the front row for a Friday night show in early June, it made for a curious scene. As his group filed in, some exchanged nervous glances and a few chuckles. The Hoover Dam expedition earlier in the day—packed with its history lessons and marvels of engineering—well, that had seemed like a perfect male bonding experience. This… was more of a head scratcher.
Robert sensed it, then stood in front of the group and made a guarantee, "You're going to love it."
"You've seen it before?" one of the men asked.
Robert smiled wide. "Only a hundred times."
Then the lights went down, the curtain went up, and the ensemble belted out the opening number, "Lady Marmalade" before giving way to the solo performances: "Poker Face," "My Heart Will Go On," "I Will Always Love You," and dozens more.
If there had been any ironic intent in sending this pack of red-blooded American dudes to see the divas, it was lost one minute into the show, perhaps at least in part because their host Robert so earnestly clapped along. Even the most skeptical men in the group cheered and laughed through to the end, everyone a little bit closer to each other than they had been two hours prior.
This unlikely scene of men being truly vulnerable with one another was perfectly emblematic of the weekend, a TAPS (Tragedy Assistance Program for Survivors) retreat for men—all fathers, sons, brothers, and battle buddies of fallen veterans. TAPS has been creating new bonds of friendship out of tragedy for almost 30 years. Created in 1994, TAPS is a national nonprofit veterans service organization that provides a wide array of assistance to the families of fallen service members including grief counseling, survivor seminars, and retreats like this one. TAPS founder Bonnie Carroll created the organization following the death of her husband, Brigadier General Tom Carrol, in a C-12 crash in 1992. TAPS has gone on to become the leading Military Service Organization providing year-round care to survivors. Carroll, the author of Healing Your Grieving Heart After a Military Death: 100 Practical Ideas for Family and Friends, was awarded the Presidential Medal of Freedom in 2015 for her work on behalf of military survivors.
While TAPS hosts various retreats throughout the year, the men's weekend was designed specifically around the fact that men tend to grieve differently. From the foundation's literature: "TAPS understands that most men need other men to pave the way for them to grieve as men grieve, not as women would want them to."
Thinking back on the Divas concert, Vern Losh said, "I think Robert gave everyone permission to have fun." Vern attended the retreat in honor of his son, US Army Corporal Allen Losh, who died in 2014 after a 14-month battle with stomach cancer contracted after prolonged exposure to burn pits in Iraq. "All weekend I had a lot of thoughts running through my head about my kid: what could have been, what he could be doing now… To have Robert get up there and pump everybody up and say 'Listen, this Divas show is gonna be great…' it broke up the seriousness of some of the other stuff. And he was right," Vern laughs. "It did end up being a lot of fun."
After the show, every man in the group eagerly—some even giddily—joined the queue to meet the divas, with one man remarking, "Whitney was incredible. When you heard that drum drop and then the super high note, 'Aaaaaand I….!' you knew she had the place."
Robert, who was hosting his second such retreat in Vegas—alongside staff led by Jessica Harper, the TAPS director of operations in sports and entertainment—took great pride in helping bring the men together, but in truth, he wasn't the main catalyst. The attendees' disparate backgrounds, ethnicities, upbringings, and political affiliations were all rendered meaningless the moment they arrived; the terrible shared bond of a loved one lost too soon in service to their country allowed them to cut through the noise, to be vulnerable and honest with each other immediately. In short, these were men who were completely allergic to bullshit.
"You have this bond, so the other stuff doesn't really matter," says Ken Naglak, who attended the retreat in honor of his son Joseph Naglak, a US Naval Aviation Boatswain Mate (a traffic director on the deck of an aircraft carrier) who was killed during a training exercise aboard the USS HW Bush in September of 2018.
"You know how you felt when you got the knock on the door… You know how you were affected, how it's affecting you today, so you can have a certain amount of empathy. You have that connection and that's what it's really all about."
In addition to the Hoover Dam and Legendary Divas expeditions, the attendees of the Vegas retreat also visited the Nevada State Veterans Memorial, a two-acre park featuring 18 immaculately detailed statues of soldiers and civilians who served the country from the Revolutionary War to the Global War on Terror; enjoyed hours of food and fun at Top Golf; as well as a friendly salsa-making competition with instruction and guidance from Robert. The culminating event was a three-course ribeye dinner at Robert Irvine's Public House within the Tropicana, at the end of which survivors held a portrait of their fallen hero and spoke about what that person, and the weekend, had meant to them. Afterward, there was unanimous agreement that the program had been nothing short of a godsend.
"What you get out of TAPS is that you're not crazy," Ken says. "Because after a loss like that, there are times when you think you're just crazy. To be able to sit and hear people talk—and they're all having the same experience and the same emotions, it's very helpful. The message to me was that I'm not crazy and I'm not alone."
Some days after the retreat, Ken fondly remembered Joseph, who was born in Seoul, South Korea and adopted by Ken and his wife at 20 months old. A lover of American muscle cars, Joseph never felt a calling to academics, but as he grew older, the idea of service spoke to him. A deep desire to give back to the country that had given him so much led him to dedicate himself to training so he could pass the physical and join the Navy, where he became a "blue shirt" overseeing the difficult and dangerous task of towing aircraft and parking them into incredibly tight quarters on the flight deck.
At the time of his death, he had just settled on a wedding venue with his fiancé, Nicole Weber. Ken was in bed when the phone rang; a military chaplain had visited an old address on file and was desperate find out where he was now and see him immediately.
"They wouldn't tell me then on the phone, but you know," Ken says, noting that he had fleeting thoughts that maybe Joseph had been injured, but quickly dismissed them. "They don't come to your house for that."
The devastation of the chaplain's arrival "felt like a kick in the balls," Ken says. "You know that scene in Saving Private Ryan? Where the mother is looking out the window and she sees the Army guard coming up the road and she just falls to her knees? That's what it feels like. You know exactly what it is."
Joseph Naglak was described by all his peers and superiors as a model sailor with exceptional work ethic and outstanding qualifications. His fatal accident underscored just how dangerous it is to work on the flight deck of an aircraft carrier; while securing an E-2 Hawkeye, he followed protocol and approached the wheels at a 90-degree angle to avoid the turning propeller blades, but the incident report noted that a momentary lapse saw him glance over his shoulder while walking away, resulting in a loss of awareness and fatal contact with a propeller.
Ken takes some solace in the knowledge that Joseph did not suffer, and is further comforted by the fact that TAPS does not differentiate between manners of death; the men's retreat in Vegas featured survivors whose fallen heroes had died from cancer due to toxic exposure while deployed, as well as a number of suicides.
"TAPS is really good about not making that distinction, because it absolutely doesn't matter," Ken says. "If somebody dies from cancer, but it was because they were exposed to all these chemicals on the flight deck or burn the pits in Afghanistan or something like that, does that really matter? The other thing is they're very inclusive; they have programs for parents, for significant others, and you don't necessarily need to be married."
The never-ending nature of the Global War on Terror has made the existence of organizations like TAPS essential for grieving families. Attend a TAPS event and the old adage that the family serves becomes abundantly clear; the loss of every veteran leaves a trail of devastation in its wake, with spouses, siblings, sons, daughters, friends, and battle buddies affected each time. In 2021, TAPS connected 9,241 newly-bereaved loved ones—an average of 25 new survivors every day—to each other, continually adding to the over 100,000 survivors currently receiving TAPS assistance. For his support of TAPS, Robert was named to its Honorary Board, which counts Gary Sinise, Jimmy Carter, and Jeremy Renner in its ranks.
Each survivor's experience, however, is very different. John Gornewicz says the Hollywood depiction of the chaplain's visit didn't immediately land on him in the way it did for Ken Naglak; for a fleeting moment, the denial instinct was so strong he thought his visitors might be imposters and demanded to see ID.
"It's weird how the mind can work," said John, whose son Brett Gornewicz died in an IED attack in 2012. Since Brett's death, TAPS programs have been hugely beneficial to John and his family. Early in the process, a grief counselor from the Army had advised John to "concentrate on the living" and he says TAPS has allowed him to do that while honoring his son.
"After the opening dinner where we all got up and spoke about our hero, I said if it ends now, I'm good," John says. "It's been very therapeutic for me."
Another attendee, Dennis Roy, lost his daughter, Airman First Class Patricia Roy at the age of 22 after a deadly car crash in Benecia, CA, while she was still on active duty. Just days prior, Patricia had been deployed and taken part in a mission that would posthumously earn her the Air Force Achievement Medal; during that time, a Naval missile cruiser was stranded in undisclosed waters and needed a new propulsion shaft. Transporting the shaft—an enormous piece of equipment—to the cruiser's location was a unique challenge, but Patricia found an unorthodox way of fitting the shaft into an aircraft that would deliver it and save the vessel.
"She was gifted with unique spatial intelligence, and that provided the solution," Dennis says proudly, noting that the longer the cruiser was stranded, the higher the probability of a dangerous escalation. "She potentially saved a lot of lives."
Dennis turned his grief into action; determined to have a more direct and positive impact on others' lives the way his daughter had, he left a stable career in IT to go back to school and pursue nursing, which his daughter had aspired to.
"I am now living my daughter's dream," Dennis told the group during dinner one evening, "I say this for all of us: Live a life worthy of the person you lost."
The excursion to the Nevada State Veterans Memorial made for a somber opening on Day Three of the retreat. TAPS organizers gave each survivor a small notecard, on which they could write a note to their fallen hero. The notes were then affixed to a rose, and the survivors could then lay the rose at the foot any of the 18 statues at the memorial, which represent every branch of the military and every major conflict the U.S. has ever been involved in.
A moment after laying his rose, survivor Peter Finken reflected on the life of his fallen hero, his twin brother, Army Lt. Colonel Paul Finken, who was killed by an IED explosion in Baghdad in 2006.
"It was the last mission for that unit," Peter says. "Before that, they had no injuries, incidents, accidents… I spoke to him three days before he died. I told him to get home safe for his three girls, who were 6, 4, and 2 at the time."
Peter, who is also an Army veteran, said his brother died doing what he loved. "He loved being an officer and leading other men." One of Paul's proudest accomplishments had been establishing a CrossFit program in the base where he was deployed. "We were fraternal twins, so he was a half foot shorter than me and 140 pounds soaking wet, but he had just set a personal best in the bench of 265 pounds."
While the wound of losing a brother never fully heals, Peter said with 16 years to process it and observe Paul's daughters flourishing in college and beyond had given him a uniquely positive perspective on grief and he wanted to attend the TAPS men's retreat to help the other survivors. There is life, and a precious lot of it, on the other side of tragedy, but you can only get there and appreciate it with help from others who have been through the same experience.
"If we don't all help each other, we're not going to get any better," Peter says.
From the memorial, the group headed to Top Golf Las Vegas for lunch and a few rounds of friendly competition. Then it was back to the Tropicana for the salsa-making contest, which turned out to be a favorite of Drew Sylvester, the son of fallen Sergeant Jason Sylvester. Drew recently earned his associates degree and has a strong interest in the culinary arts. Robert recognized the young man beaming throughout the process, and invited him to assist in prep at an upcoming event.
"Drew bragged a lot about that," James Hill said afterward; Hill, a Vietnam veteran and longtime family friend of the Sylvesters, had accompanied Drew on the retreat. "TAPS did wonders for him."
The programming provided the perfect mix of activities that honored the fallen and provided fun bonding exercises, which clearly produced the intended effect; many survivors say they have plans to stay in contact with each other, meet up, or attend future TAPS events. All the survivors praised the TAPS organizers, as well as their hosts Robert Irvine and Robert Irvine Foundation VP and Director of Outreach David Reid—a former Army Ranger who lost a leg during a mission in Afghanistan.
"TAPS does so much for Gold Star families, and the retreats in particular are incredible experiences," Dave Reid said. "To be able to help give them a bonding experience in association with TAPS, to help facilitate a good time that heals? It means the world to me."
The closing speeches left only a few dry eyes in the house, and Robert's were not among them. "All of you inspire me," a clearly emotional Robert said. "And being here this weekend with all of you is the honor of my life. I truly mean that. Anything you need—well, you all have my number now—so just let me know. I mean it."
Those who weren't previously familiar with Robert were taken aback by the display of vulnerability. In the process, he gained at least one new fan.
"When I got up and spoke on the last night and said that I hadn't heard of Robert before this weekend, I was being honest," Vern admits. "I don't watch a lot of cooking shows. You see some of these people on TV and you wonder what they're really like. But I mean… what a guy. You can see his sincerity. He's real. He lives for this. Now I watch him every Thursday night."
For Robert, the choice to spend much of his rare free time serving veterans through his own foundation and through organizations like TAPS and the USO is one made without hesitation. Dating back to his time served in the British Royal Navy, he's possessed by a keen awareness of the toll military service takes on everyone in that person's orbit.
"Easing the burdens on veterans as well as their families and friends—it's the top priority of my life, right after taking care of my own family," Robert says. "When you lose a loved one too early, it changes your life forever. It leaves a void. I know we can't heal that void completely, but we can fill it with new experiences and new friends, and lessen some of that pain. Their families will never be whole, but through experiences like this, we become a new family."
Or, as Ken Naglak puts it, "There's an analogy about a tree that's been struck by lightning: The tree is split down the middle. It a wreck, but it doesn't mean that the tree's not going to grow. It will grow. It's not dead. It will recover.
"It's never going to be the same tree. The scars will be there. The cracks will be there. But it will grow… That's exactly how I feel."
Click the links here to learn more about TAPS and The Robert Irvine Foundation.