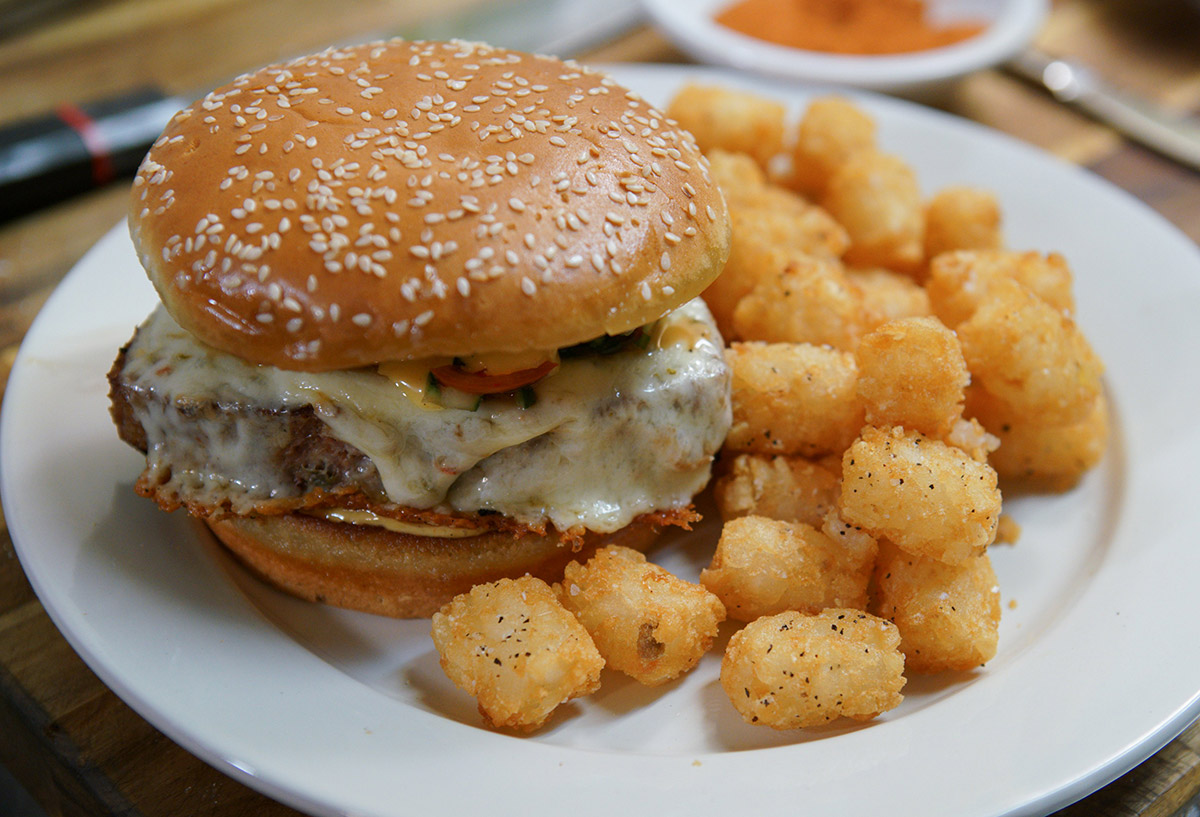 Jalapeno Meatloaf Sandwich – As Seen on Restaurant: Impossible
From the episode, "Lifting the Weight"
SERVES 4
YOU'LL NEED
FOR THE MEATLOAF
1 cup BBQ sauce, store bought
2 eggs
1 cup canned roasted red peppers
5 cloves garlic, minced
12 oz ground beef
12 oz ground pork
1 yellow onion, diced small
½ tsp cayenne pepper
1 tsp chili powder
1 tsp Cajun seasoning
1 cup white cheddar cheese, shredded
3 jalapeno peppers, seeded and diced
2 cups breadcrumbs
2 tsp kosher salt
1 tsp ground black pepper
FOR THE BBQ AIOLI
1 cup mayonnaise
½ cup BBQ sauce
2 tbsp lemon juice
1 tbsp BBQ spice
Salt and pepper
FOR THE PICKLED RED ONIONS
2 red onions, sliced
1 cup red wine vinegar
1 cup distilled vinegar
1 cup granulated sugar
2 tbsp honey
FOR THE SANDWICH
2 tbsp grapeseed oil
1 tbsp butter
4 brioche buns
4 slices pepper jack cheese
16 cherry tomatoes, quartered
1 cucumber, diced
1 bunch cilantro, picked and chopped
16 oz tater tots
MAKE IT
MEATLOAF
1) Pre-heat oven to 325°.
2) In a food processor or blender add BBQ sauce, eggs, roasted red peppers, and garlic. Puree on high until smooth.
3) In a large mixing bowl, add contents from the food processer, ground beef, pork, onion, cayenne pepper, chili powder, Cajun seasoning, shredded cheddar cheese, jalapeno peppers, bread crumbs, salt, and pepper. Combine well with hands.
4) Pack the mixture into a greased 10-inch loaf pan. Place meat loaf in the oven. Cook for 45 minutes or until meatloaf has reached an internal temperature of 155. Remove from the oven and set aside to rest.
BBQ AIOLI
1) In a mixing bowl add mayonnaise, BBQ sauce, lemon juice, and BBQ spice.
2) Incorporate together and season with salt and pepper.
PICKLED RED ONIONS
1) In a small sauce pot add red wine vinegar, distilled vinegar, granulated sugar, and honey.
2) Bring the mixture to a boil.
3) Add sliced onions to the vinegar mixture, cover, and set aside, off heat.
PLATING
1) Pre-heat a fryer to 350 degrees.
2) In a skillet over medium heat add grapeseed oil and butter.
3) Add brioche buns face down and toast over medium heat until golden brown.
4) In the same skillet over medium heat, add the portioned meatloaf and sear on both sides.
5) Top the meatloaf with pepper jack cheese and allow to melt.
6) Dress both sides of the brioche bun with BBQ aioli. Place the portioned meatloaf on the bun.
7) Top with grape tomatoes, pickled red onions, cucumbers, and cilantro.
8) Place the tater tots in the fryer (or air fryer) and cook for about 3 minutes, or until the tater tots are golden brown, and crispy.
9) Season with salt and pepper.
10) Place BBQ meat loaf sandwich on a plate and serve with crispy tater tots.