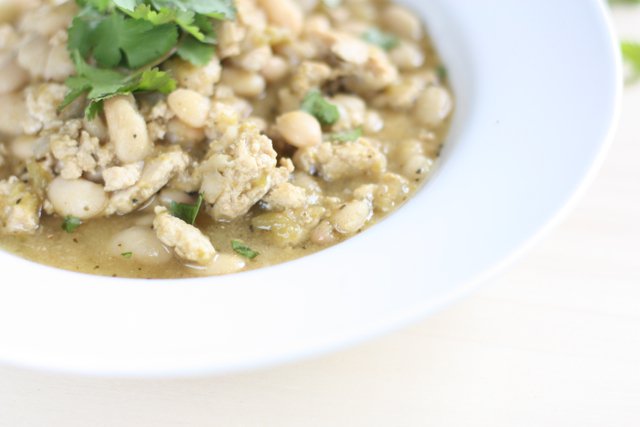 What you'll need:
1 Tbsp canola oil
2 cups diced onion
¼ cup minced garlic
1 ½ lb ground turkey
1 ½ Tbsp chili powder
1 ½ tsp ground cumin
1 tsp dried oregano
3 15.5-oz cans white beans
3 cups chicken broth
¼ cup unflavored protein powder (optional)
1 15.5 oz can diced tomatoes
⅓ cup chopped cilantro leaves
2 Tbsp fresh lime juice
salt and freshly ground black pepper, to taste
1 lime, cut into 8 wedges (optional)
How to make it:
1.    In a large deep pot, heat the oil over medium-high. Add the onion and garlic and sauté until tender and golden, 5 to 10 minutes. Add the ground turkey and cook until browned, 5 to 8 minutes. Add the chili powder, cumin, and oregano, and cook until well incorporated, 3 to 5 minutes. Add 1 can of the white beans, along with the broth, and bring everything to a boil. Reduce the heat to medium-low and simmer until the flavors meld, about 20 minutes.
2.    In a blender or food processor, add the remaining 2 cans of beans and process until smooth. Transfer the pureed mixture to the pot with the turkey and cook until thickened, 15 to 20 minutes on low.
3.    Remove the mixture from the heat and add the diced tomato, chopped cilantro, lime juice, salt, and pepper. Stir well and serve with lime wedges. Makes 6 servings.
Nutrition information per serving: 448 calories, 37g protein (when using protein powder), 43g carbs (9g fiber), 13g fat