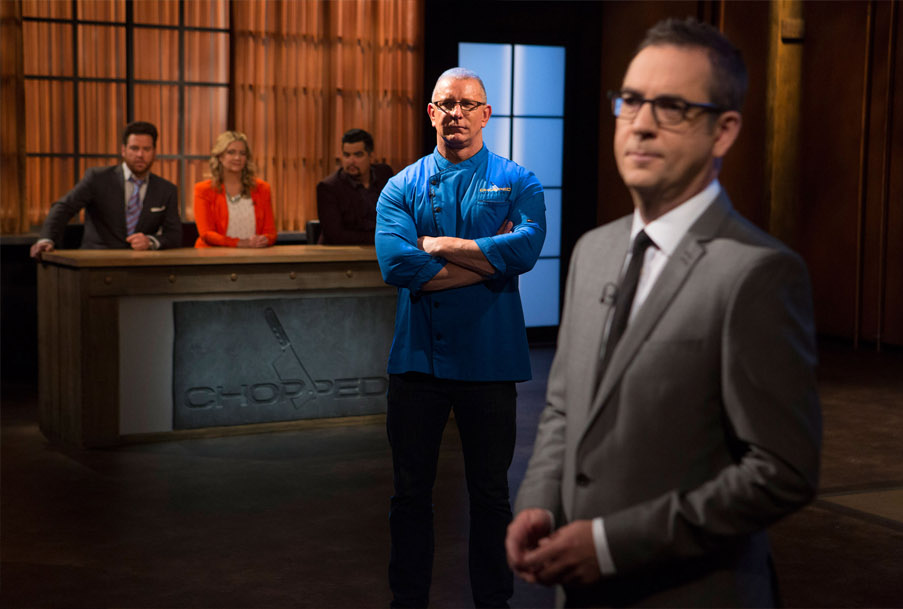 Former Chopped champions are pushed to their limits when they return to compete in an epic four-part tournament in Chopped: Impossible, premiering on Thursday, October 22nd at 8pm ET/PT. Through three preliminary battles, Restaurant: Impossible's Robert Irvine will command a seat on the judging panel, as twelve returning champs face some of the most mind-blowing baskets in Chopped history.  Three competitors will power on to the Grand Finale, where one will win $15,000 and the chance to throw down in an impossibly daunting wild card round: against Chef Robert.  If the last chef standing can beat Robert, they stand to win$25,000 more, for a total of $40,000!  But they will have to achieve the impossible to take home the huge prize and be judged along the way by Chopped judges Maneet Chauhan, Scott Conant, Amanda Freitag, Alex Guarnaschelli,Aaron Sanchez, Chris Santos and Geoffrey Zakarian.
"Chopped: Impossible adds an exciting twist to the competition with Robert Irvine bringing his brand of 'impossible' to the Chopped kitchen," said Bob Tuschman, General Manager and Senior Vice President Programming, Food Network.
Ted Allen presides over the Chopped: Impossible's premiere episode on Thursday, October 22nd at 8pm ET/PT, as competitors are given canned whipped topping to include as an unwelcome appetizer ingredient, the entrees round offers some awfully stinky cookies and when the dessert round arrives, the ingredient has teeth which will force the remaining two competitors to choose whether they will bite back or run scared.
After each round, fans can head to FoodNetwork.com/ChoppedImpossible to hear from the winners who clenched victory against the impossible odds and relive highlights. Follow the chatter with #ChoppedImpossible.
Plus, are you a restaurant chef who can accomplish the impossible in a kitchen?  Fill your basket with a list of assigned ingredients, create a dish and share it on FoodNetwork.com/RestaurantChallenge for your chance to compete in aChopped-style battle and win $10,000.