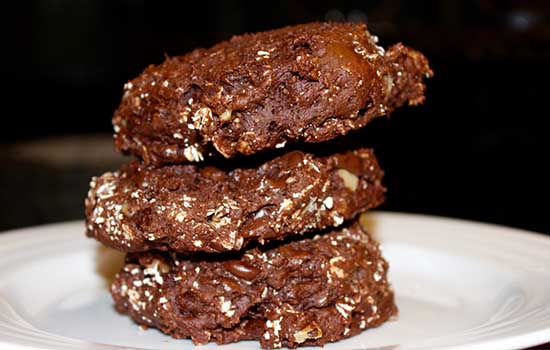 Banana Oatmeal Chocolate Chip Protein Cookies
What you'll need:
2 ripe bananas, mashed
¼ cup packed brown sugar
¼ cup granulated sugar
¼ cup butter, softened
1 tsp vanilla extract
2 large eggs
1 ½ cup all-purpose flour
¼ tsp cinnamon
¼ tsp nutmeg
¼ cup chocolate protein powder (FITCRUNCH, click HERE)
1 tsp baking soda
½ tsp salt
2 Tbsp cocoa powder
2 cups chocolate chips
½ cup sliced almonds
2 cups instant oats
How to make it:
1.    Preheat your oven to 350°F. In a large bowl, mix the banana, sugars, butter, and vanilla. Add the egg and beat well.
2.    In a separate mixing bowl, combine the flour, cinnamon, nutmeg, protein powder, baking soda, salt, and cocoa powder. Add the flour mixture to the banana mixture and beat until well blended. Stir in the chocolate chips, nuts, and oats.
3.    Using an ice-cream scoop, scoop 2-ounce portions of dough onto a large baking sheet, keeping the balls about 2 inches apart. Bake for 20 minutes. Makes 16 cookies.
Nutrition information per cookie: 304 calories, 11g protein, 41g carbs, (4g fiber), 13g fat