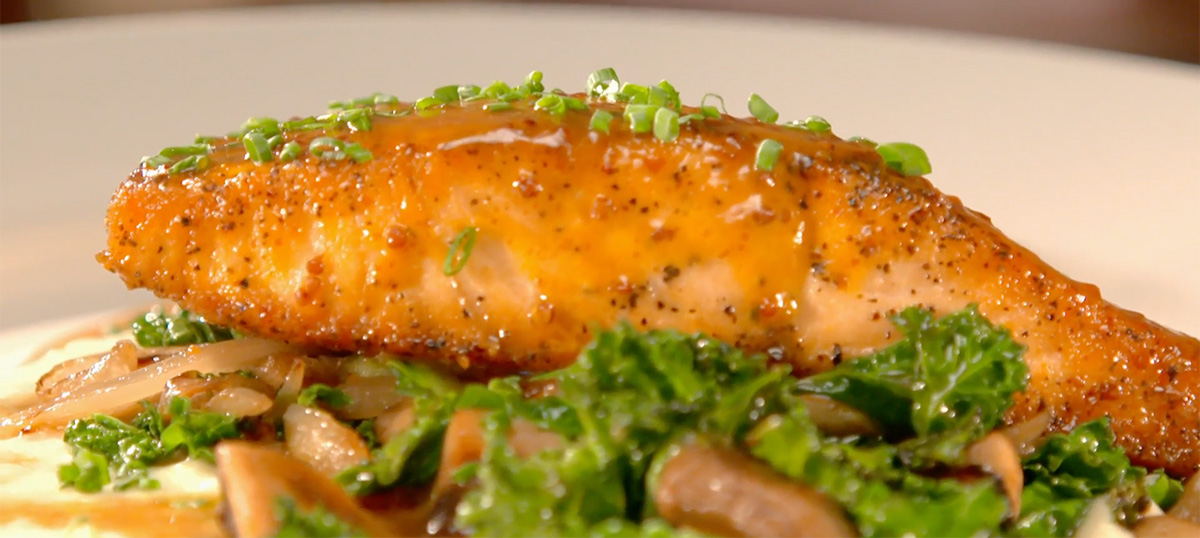 Whiskey Glazed Salmon – As Seen on Restaurant: Impossible
From the episode, "Irish Eyes Are Frowning"
SERVES 4
YOU'LL NEED
FOR THE WHISKEY GLAZE
1 cup whole grain mustard
1 cup mustard based BBQ sauce
½ cup Dijon mustard
1/4 cup honey
1/4 cup Irish whiskey
1 tbsp soy sauce
2 tbsp apple cider vinegar
Kosher salt and ground black pepper, to taste
FOR THE BOURSIN MASHED POTATOES
4 whole russet potatoes peeled and cut into quarters
4 tbsp butter
1 cup heavy cream
1 cup Boursin cheese
Kosher salt and ground black pepper, to taste
FOR THE SALMON & VEGGIES
4 each 6 oz. salmon filet portions
1 white onion, sliced thin
3 cups button mushrooms, quartered
4 cups kale, chopped
1 tbsp chopped chives
Kosher salt and ground black pepper, to taste
MAKE IT
WHISKEY GLAZE
1) In a large mixing bowl, add the whole grain mustard, mustard BBQ Sauce, Dijon mustard, honey, whiskey, soy sauce, and apple cider vinegar. Finish with salt and pepper.
BOURSIN MASHED POTATOES
1) Add potatoes to a pot with salted water. Bring to boil and allow the potatoes to cook until cooked through about 15 to 20 minutes. Potatoes should be tender. Strain the cooked potatoes using a colander.
2) In a small sauce pot, add butter and heavy cream. Heat until butter is melted.
3) Using a hand mixer, or a potato masher slowly incorporate the butter-heavy cream mixture into the cooked strained potatoes.
4) Finish by adding the Boursin cheese to mashed potatoes and season with salt and pepper, to taste.
SALMON & VEGGIES
1) Pre-heat an oven to 350 degrees.
2) Season salmon filets with salt and pepper.
3) In a sauté pan over medium-high heat, add the grapeseed oil and sear the salmon for approximately 4 minutes. Allow the salmon to get a light brown crust.
4) Flip salmon over and top with whiskey glaze.
5) Place the salmon in the pre-heated 350 degrees oven and cook for about 6 minutes or until cooked through.
6) In a separate pan over high heat add onions, and mushrooms and allow to cook for approximately 3 to 4 for minutes. Mushrooms and onions should be light brown in color.
7) Add kale and allow to cook for another 3 minutes. Season with salt and pepper.
PLATING
1) Place the mashed potatoes in the middle of the plate. Next top with mushroom and kale mixture. Then place salmon on top. Finish with the chopped chives.