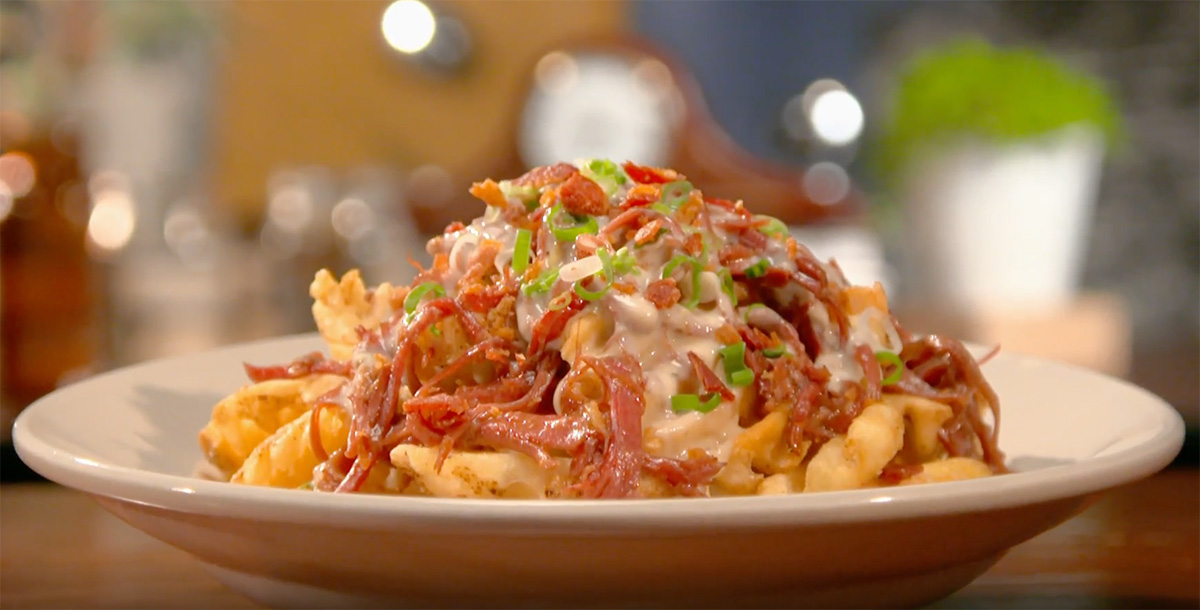 Irish Nachos – As Seen on Restaurant: Impossible
From the episode, "Irish Eyes Are Frowning"
SERVES 4
YOU'LL NEED
FOR THE CORNED BEEF
2 lbs raw brined corned beef, store bought
2 carrots, chopped
1 onion, chopped
5 ribs celery, chopped
2 cloves garlic
8 sprigs thyme
3 tbsp pickling spice
1/4 cup apple cider vinegar
FOR THE CHEESE SAUCE
2 cups heavy cream
1 cup milk
½ lb cheddar cheese, shredded
½ lb sliced American cheese, diced
Kosher salt and ground black pepper, to taste
FOR THE FRIES AND TOPPINGS
1/2 cup raw bacon, diced
Oil, enough for deep frying
2 lbs frozen waffle fries
Kosher salt and ground black pepper, to taste
1 bunch scallions, chopped
MAKE IT
CORNED BEEF
1) In a large pot add carrots, onion, celery, garlic, thyme, pickling spice, apple cider vinegar, and raw brined corned beef.
2) Cover with water and place on high heat.
3) Allow to come to a simmer and continue to simmer for approximately 3 hours.
4) Add water throughout cooking process making sure beef is completely covered.
5) Allow beef to cool in cooking liquid.
6) Once beef is cool to the touch, remove from the pot and shred the meat.
CHEESE SAUCE
1) In a large sauce pot add heavy cream and milk.
2) Bring mixture to boil and stir using a whisk. Slowly incorporate the shredded cheddar cheese and diced American cheese and remove from the heat.
3) Finish with salt and pepper, to taste.
PLATING
1) In a medium sauté pan over medium heat, add the bacon and allow to cook while stirring for about 6 to 8 minutes or until bacon is golden brown and crispy.
2) Pre-heat fryer at 350 degrees F.
3) Place waffle style fries in a 350 degree fryer, approximately 3 to 5 minutes or until fries are golden brown in color.
4) Remove fries from the fryer and season with salt and pepper.
5) Place fries in a bowl. Then top them with the shredded corned beef, cheese sauce, scallions, and cooked bacon.