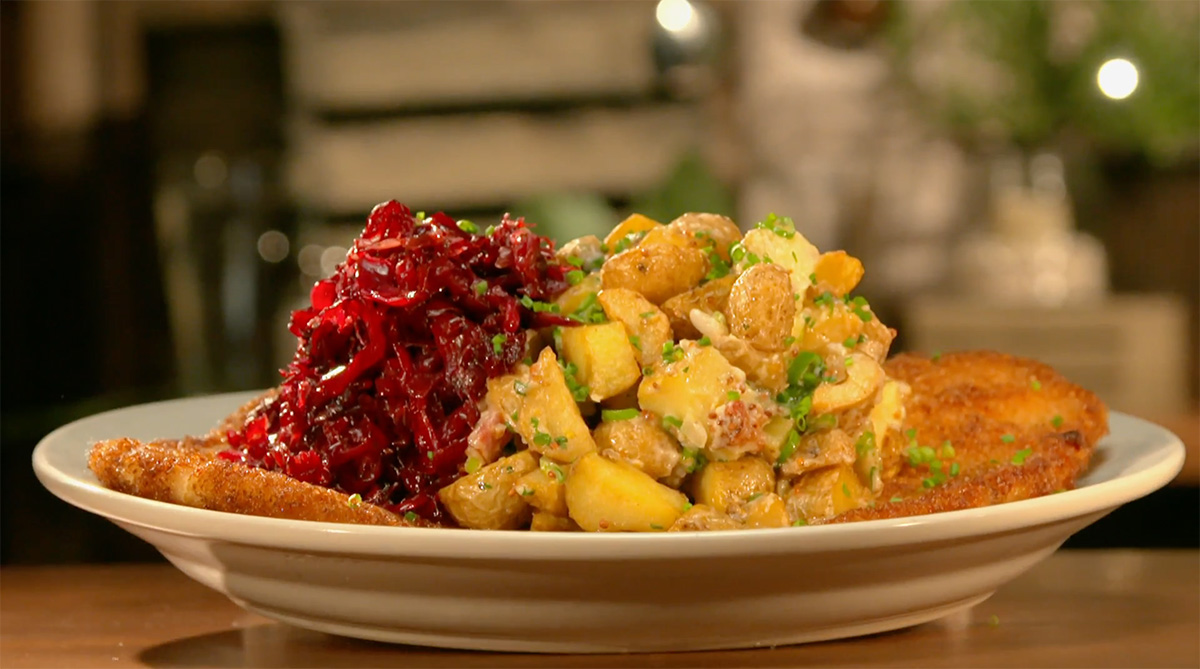 Pork Schnitzel with Mustard Potatoes and Braised Red Cabbage – As Seen on Restaurant: Impossible
From the episode, "Soul Food in the Dark"
SERVES 4
YOU'LL NEED
FOR THE PORK SCHNITZEL
2 lbs boneless pork chops
2 cups all-purpose flour, seasoned with kosher salt and ground black pepper
6 eggs, beaten
3 cups panko bread crumbs
¼ cup grapeseed oil
Kosher salt and ground black pepper, to taste
FOR THE MUSTARD POTATOES
2 lbs potatoes, diced
¼ cup whole grain mustard
¼ cup heavy cream
2 tbsp grated Parmesan cheese
Kosher salt and ground black pepper, to taste
FOR THE BRAISED RED CABBAGE
2 tbsp grapeseed oil
1 large head red cabbage, sliced ¼" thick
2 Granny Smith apples, peeled and shredded
1 red onion, sliced thin
1 cup red wine
½ cup red wine vinegar
½ cup sugar
¼ tbsp ground all spice
Kosher salt and ground black pepper, to taste
MAKE IT
PORK SCHNITZEL
1) Cut pork chop into 8 portions of 4 oz each.
2) Line a cutting board with plastic wrap, place pork chops on plastic in a single layer. Cover pork chops with another layer of plastic. Using a meat mallet, pound pork chops to ¼ inch thickness.
3) In three separate mixing bowls, add seasoned flour seasoned, eggs, and breadcrumbs.
4) Place pork chop in flour first, then eggs, and then breadcrumbs.
5) Refrigerate for about 20 minutes.
MUSTARD POTATOES
1) In a large mixing bowl add whole grain mustard, heavy cream, and Parmesan cheese.
2) Place diced raw potatoes in a 350-degree oven and cook for about 20 minutes.
3) Remove from oven and add to mustard and cream mixture. Season with salt and pepper.
BRAISED RED CABBAGE
1) In a large sauce pot over medium-high heat add grapeseed oil, cabbage, apples, red wine, red wine vinegar, sugar and ground all spice.
2) Bring mixture to a boil.
3) Drop to a simmer, cover, and allow to cook for about 30 minutes.
4) Season with salt and pepper to taste.
SCHNITZEL & PLATING
1) In a large sauté pan over medium heat, add the grapeseed oil and allow it to get hot, then add breaded pork chops and allow cook for about 3 minutes on each side. Schnitzel should be light brown in color and pork should be cooked through.
2) Top schnitzel with mustard potatoes and braised red cabbage.