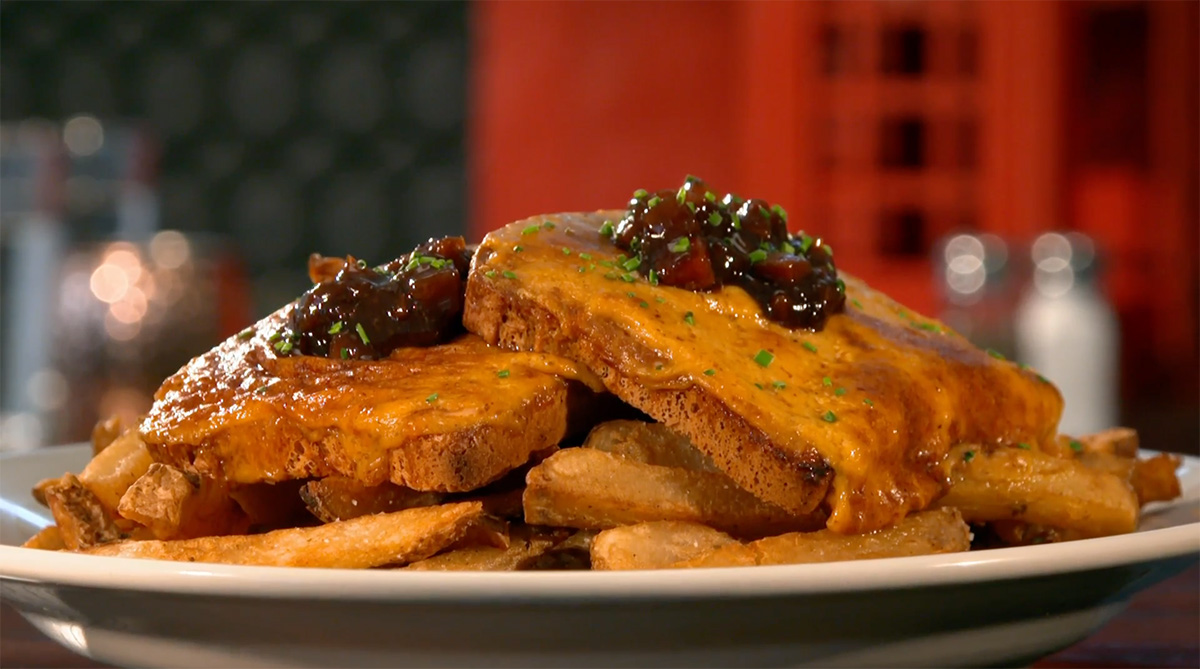 Welsh Rarebit – As Seen on Restaurant: Impossible
From the episode, "Extreme British Makeover"
Serves 4
YOU'LL NEED
FOR THE CHEESE SPREAD
1 cup stout beer
1 lb cheddar cheese, shredded
1 lb white cheddar cheese, shredded
3 tbsp Dijon mustard
2 tbsp whole grain mustard
2 tbsp Worcestershire sauce
½ tbsp hot sauce
Kosher salt and pepper, to taste
FOR PLATING
8 slices pumpernickel bread
1 lb French fries
2 tbsp sliced Branston pickles
2 tbsp chopped fresh chives
MAKE IT
CHEESE SPREAD
1) In a medium sauce pot, add the stout beer and bring to simmer. Remove from the heat.
2) Whisk in cheddar cheese, white cheddar cheese, Dijon mustard, whole grain mustard, Worcestershire sauce, and hot sauce.
FINISH & PLATING
1) Pre-heat oven to 350 degrees F.
2) Pre-heat fryer to 350 degrees F.
3) Lightly toast pumpernickel bread on both sides.
4) Top cheese mixture on pumpernickel toast and place in a 350-degree oven for 4 to 5 minutes until cheese is completely melted.
5) Fry the French fries in a 350-degree fryer for 3 to 4 minutes until the fries are golden brown in color and crispy.
6) Top the melted cheese toast with the Branston pickles, and chopped chives. Serve.