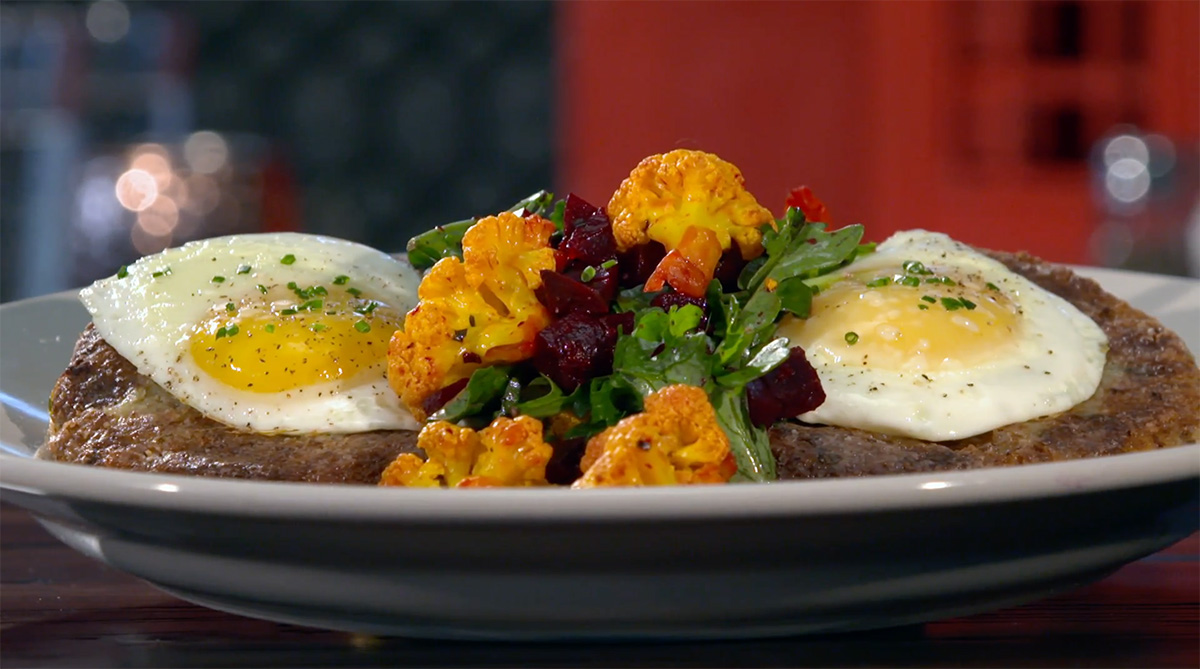 Bubble and Squeak – As Seen on Restaurant: Impossible
From the episode, "Extreme British Makeover"
YOU'LL NEED
FOR THE SEARED POTATO & VEGETABLE CAKE
3 large russet potatoes, peeled
2 tbsp butter
½ head white cabbage, shredded
½ cup onion, diced
2 tsp garlic, minced
1 cup carrots, peeled and shredded
1 cup all-purpose flour
1 tsp fresh parsley, picked
2 tbsp fresh scallions, chopped
Kosher salt and pepper, to taste
2 tbsp grapeseed oil
CURRY PICKLED CAULIFLOWER
1 cup cauliflower florets
1/3 cup white vinegar
2 tsp curry powder
2 tbsp granulated sugar
2 tsp honey
SPICY AIOLI
¼ cup mayonnaise
4 tbsp Mexican style hot sauce
1 tsp fresh lime juice
½ tsp dash tajin seasoning
Kosher salt and pepper, to taste
OTHER INGREDIENTS
1 tbsp lemon juice
1 cup cooked red beets, diced
2 cups arugula
Kosher salt and pepper, to taste
4 eggs
2 tbsp butter
MAKE IT
SEARED POTATO & VEGETABLE CAKE
1) Place peeled potatoes in a large pot of salted water, bring to a boil and cook for 15 minutes or until tender and cook through.
2) In a large sauté pan over medium heat, melt butter and add the cabbage, onions, garlic, and carrots and allow to sweat until tender.
3) Place the boiled potatoes into a mixing bowl and smash using a potato masher or fork.
4) Fold the sauteed cabbage mixture into the smashed potato mixture.
5) Fold the all-purpose flour, scallions and parsley into the vegetable mixture and season with salt and pepper, to taste.
6) Form potato-cabbage mixture into 4 patties, 1" thick.
PICKLED CAULIFLOWER
1) In a small sauce pot over high heat, add vinegar, sugar, curry powder, and honey.
2) Bring mixture to a simmer.
3) Pour the hot mixture over the cauliflower florets.
4) Cover and allow to cool.
SPICY AIOLI
1) In a mixing bowl, add the mayonnaise, hot sauce, lime juice, and tajin.
2) Season with salt and pepper.
FINISH & PLATING
1) In a large sauté pan over medium heat, add the grapeseed oil and sear the patties for 3 minutes on each side until golden brown on both sides.
2) Place crispy potato patty, on a plate. Top with cauliflower and herb salad.
3) In a medium sauté pan over medium-high heat, cook eggs until the white is set and the yolk is cooked but still runny, sunny side up.
4) Place the pickled cauliflower, beets, and arugula in a mixing bowl. Dress lightly with lemon juice, salt, and pepper.
5) Finish the seared cake with the spicy aioli, sunny side up egg, and top with the beet, arugula, and cauliflower salad.
NOTE: A traditional British dish, the name "Bubble and Squeak" is said to have originated from the sounds these ingredients make when fried.