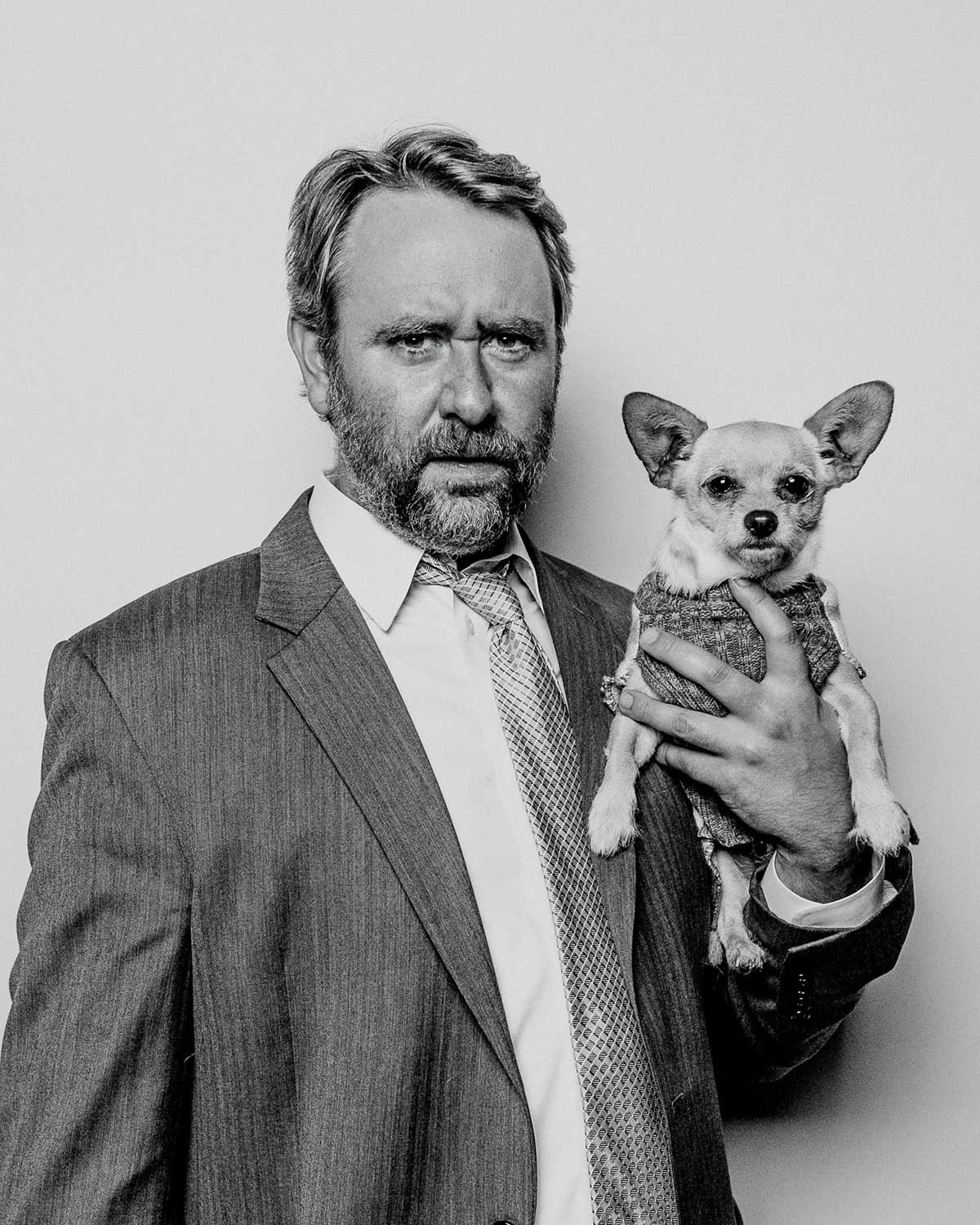 Quarantine sucked, but it was not without silver linings. How a hilarious viral video made everyone pay attention to comedian, voice actor, and master impressionist Mike MacRae.
Interview by Matt Tuthill
In the depths of the 2020 Covid quarantine, a new breed of Internet star was born. Isolation made real production impossible, but if you had the acting and comedy chops to play multiple roles in a self-edited video like Blaire Erskine and Alex Friedman, viral stardom awaited. Enter Mike MacRae. The 43-year-old Austin, TX-based stand-up comedian and voice actor had always preferred performing in front of a live audience and mostly eschewed social media, but when the comedy clubs closed, he found an outlet for his creativity on Twitter, highlighting his uncanny impression abilities in tightly-edited bits that, in his estimation, wouldn't necessarily work if performed on-stage. One of his videos—an argument between a modern-day, grouchy, gravelly-voiced Harrison-Ford and his 1990s counterpart—went supernova, and as of this writing, garnered more than 1.7 million views. (Watch it HERE)
MacRae chatted with Robert Irvine Magazine about the genesis of the bit, his long history of impressions, his quarantine fitness journey, and the return of live comedy.
Robert Irvine Magazine: When did you learn you could do voices? And did you ever use your powers for evil?
Mike MacRae: I started when I was a kid, aping impressions that I would see on Saturday Night Live and I would entertain my friends. But then I learned that it was pretty easy to see an impression and duplicate it. The skill set, if there is such a thing, comes from creating one on your own, so I started doing that with the teachers at my high school. I guess I did it in sort of a gentle way, so they would let me go up at assemblies and do a little act in front of the student body. That was my first kind of foray into what would become doing stand-up comedy.
But my friends were always trying to get me to use my powers for evil. I grew up in St. Louis where we would have snow days at my school. And when the decision was made, what they did is they do a phone chain, and it would start with one of the officials of the school that I did an impression of. He would call five people, and each of those people would call five people, and so on and so forth. But it started with him. So when we knew it was going to snow the next day, they were always trying to get me to impersonate that school official, and start this chain that would shut down the school for a day. I was like, "Do you think they would not figure that out? I'd be f*%-ing expelled." So I never did it, but it was tempting.
RI: After high school did you dive right into stand-up?
MM: No. I went to college in Houston and studied engineering. I got a job in engineering and I did the same sort of amateur standup in college, but the job and left the performer side of me unfulfilled. But there was this club, The Laff Stop, and they have open mics. So that's what I did. Late '99, I went to the famous Monday night open mic at the Houston Laff Stop, which would start at 7:30 and go to 2:00 in the morning.
I quickly became hooked. I found out I could go see main room shows for free, and the club owner encouraged that. I did my job during the day and then stand up at night for a few years. And then I got on Comedy Central and there were clubs interested in booking me and I said, "Okay, I think I need to try to do this full time," and then that's how that all just started.
RI: When all the clubs closed down last year and you couldn't do stand-up, that must've been pretty nerve-wracking.
MM: Well, since I've had my son, I don't tour as much as when I was younger. And most of my income today comes from voice work. I still needed the standup income, but it was just this thing where there's nothing I can do about it. There was some comfort in the fact that everyone's in the same boat, you know what I mean? If this were just affecting me individually, I'd be flipping out. But there was some sort of peace in that there was nothing I could do about it so you make the best of it.
And even though I'm just not as tech savvy as some people, but I forced myself to say, "All right, I'm going to do some of these impressions videos and put them on Twitter." Twitter's sort of the main platform that I use. So, I'll put my creative energies into that and then try to get fit.
I also realized when this all started, "You're either going to gain a bunch of weight, or you're going to lose a bunch of weight." It could've just been a giant fat trap. So, I figured out home bodyweight workouts, I walked every day and still do. Diet-wise, I didn't count calories or anything, I just zeroed in on cutting out high-calorie, low-nutrient foods. So it was higher in protein and lower in carbs. In all, I'm down about 25 pounds.
So that's how I kind of dealt with everything changing. I thought that was the best way I could make progress in life while the world was stopped.
RI: Cutting videos for the internet is so different than stand-up – there's no interactivity, there's no reading a room and reacting.
MM: That's why I wasn't interested in doing any of these Zoom comedy shows. Nothing against them, but it just didn't appeal to me for that very reason. I'm like, "This just seems like I'm in a sensory deprivation chamber." But Twitter was good because it was a different thing. I wasn't trying to do standup, and these little sort of short internet videos were ways to take little ideas that I had had for impressions that wouldn't necessarily work in a standup bit. And because these little comedy videos have their own comedic language, I had fun learning that language, and the peak of it was the Harrison Ford thing. The other ones did well, but none of them reached that status at all.
RI: And how'd you come up with the Harrison Ford bit? It's brilliant.
MM: I've been doing Harrison Ford for so long that I noticed his voice changed over that period of time. The Harrison Ford that I taught myself to do when I first started stand up is not accurate for Harrison Ford now. I was doing the Harrison Ford impression for something, some kind of podcast, and I realized, "Well, there are two Harrison Ford impressions now that I have to switch around." And then that gave me the idea, "Well, those could be two different characters in one little thing." Again, that bit would be hard to make work on stage, but it's perfect for these little weird, quirky, self-aware videos that people are putting out on social media. It was fun to try to do.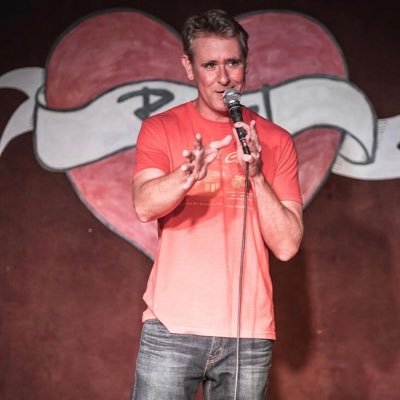 RI: When it went viral and you gain a bunch of followers, did you feel a lot pressure to constantly put new stuff out there? A lot of internet creators have serious anxiety because if you don't have something new every day it's like you don't exist.
MM: I would say no, because I should point out, this is Twitter. I made zero money doing any of this. So at the end of the day, I'm doing this shit for you people for free, you know what I mean? So I understand the point of view of the people on YouTube that you're talking about, certainly. And if I ever get into that type of stuff, I would feel that pressure. But no, I spaced them. I'll wait until I have what I think is a good idea, and then I'll do them. I did between 10 and 15 of these total. I wasn't cranking them out. I think the people that really blew up from doing that kind of stuff, like Sarah Cooper and Blaire Erskine, I think they really cranked it, because I think this was making their career, so they did need to do it frequently.
And I didn't want to be churning out just every single idea that came into my head, because then people would just get sick of you. That was my thinking, at least.
RI: Your career was also well-established by this point. You did Letterman in 2007. How did that come about?
MM: Back then, everything you got usually came from working with somebody at a comedy club. And in this case, I worked with Eddie Brill, who was the talent booker for The Late Show with David Letterman. I'd known him for years, and he always told me, "I love your act. Could never use you on the show, though, because Dave hates impressions." But years later, Letterman had this thing, I think it was ventriloquist week or something. And then he decided to do impressionist week. He did one and all the super huge names, Rich Little was on it. When they did a second week, Eddie's like, "You got to submit." And YouTube wasn't prevalent yet; they wanted a physical tape.
And I was on the road in Louisville, Kentucky, and I had to get the tape to them immediately. It came down to the wire. I discovered that FedEx offered a same-day delivery. So of course, that cost a ton of money, but it got there. Every part of the story is very Paleolithic. None of this has any meaning now, getting a physical VHS tape to New York, the only way that people know you is from your work in clubs, none of this is just true anymore, but that how it worked back then.
RI: Now that things are opening back up, is there pent-up energy? A big appetite for live comedy?
MM: It really seems like it, yeah. I've done a little bit of the road. I went to Houston and did a club there, and I've been doing a lot of local shows here in Austin, and the vibe's been pretty great. People want to go out and I have a feeling that's going to keep going for a while. It's a fun vibe.
RI: You said voiceover is your main source of income. Where do you do voice work?
MM: I'm a part of the Jimmy Dore Show, which is an online political punditry show with a comedy angle. And I call in to the show as various politicians and actors. I help write those sketches and I do the recording with him as a weekly thing. I've done voices for Howard Stern. The most recent work is the Robert Smigel variety show, Let's Be Real, the one with the puppets, as well as Showtime's Our Cartoon President, which is now canceled because Donald Trump is no longer president. I've done voices on Kimmel before and just a lot of random stuff – lots of gaming. There's a bunch of game development in Austin, so I've done a lot of that. … I'm not much of a gamer, but I was Buzz Lightyear in Kingdom Hearts 3. That's a big one, apparently. And then in the DC Online Universe I've done some iconic DC characters for those games.
RI: You've had success in a very competitive, difficult field. What advice would you give to readers who feel stuck?
MM: You said I've been successful in my field. I'd say I've had successes, but it goes up and down. I would say I've survived in my field. You're basically self-employed, and then you're only as good as the last thing you did. And you're always going to be unless you make it big and become a household name, so you have to be adaptable. When YouTube first came along people told me I had to put my impressions on there and I said, "I ain't doing that," and of course that's what I did for the past year.
I think if you're in this you have to listen to what younger people are up to—what they're doing and saying. It's not: Don't have any convictions of your own. But take some stuff under advisement, whatever field you're in. You have to see which way the wind is blowing in any industry.
Follow Mike MacRae on TWITTER and YOUTUBE. For information on how to book him for a corporate gig, visit MikeMacRae.com