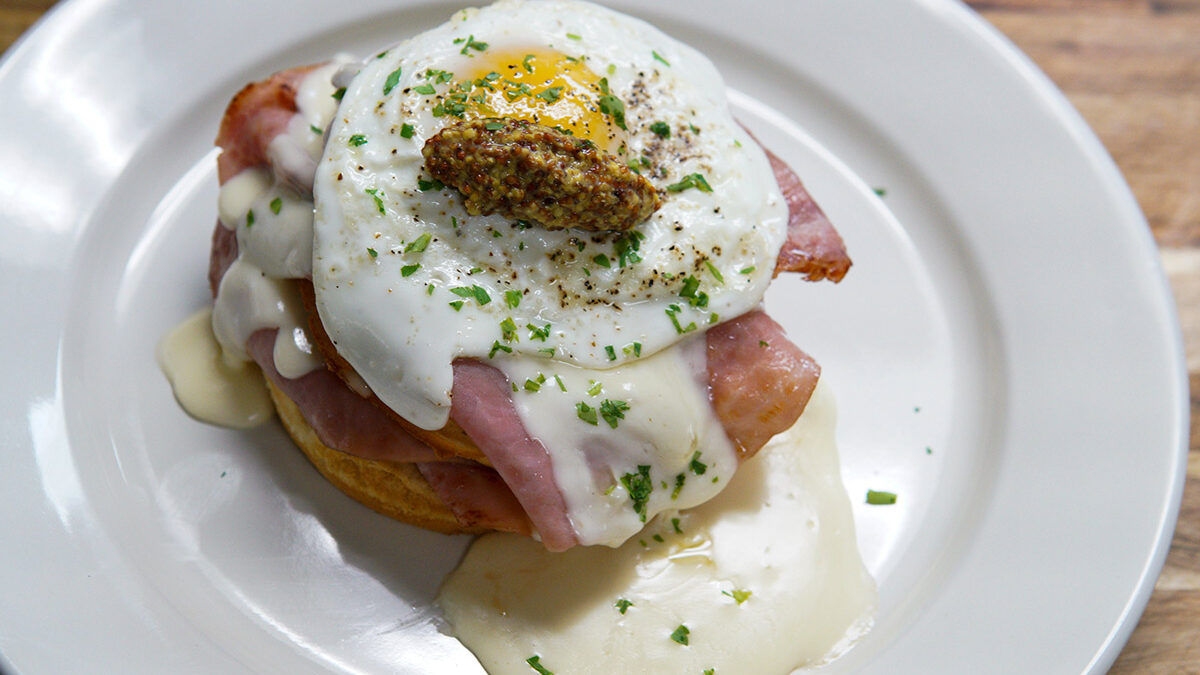 Waffle Croque Madam – As Seen on Restaurant: Impossible
From the episode, "Mistrust and Malaise"
SERVES 4
YOU'LL NEED
FOR THE WAFFLE
2 large eggs
2 cups all-purpose flour
1 ¾ cups milk
½ cup vegetable oil
1 tbsp granulated sugar
4 tsp baking powder
¼ tsp salt
½ tsp vanilla extract
FOR THE CHEESE SAUCE
1 stick butter
1 cup all-purpose flour
1 qt whole milk
2 cups shredded white cheddar cheese
1 cup Parmesan cheese
1 tsp nutmeg
1 tsp cayenne pepper
Salt and pepper, to taste
FOR THE SANDWICH
1 lb thinly sliced ham
4 tbsp whole grain mustard
3 tbsp grapeseed oil
4 eggs
MAKE IT
WAFFLE
1) Pre-heat a waffle iron.
2) In a mixing bowl and using a hand mixer, beat eggs for about 2 minutes until fluffy.
3) Beat in flour, milk, vegetable oil, sugar, baking powder, salt, and vanilla extract. Just beat until all ingredients are incorporated and mixture is smooth.
4) Spray preheated waffle iron with nonstick spray.
5) Pour mixture onto the waffle iron and cook until golden brown.
CHEESE SAUCE
1) Melt butter in a large saucepan over medium heat.
2) Using a whisk, add flour to melted butter. Whisk until smooth. Allow to cook for about 9 minutes. The roux should be light brown in color.
3) Using a whisk slowly incorporate milk. The milk should be thickened by the roux.
4) Increase the heat and allow mixture to lightly simmer for about 5 minutes.
5) Drop the heat to medium-low and incorporate shredded cheddar, Parmesan cheese, nutmeg, and cayenne pepper.
6) Season with salt and pepper and set aside.
PLATING
1) In a large skillet over medium heat add sliced ham. Allow to warm through about 2 minutes. Remove from the pan and set aside.
2) Add grapeseed oil. Crack egg into pan. Cook for about 3 minutes. The white of the egg should be cooked through and yolk should still be runny. Season with salt and pepper and set aside.
3) Place the warm waffle on the bottom of the plate.
4) Top the waffle with the sliced ham.
5) Pour the cheese sauce over the ham.
6) Top with cooked egg.
7) Finish with whole grain mustard.