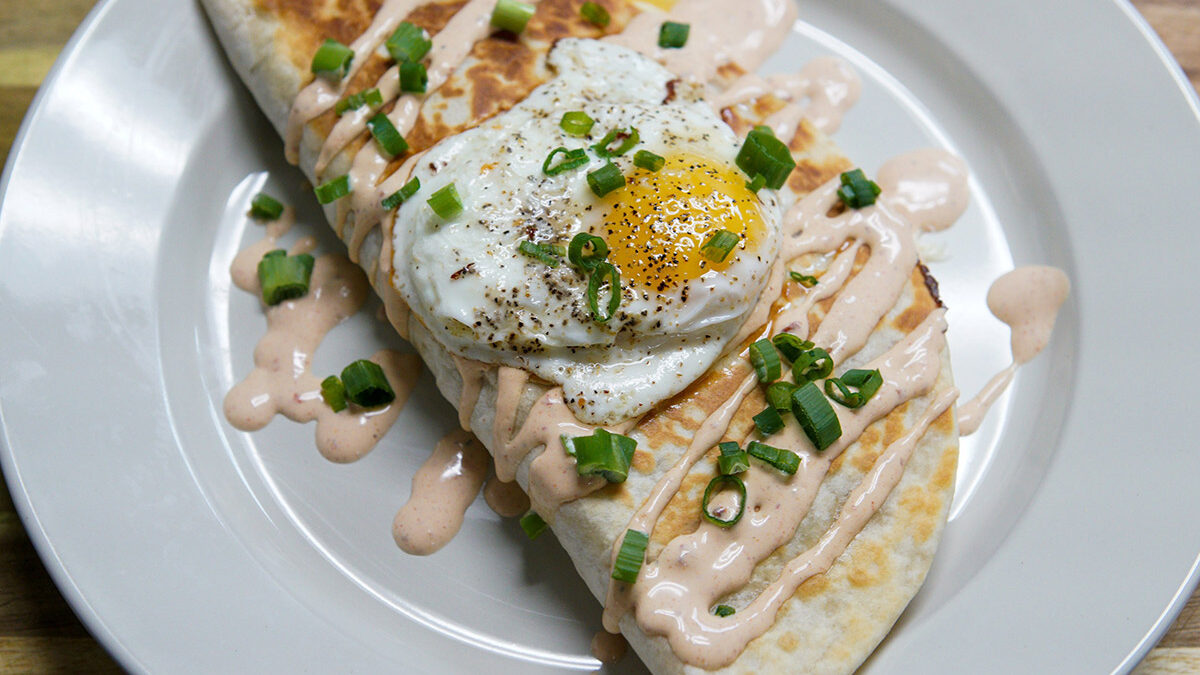 Corned Beef Hash Quesadilla – As Seen on Restaurant: Impossible
From the episode, "Mistrust and Malaise"
SERVES 4
YOU'LL NEED
FOR THE CORNED BEEF
2 lbs corned beef
2 carrots, chopped
1 onion, chopped
5 ribs celery, chopped
2 cloves garlic
8 sprigs thyme
3 tbsp pickling spice
¼ cup apple cider vinegar
FOR THE CHIPOTLE CREMA
1 cup sour cream
2 tbsp chipotle peppers
1 tsp lime juice
1 tsp smoked paprika
Salt and pepper, to taste
FOR THE QUESADILLA
4 flour tortillas (12")
8 fingerling potatoes
1 red bell pepper, diced
1 green bell pepper, diced
1 white onion, diced
8 slices Swiss cheese
4 eggs
1 tbsp grapeseed oil
MAKE IT
CORNED BEEF
1) In a large pot, add carrots, onion, celery, garlic, thyme, pickling spice, apple cider vinegar, and raw corned beef.
2) Cover with water and place on high heat. Bring to a simmer and continue to simmer for about 3 hours. Add water throughout cooking process. Make sure beef stays completely covered.
3) Allow beef to cool in cooking liquid.
4) Once beef is cool to the touch, remove from the pot and shred the meat.
CHIPOTLE CREMA
1) In a mixing bowl add all ingredients. Incorporate together and season with salt and pepper.
QUESADILLA
1) Pre-heat oven to 350 degrees.
2) Place fingerling potatoes on a baking sheet. Place in oven for about 20 minutes.
3) Remove potatoes from the oven. Allow to cool. Dice.
4) In a large skillet over medium-high heat add diced potatoes, peppers, and onions. Cook for about 3 minutes.
5) Add shredded corned beef. Cook for another 3 minutes.
6) In a separate pan over medium heat add flour tortilla. Place the corn beef mixture on half of the tortilla shell leaving one side empty.
7) Top the corn beef mixture with sliced Swiss cheese.
8) Using a spatula, flip the side of the tortilla without the filling on top of the side with the filling.
9) Cook on both sides until the cheese is melted and the quesadilla is light brown in color. Repeat for remaining three tortillas.
PLATING
1) In a non-stick pan over medium heat add grapeseed oil. Carefully crack the eggs making sure not to break the yolk. Cook for about 3 minutes, sunny side up with whites cooked through but yolks runny.
2) Place the quesadilla on a plate and dress with chipotle crema. Finish with fried egg.