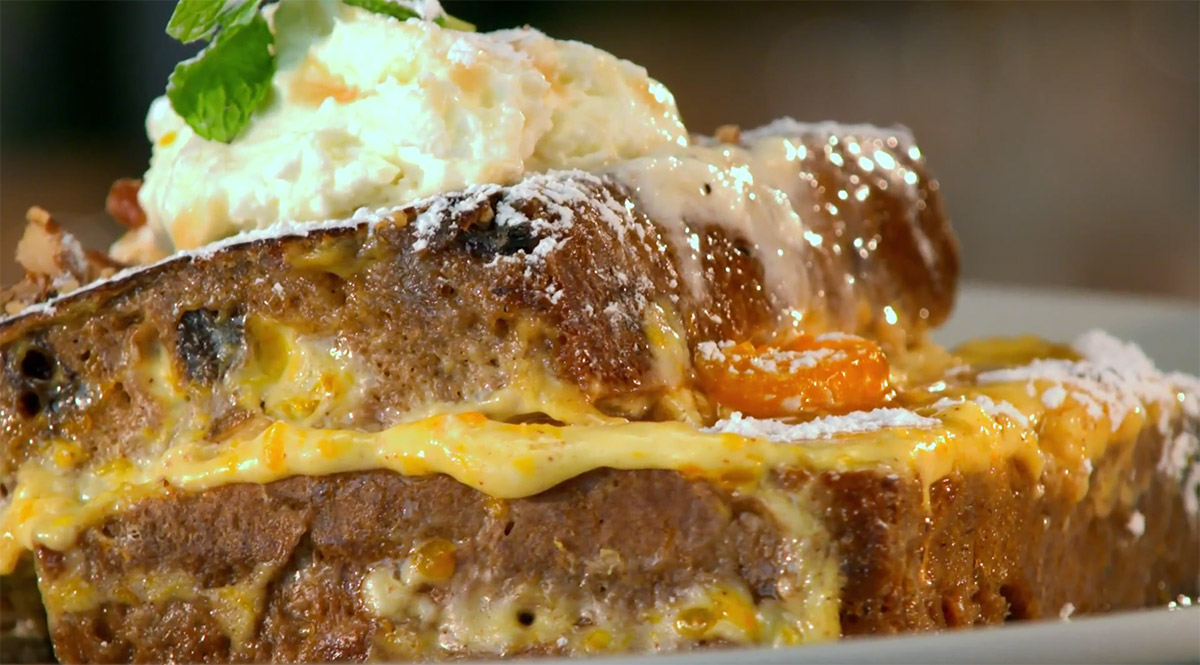 Stuffed French Toast – As Seen on Restaurant: Impossible
From the episode, "Mistrust and Malaise"
SERVES 4
YOU'LL NEED
FOR THE FRENCH TOAST BATTER
2 tsp ground cinnamon
1 tsp ground nutmeg
3 tbsp granulated sugar
5 eggs
½ cup milk
¼ cup orange juice
1 tsp vanilla extract
FOR THE ORANGE-GRAND MARNIER FILLING
¼ cup cream cheese
1 oz Grand Marnier
¼ cup powder sugar
1 tsp vanilla extract
1 tsp ground cinnamon
¼ cup mandarin orange segments, chopped
FOR THE PECAN MAPLE SYRUP
1 cup maple syrup
¼ cup butter
3 tbsp candied pecans, chopped
FOR THE FRENCH TOAST
16 slices raisin walnut bread
1 tsp powder sugar
2 tbsp candied pecans, chopped
1 oz Mandarin orange segments
1 bunch mint, rough chopped for garnish
4 tbsp grapeseed oil
MAKE IT
FRENCH TOAST BATTER
1) In a mixing bowl whisk all ingredients together and set aside.
ORANGE-GRAND MARNIER FILLING
1) In a food processor, place cream cheese, Grand Marnier, powdered sugar, vanilla extract, and cinnamon.
2) Puree together until mixture is whipped and semi soft.
3) Fold in chopped oranges.
PECAN MAPLE SYRUP
1) Heat syrup to a slight simmer and place in a blender.
2) Add cold butter and blend together to emulsify.
3) Remove from blender and fold in chopped candied pecans.
4) Keep warm.
FRENCH TOAST
1) Pre-heat oven to 350 degrees.
2) Spread orange-Grand Marnier filling onto 1 slice of the bread.
3) Place the other slice on top of the filling to create a stuffed portion.
4) Dunk the stuffed portion in the French toast batter.
5) Add grapeseed oil to a non-stick skillet over medium high heat.
6) Sear both sides of the battered stuffed French toast.
7) Finish the seared stuffed French toast in the oven, about five minutes.
PLATING
1) Place the stuffed French toast in the middle of a plate.
2) Top with pecan maple syrup, chopped pecans, mandarin segments and mint.