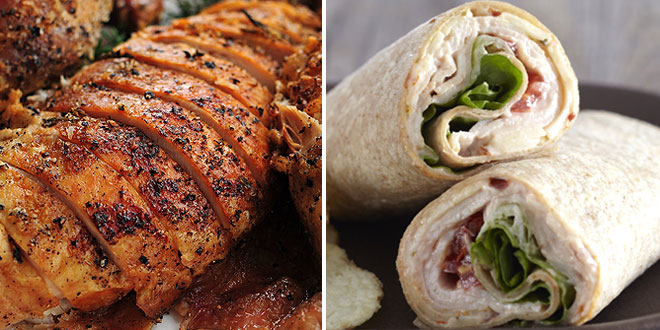 Herb Roasted Turkey Breast with Cranberry Orange Marmalade
Ingredients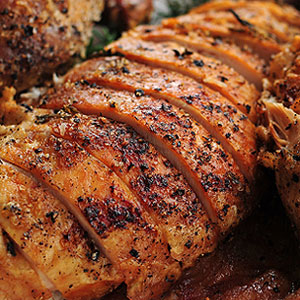 For Turkey
5-6lbs Whole Bone-in Turkey Breast
1 tbsp Chopped Garlic
2 tsp Dijon Mustard
1 tbsp Chopped Rosemary
1 tbsp Chopped Thyme
1 tbsp Chopped Sage
Salt and Pepper to taste
2 tbsp Grapeseed Oil
2 tbsp Orange Juice
1 cup White Wine
For Marmalade
3 tbsp Orange Marmalade
1/2 cup Cranberry Sauce
1 tsp White Wine Vinegar
Directions
Preheat the oven to 325 degrees. Place turkey in a roasting pan on a roasting rack. Whisk together garlic, herbs, salt, pepper, orange juice and oil. Rub mixture all over turkey and under the skin. Pour the wine into the bottom of the pan and roast turkey for 1 1/2 to 1 3/4 hours until the skin is golden brown and internal temperature is 165 degrees using a meat thermometer. Allow turkey to rest for 20-30 minutes.
For the sauce, mix all ingredients together and serve on the side.
Whole Wheat Turkey Wrap
Ingredients
1 lb Sliced Leftover Turkey Breast
4 each Whole Wheat Wrap
8 slices Brie Cheese
6 tbsp Whole Grain Mustard
2 tbsp Lite Mayo
Leftover Cranberry Orange Marmalade
2 cups Mesclun Greens or Lettuce
Directions
In a small mixing bowl, mix together whole grain mustard and lite mayo and set aside. Lay out the whole wheat wraps on a clean work surface and spread 2 tbsp of the mayo/mustard and 2 tbsp of the cranberry orange marmalade in the center of each wrap. Divide the greens among the wraps. Follow with 4oz of sliced turkey and 2 pieces of sliced brie. Fold the sides of the wrap towards the center and begin to roll up the wrap from the bottom to the top. Cut the wrap in 1/2 and serve.