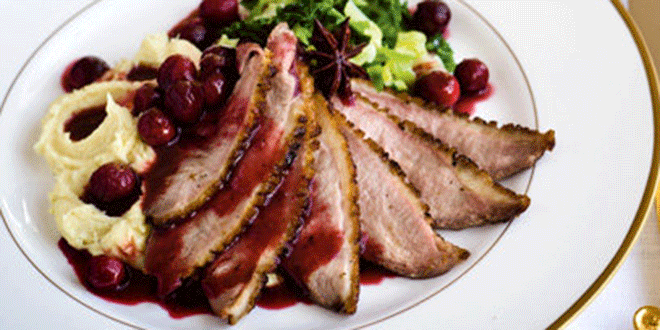 Duck Breast with Berry Sauce
Time: 1 hr 5 min
Yield: 6 servings
Ingredients
6 large boneless duck breast fillets, skin on
Salt and freshly ground black pepper
2 tablespoons oil
1/4 cup balsamic vinegar
1 cup red wine
1 cup chicken or duck stock
1/3 cup brown sugar
3 sprigs fresh rosemary
2 cups berries: blueberries, raspberries, or blackberries
2 tablespoons butter
Directions
Season the duck breast with salt and pepper.
Heat the oil in a large sauté pan over medium-high heat.
Brown the duck breast, skin side first, then flip over, reduce heat and cook other side, about 10 to 15 minutes.
Remove the duck breasts to a platter, reserving the juices in the pan. Work in batches, if necessary.

For the sauce:
Add the balsamic vinegar and red wine to the pan and cook until reduced by half.
Add the stock and reduce by half again, then add brown sugar, rosemary and berries and cook for 3 minutes.
Strain into a bowl and whisk in the butter to finish.
Place the duck breast on each plate and drizzle the sauce around.