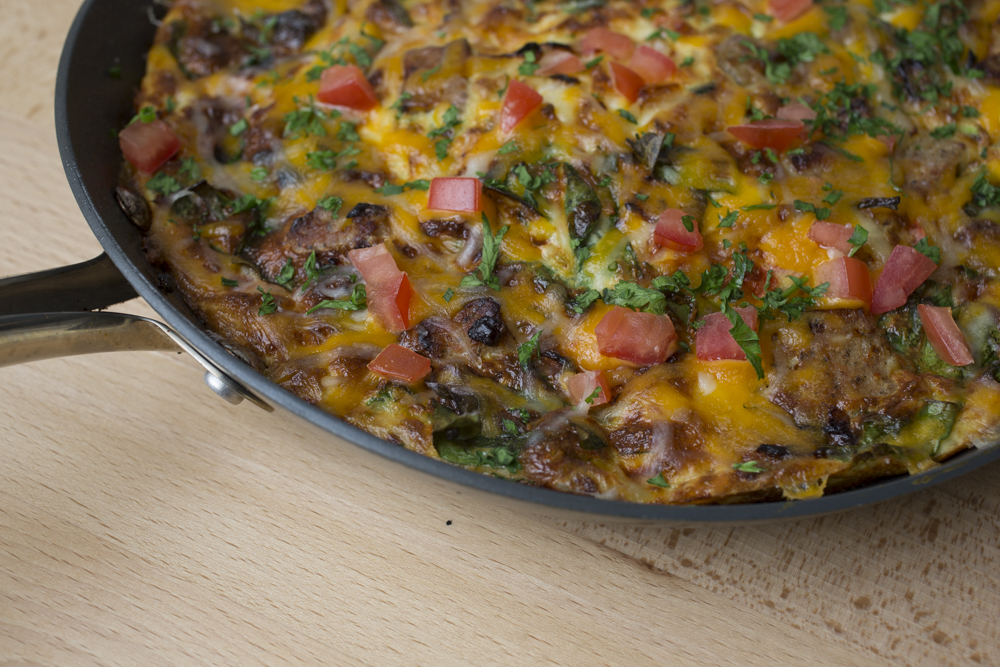 TURKEY SAUSAGE, TOMATO & SPINACH FRITTATA
The breakfast of champions doesn't come in a box. It's right here.
Baby spinach and eggs together – now you've got a breakfast approved by both Popeye and Rocky Balboa. The turkey sausage adds even more lean protein, and rounds out this quiche to provide a perfectly balanced meal: High protein, low carbohydrates, high fiber, and a moderate amount of healthy fats.
I might also add that, despite a seemingly intimidating instruction box, this dish is almost completely idiot-proof. Plus, it will taste fresh for up to three days after baking, so you've got the green light to make extra for later in the week when you might be short on time.
IDEAL FOR: Any Day
YOU'LL NEED
Nonstick fat-free cooking spray
½ cup turkey sausage, cooked and diced
½ cup onions, diced
¾ cup Swiss cheese, shredded
1 cup baby spinach leaves
1 cup fat-free cottage cheese
½ tomatoes, diced
½ cup fat-free evaporated milk
¼ cup reduced fat cheddar cheese
2 whole eggs
2 egg whites
1 tsp baking powder
MAKE IT
1)   Preheat oven to 350 degrees
2)   Coat a large nonstick sauté pan with cooking spray, and place over medium-high heat.
3)   Add the sausage and onions and sauté for 3 minutes until onions are translucent. Set mixture aside to cool.
4)   In a mixing bowl, whisk together the Swiss cheese with the spinach, cottage cheese, tomatoes, evaporated milk, cheddar cheese, eggs, egg whites, and baking powder. Mix in the cooled sausage and onion mixture.
5)   Pour the egg mixture into the pan and place the pan in the oven.
Bake at 350 degrees for 45 minutes, or until a knife inserted into the middle of the frittata comes out clean. (Oven temperature may vary)