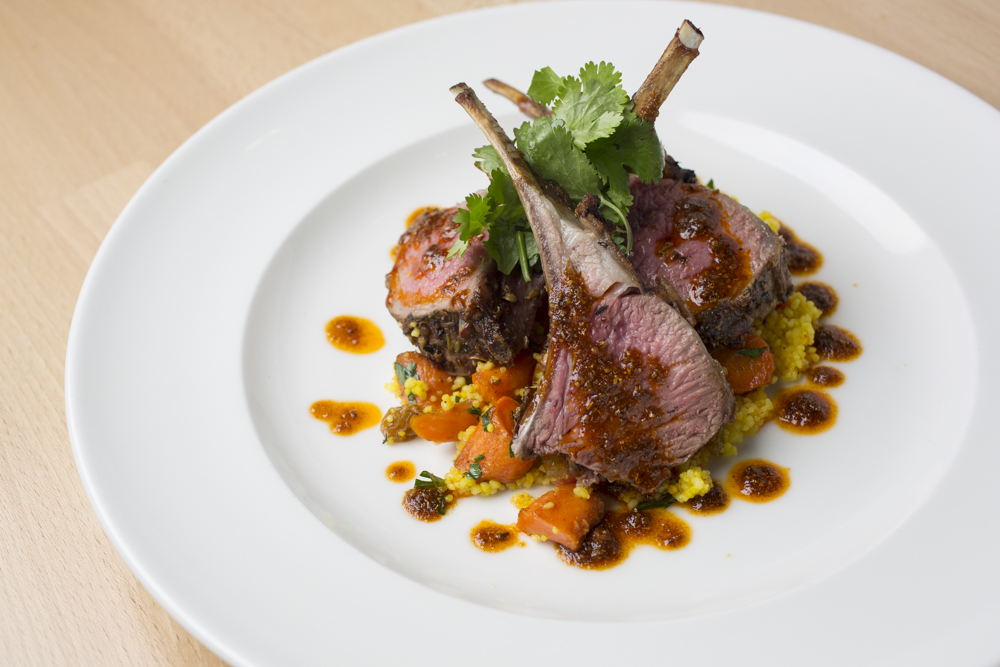 MOROCCAN LAMB WITH SAFFRON COUS COUS AND HONEY ROASTED CARROTS
Rich, distinctive, and packed with protein and healthy fats, this is a reward that makes perfect sense.
Lamb has a reputation as being a fatty meat—one well-deserved in the era of lot feeding and all-corn diets. But 100% grass fed (or grass-finished) lamb retains the rich flavor you'd expect with a much more respectable protein-to-fat ratio. A 4-ounce serving of lamb typically packs about 19 grams of protein to 26 grams of fat; grass-fed lamb, meanwhile, has 20 grams of protein to 17 grams of fat. The fat content is not only lower, but a higher percentage of fat from grass-fed lamb comes from healthy omega-3s as well as conjugated linoleic acid (CLA) which studies have shown can target belly fat to help you burn it faster. It's obvious, then, to go for grass-fed when making this recipe; have your butcher French the rack of lamb to get a time-consuming step out of the way.
From there, the dish is relatively simple; the lamb marinade is easy to make and you'll only need to let the lamb marinate for about 30 minutes to get the full effect of the flavor. The harissa—or hot chili pepper paste—adds a decisive kick that serves as a nice balance to the richness of the lamb.
Harissa is a hot chili pepper paste.
IDEAL FOR:
HARD TRAINING DAY
YOU'LL NEED
FOR THE LAMB AND MARINADE
1 four-bone rack of  grass-fed lamb, Frenched
1 tbsp thyme, chopped
1 tbsp garlic, minced
1 tbsp ginger, minced
½ cup grapeseed oil
1 tsp coriander powder
½ tsp cumin powder
½ tsp fennel seeds
½ tsp paprika powder
salt
pepper
FOR THE SAFFRON COUS COUS
1 cup cous cous, uncooked
2 cups chicken broth
½ cup golden raisins
1 tsp saffron
3 oz butter
¼ tsp salt
FOR THE HONEY ROASTED CARROTS
2 cups carrots, peeled and medium diced
2 tbsp grapeseed oil
1 dash cumin powder
2 tbsp honey
Salt
FOR THE HARISSA
1 ½ tsp coriander powder
1 ½ tsp cumin powder
½ tsp fennel seeds
½ tsp caraway seeds, toasted and ground
1 ½ tsp paprika powder
½ tsp cayenne pepper
1 garlic clove
½ tsp salt
½ cup grapeseed oil
½ tsp red wine vinegar
FOR THE FINISHED DISH
1 cup chic peas
1 cup green peas
½ cup chicken stock
1 tbsp butter
1 tbsp parsley, chopped
MAKE IT
LAMB MARINADE
1)   In a mixing bowl, combine all marinade ingredients.
2)   Place the lamb in a roasting pan and pour the marinade in, covering the lamb as much as possible. Marinate for at least 30 minutes prior to roasting.
FOR THE SAFFRON COUS COUS
1)   In a saucepot, bring the chicken broth to a boil, then add the saffron, butter, and salt.
2)   Stir in the cous cous and raisins.
3)   Remove the saucepot from the heat and cover with foil or plastic wrap. Let sit for 5 to 7 minutes. Cous cous should be light and puffy.
FOR THE HONEY ROASTED CARROTS
1)   Preheat an oven to 350 degrees.
2)   Toss all the carrot ingredients together in a mixing bowl, then spread the carrots over a sheet pan.
3)   Roast for 20 minutes or until tender and lightly caramelized.
FOR THE HARISSA
1)   Puree the garlic and oil in a blender.
2)   Pour the puree into a mixing bowl, and the rest of the harissa ingredients and whisk together.
FINISHING THE DISH
1)   Preheat an oven to 350 degrees.
2)   In a hot sauté pan, sear the marinated rack of lamb on all sides and place on a sheet pan with a roasting rack. Roast in the oven for 12 to 15 minutes until medium-rare. Let the lamb rest for 5 minutes before carving.
3)   In another warm sauté pan, add the butter and chicken stock. Once the butter is melted into the stock, add the honey roasted carrots, green peas, and chic peas. Once the veggies are warm, season with salt and pepper to taste, and add the parsley.
4)   Arrange the saffron cous cous, vegetables, and sliced lamb on a plate. Drizzle the harissa around the plate.