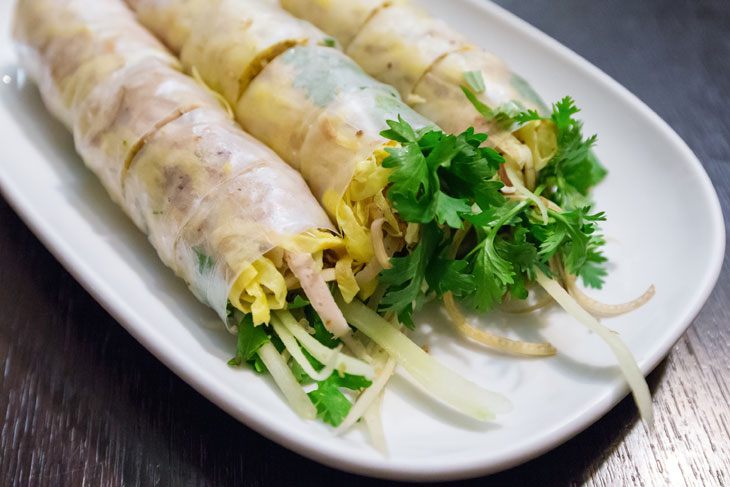 Beef Tenderloin and Watercress Summer Roll with Peanut Dipping Sauce
 Yields 2 servings
INGREDIENTS
8 oz Beef Tenderloin
1 tsp Sesame Oil
1 tsp Hoisin Sauce
1 tbsp Soy Sauce
1/2 cup Arugula or Watercress
1/2 cup thinly sliced carrots Carrots (matchsticks)
1/2 cup thinly sliced Cucumber (matchsticks)
16 leaves Mint, finely chopped
16 leaves Basil, finely chopped
16 leaves Cilantro, finely chopped
8 Rice Paper Rounds
3/4 cup Peanut butter
1/3 cup Coconut milk (more if necessary)
1/3 cup Honey Roasted Chopped Peanuts
1 tsp Sambal or Sriracha
1 Lime
METHOD
To make the sauce:
Add the coconut milk, peanut butter into a sauce pan and warm (do not boil).
Incorporate the two and add more coconut milk to thin it to dipping consistency. Remove from heat once warmed and mixed, add lime, chopped peanuts and hot sauce and mix. Set aside.
Slice the beef into small strips and sear on medium high heat in sesame oil
Finish with soy sauce and hoisin and caramelize. Set beef aside to cool.
Take the rice paper and gently moisten to make pliable.
Lay in Arugula, Carrot, Cucumber Mint, Basil, Cilantro and beef.
Fold over both sides and roll keeping it tight.
Lay each in a row and and present with the peanut dipping sauce in a small bowl.