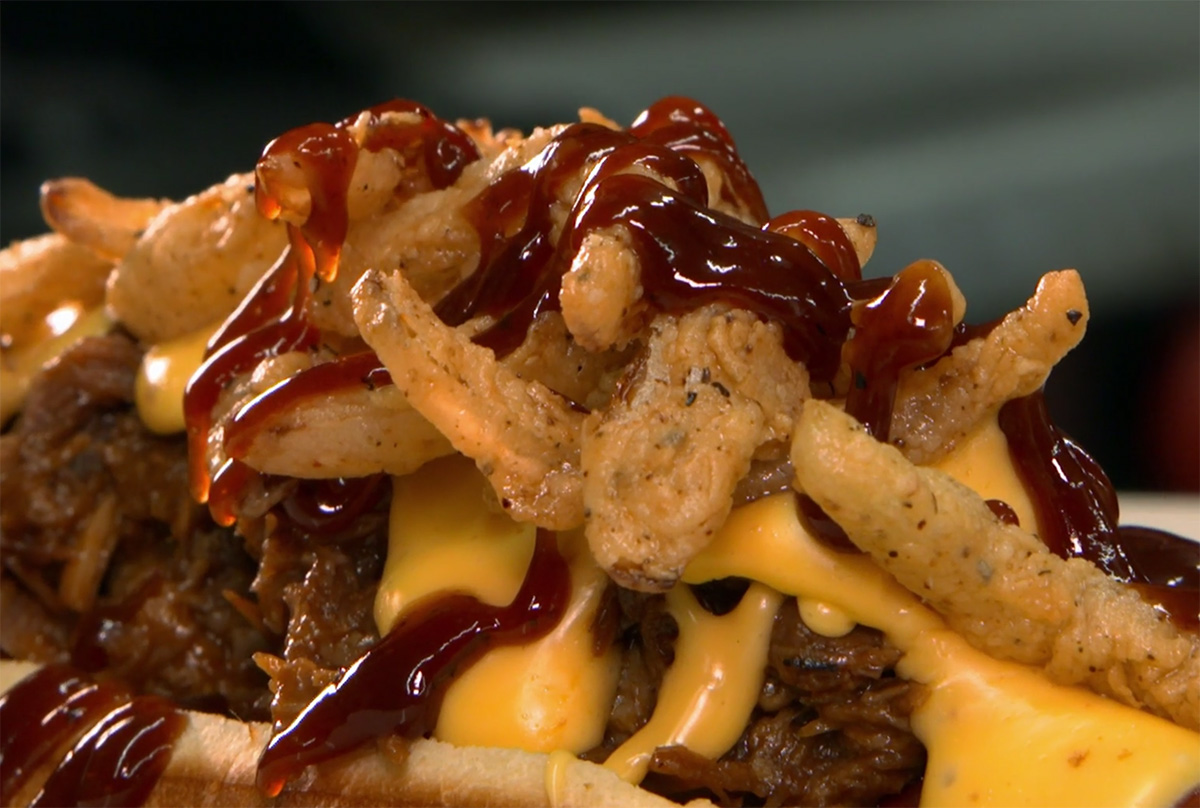 The Memphis Dog – As Seen on Restaurant: Impossible
From the episode, "Hot Doggin' It in Memphis"
SERVES 4
YOU'LL NEED
FOR THE PULLED PORK
2 lbs pork butt, bone out
1 tbsp smoked paprika
1 tsp Cajun spice
1 tsp ground cumin
4 oz BBQ spice
2 qts Memphis style BBQ sauce, reserve 2 oz. for garnish
Salt and pepper
FOR THE WARM POTATO SALAD
8 medium red bliss potatoes, diced
½ cup mayonnaise
2 tbsp Dijon mustard
2 tbsp whole grain mustard
½ red onion thinly sliced
8 oz bacon, diced
Salt and pepper
1 bunch scallions, sliced
FOR THE CHEESE SAUCE
1 ½ cups milk
1 ½ cups heavy cream
2 cups white cheddar cheese, shredded
FOR THE CRISPY FRIED ONIONS
1 small white onion, thinly sliced
1 cup buttermilk
2 tbsp hot sauce
1 cup all-purpose flour
2 tbsp corn starch
1 tbsp Cajun spice
1 tsp cayenne pepper
FOR PLATING
4 all beef hot dogs
4 brioche buns
MAKE IT
PULLED PORK
1) Pre-heat oven to 325.
2) Rub pork generously with smoked paprika, Cajun spice, ground cumin, BBQ spice, salt, and pepper.
3) Place pork in roasting pan. Cover with tin foil and place in oven for about 3 hours.
4) Using your hands or a fork, pull cooked pork.
5) Dress pork with Memphis BBQ sauce and set aside.
WARM POTATO SALAD
1) In a large stock pot placed diced potatoes and top with cold water. Season the pot with salt.
2) Cook potatoes for about 15 minutes or until tender all the way through.
3) In a mixing bowl add mayonnaise, Dijon mustard, and whole grain mustard and set aside.
4) In a sauté pan over medium-high heat, add bacon, and allow to cook for about 2 minutes. Add onions and cook for another 3 minutes.
5) Add cook potatoes and sauté for another 3 minutes.
6) Add the cooked potatoes and bacon mixture to the mayonnaise and mustard mixture. Mix well.
7) Finish with salt, pepper, and scallions.
CHEESE SAUCE
1) In a sauce pot add heavy cream and milk.
2) Bring mixture to boil.
3) Remove from heat. Using a whisk, incorporate shredded cheese until melted.
FRIED ONIONS
1) Pre-heat a deep fryer or an air fryer to 350 degrees.
2) In a large mixing bowl add buttermilk and hot sauce together.
3) In a separate mixing bowl, add all-purpose flour, corn starch, Cajun spice, and cayenne pepper.
4) At least 1 hour prior to cooking the onions place the onions in the buttermilk-hot sauce mixture.
5) Remove the onions from the buttermilk-hot sauce mixture and place in the seasoned flour.
6) Place the breaded onions in the fryer and cook for about 3 minutes or until the onions are light brown and crispy.
7) Season the onions with salt and pepper and set aside.
PLATING
1) In a sauté pan over medium-high heat add the hot dogs and cook for approximately 4 minutes on each side.
2) Place the hot dogs into buns and top with pulled pork.
3) Dress with cheese sauce, fried onions, Memphis style BBQ sauce, and sliced scallions. Serve with warmed potato salad.