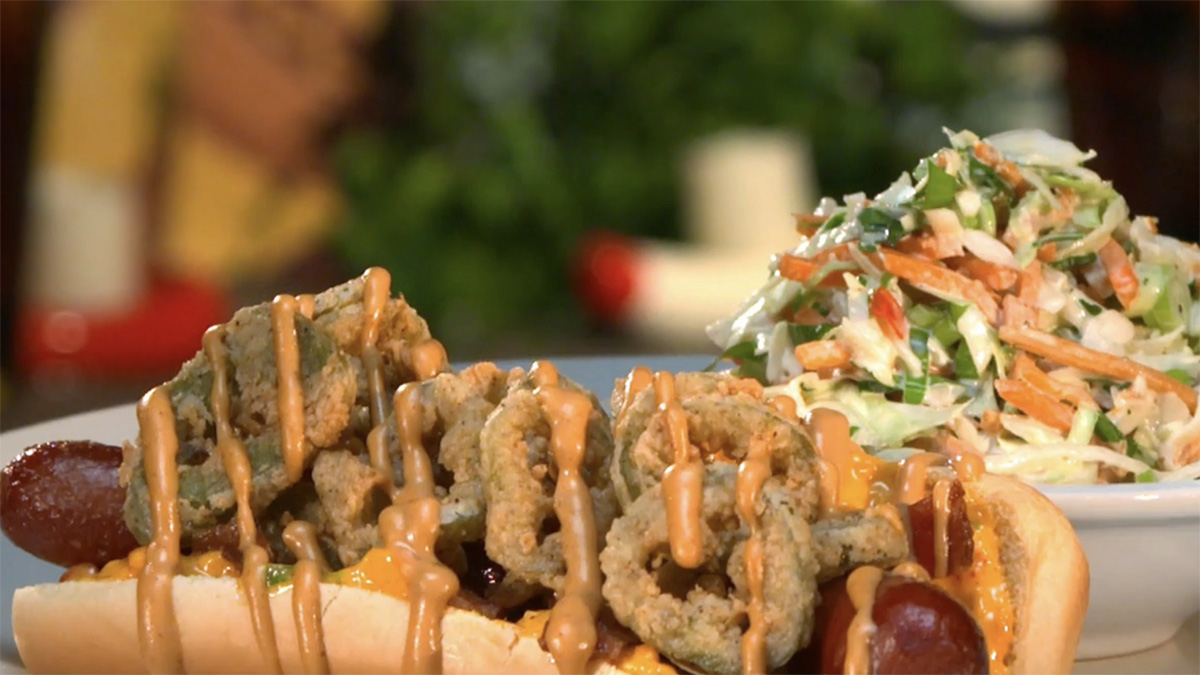 Jalapeno Popper Dog – As Seen on Restaurant: Impossible
From the episode, "Hot Doggin' It in Memphis"
SERVES 4
YOU'LL NEED
FOR THE PIMENTO CHEESE
2 cups shredded cheddar cheese
8 oz cream cheese, softened
½ cup mayonnaise
1 clove garlic, minced
1 tsp ground cayenne pepper
4 oz diced pimento
½ cup heavy cream
Salt and pepper
FOR THE SPICY SLAW
3 tbsp hot sauce
1 tbsp cider vinegar
3 cups white cabbage, shredded
1 cup carrots, shredded
1 bunch cilantro, chopped
1 bunch scallions, sliced
Salt and pepper
BBQ sauce
FOR THE CHIPOTLE AIOLI
1 cup mayonnaise
3 cloves garlic, minced
2 tbsp chipotle adobe
Juice and zest of 1 lemon
FOR THE DOG
¼ cup all-purpose flour
2 tbsp corn starch
2 oz bacon, sliced
½ cup jalapenos sliced
4 brioche hot dog buns
4 all beef hot dogs
MAKE IT
PIMENTO CHEESE
1) In a bowl place cheddar cheese, cream cheese, mayonnaise, garlic, cayenne pepper, pimentos, salt, and pepper.
2) Using a hand blender slowly incorporate heavy cream. The sauce should be thinner in consistency and able to be poured.
SPICY SLAW
1) In a mixing bowl add hot sauce and cider vinegar together.
2) In a separate bowl add cabbage, carrots, cilantro, and scallions.
3) Dress the cabbage mixture with BBQ sauce and cider vinegar. Season with salt and pepper.
CHIPOTLE AIOLI
1) In a blender add all ingredients and puree until smooth.
2) Season with salt and pepper.
PLATING
1) Pre-heat a deep fryer to 350 degrees.
2) In a mixing bowl, add all purpose-flour and corn starch.
3) Next add sliced jalapeno peppers to the flour and corn starch mixture. Shake off excess flour and corn starch. Place jalapenos in the deep fryer and allow to cook for 1 to 2 minutes.
4) In sauté pan over medium high heat add bacon and allow to render for about 3 minutes or until bacon is crispy. Remove the bacon from the pan and set aside.
5) In the same pan that you cooked the bacon in, add the hot dogs cook for about 6 minutes or until the hot dogs are light brown and hot all the way through.
6) Dress the hot dog bun with pimento cheese.
7) Place the hot dog in the bun and top with crispy bacon, fried jalapenos, and chipotle aioli. Serve with slaw.