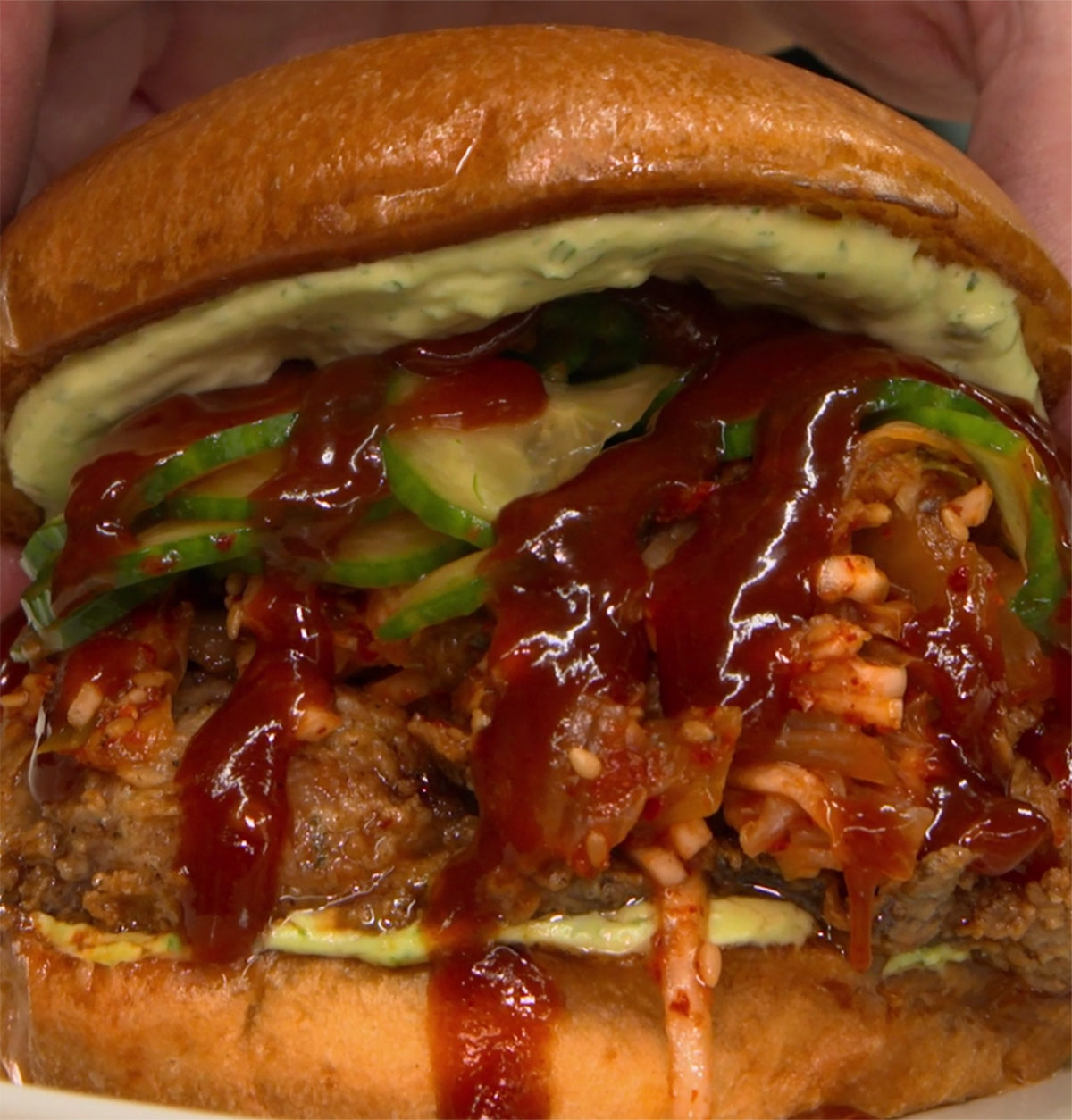 Sweet and Sour Fried Chicken – As Seen on Restaurant: Impossible
From the episode, "Hot Doggin' It in Memphis"
SERVES 4
YOU'LL NEED
FOR THE GOCHUJANG BBQ SAUCE
2 tbsp gochujang
1 tbsp honey
Juice of 1 lime
2 tbsp sesame oil
2 tbsp sweet chili sauce
1 bunch cilantro, chopped
FOR THE SESAME CUCUMBERS
1 English cucumber, sliced thin
2 tbsp soy sauce
2 tbsp honey
2 tbsp rice wine vinegar
2 tbsp sesame oil
1 bunch scallions, sliced
1 tsp sesame seeds
FOR THE AVOCADO WHIP
1 avocado
¼ cup mayonnaise
3 cloves garlic, minced
1 tbsp rice wine vinegar
Salt and pepper
FOR THE FRIED CHICKEN
Oil, enough for deep frying
4 boneless chicken thighs
2 cloves garlic, minced
2 thumbs ginger, minced
2 tbsp soy sauce
½ cup sweet chili sauce
2 tbsp hot sauce
2 eggs
½ cup corn starch
½ all-purpose flour
1 bunch scallions, sliced
2 tbsp sesame seeds
FOR PLATING
2 tbsp butter
4 brioche buns
French fries
4 oz kimchee
MAKE IT
GOCHUJANG BBQ SAUCE
1) Combine all ingredients in a small mixing bowl and mix well.
2) Season with salt and pepper.
SESAME CUCUMBERS
1) In a mixing bowl add all ingredients together and cover.
2) Place in refrigerator at least 12 hours prior to serving.
AVOCADO WHIP
1) In a large mixing bowl using a hand blender add avocado, mayonnaise, sour cream, garlic, and rice wine vinegar. Blend until smooth.
2) Season with salt and pepper.
FRIED CHICKEN
1) Pre-heat a fryer or an air fryer to 325 degrees.
2) In a mixing bowl add garlic, ginger, soy sauce, sweet chili sauce, hot sauce and eggs.
3) Whisk all ingredients together.
4) Add the boneless chicken thighs to the marinade, and allow to marinate for about 4 hours prior to cooking.
5) In a separate bowl, add corn starch, flour, salt, and pepper together.
6) Remove the chicken from the marinade and toss in the flour mixture.
7) Place breaded chicken into the fryer and allow to cook for approximately 8 minutes, or until the chicken reaches an internal temperature of 165 degrees Fahrenheit.
PLATING
1) Add butter to a sauté pan over medium high heat. Place brioche buns in the pan face side down and toast until golden brown.
2) Next dress the buns with the avocado whip on both sides.
3) Top the buns with the crispy fried chicken.
4) Top the chicken with gochujang BBQ sauce, sesame cucumbers, and kimchee.
5) Serve with French fries.