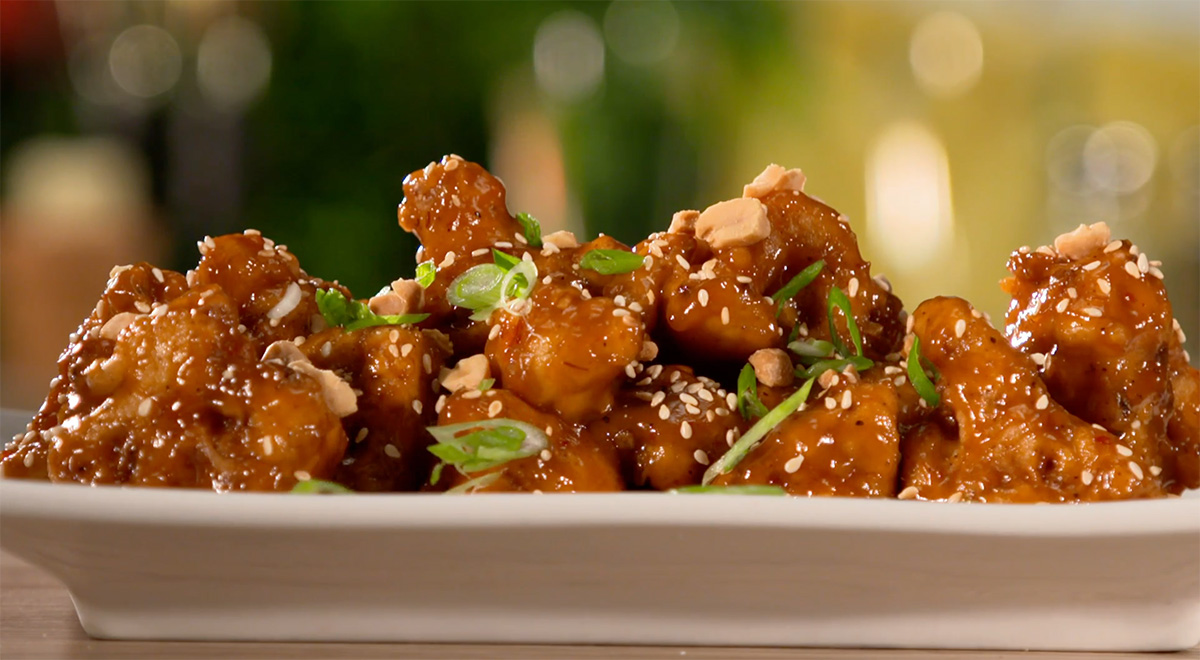 Thai Peanut Cauliflower – As Seen on Restaurant: Impossible
From the episode, "House of Cards"
SERVES 4
YOU'LL NEED
FOR CAULIFLOWER PREP
1 cup hot sauce
¼ cup rice wine vinegar
1 head cauliflower, cut from stem and cut into florets
2 cups all-purpose flour
1 tbsp Cajun seasoning
1 tbsp smoked paprika
1 tsp onion powder
FOR THE THAI PEANUT SAUCE
2 cups sweet chili sauce
1 cup peanut butter
¼ cup soy sauce
Juice of 1 lime
1 cup coconut milk
FOR FRYING & FINISHING
Fryer with frying oil, as needed
2 tbsp roasted peanuts, chopped
1 bunch scallions, chopped
1 tsp sesame seeds
12 sprigs fresh cilantro
Kosher salt and pepper, to taste
MAKE IT
CAULIFLOWER PREP
1) In a large mixing bowl add hot sauce and rice wine vinegar and whisk together.
2) Place cut cauliflower florets in the hot sauce and rice wine vinegar mixture and allow to marinate for 3 hours prior to cooking.
3) In a mixing bowl, combine flour, Cajun seasoning, smoked Paprika and onion powder and set aside.
THAI PEANUT SAUCE
1) In a small sauce pot over medium, add the sweet chili sauce, peanut butter, soy sauce and lime juice. Stir the sauce mixture with a whisk and continue to heat the sauce mixture for 4 minutes until hot. Add the coconut milk. Whisk and allow the sauce to come to a simmer while stirring.
FRY AND FINISH
1) Preheat fryer with oil to 350 degrees F.
2) Remove the cauliflower from marinade and dredge in the seasoned flour.
3) Fry the dredged cauliflower florets Cook for about 8 minutes, or until golden brown.
4) Place the fried cauliflower in mixing bowl. Season with salt and pepper and dress with the Thai peanut sauce.
5) Place dressed cauliflower in bowl and top with the chopped peanuts, sesame seeds, chopped scallions, and cilantro sprigs.