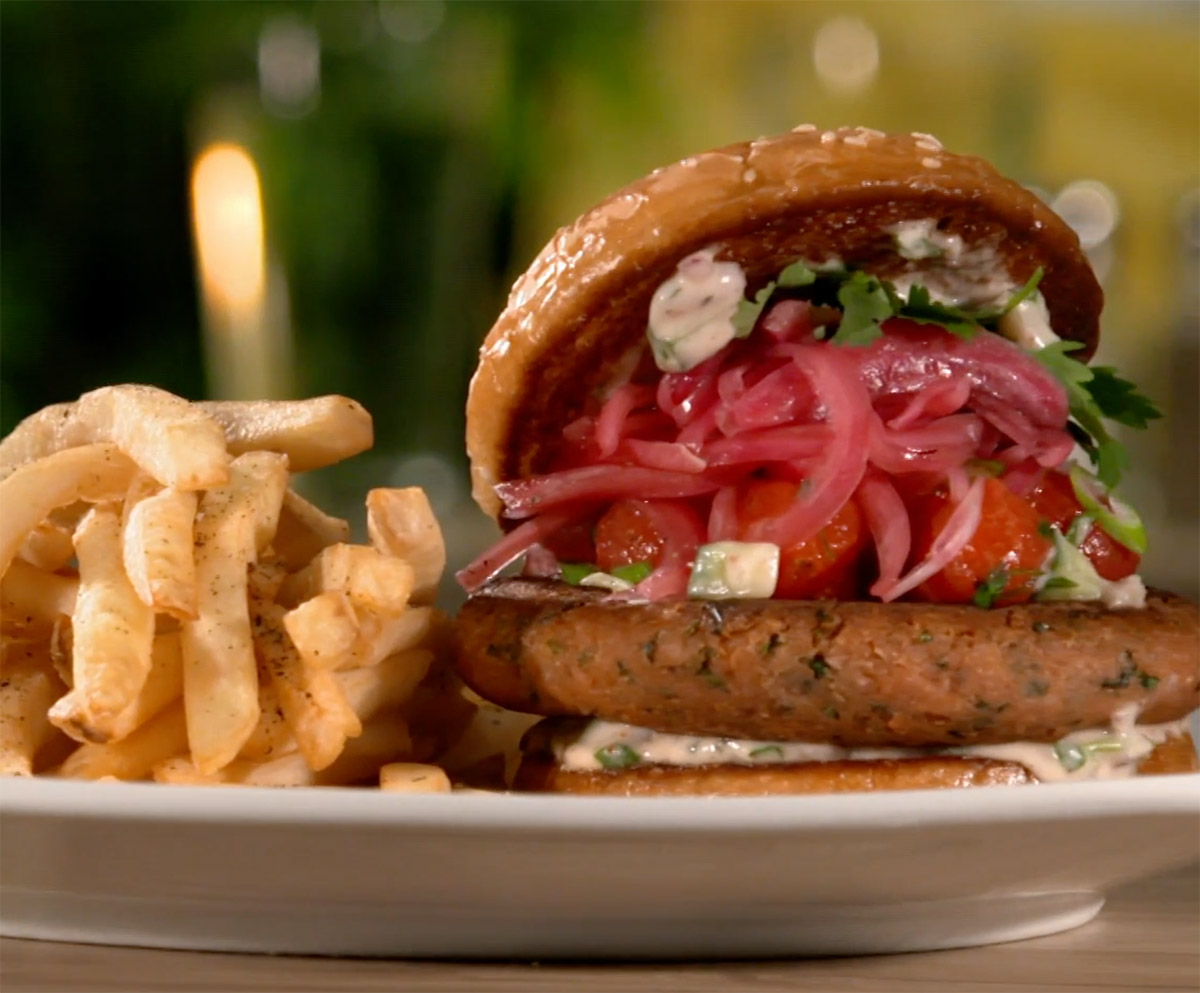 Falafel Burger – As Seen on Restaurant: Impossible
From the episode, "House of Cards"
SERVES 4
YOU'LL NEED
FOR THE PICKLED RED ONIONS
1 cup red wine vinegar
3 tbsp grenadine
½ cup honey
¼ cup granulated sugar
1 red onion, sliced
FOR THE TZATZIKI SAUCE
1 seedless cucumber, small diced
1 pinch kosher salt
2 cloves garlic, minced
2 cups vegan yogurt
Juice of 1 lemon
1 bunch fresh cilantro, chopped
1 tsp ground cumin
Kosher salt and pepper, to taste
FOR THE FALAFEL BURGER
2 cups canned chickpeas, drained
Juice of 2 raw red beets
1 tbsp ground cumin
1 tsp curry powder
1 tsp garlic powder
1 tsp onion power
¼ cup egg substitute
1 cup all-purpose flour
½ cup onion, small diced
1 bunch fresh cilantro, chopped
4 tbsp vegan butter
4 hamburger rolls
12 cherry tomatoes, flash fried and peeled
MAKE IT
PICKLED RED ONIONS
1) In a medium sauce pot over medium high heat, add red wine vinegar, grenadine, honey, and sugar and bring mixture to a boil.
2) Place sliced red onions into a mixing bowl and pour the boiling vinegar liquid over onions and cover the onions while still hot with plastic wrap and allow to cool in the fridge.
TZATZIKI SAUCE
1) In a large mixing bowl, add diced cucumbers and season with a pinch of kosher salt. Allow the salted diced cucumbers to sit for 10 minutes; cucumbers will purge liquid. Strain cucumbers and discard the liquid.
2) In a separate bowl add garlic, yogurt, lemon juice, chopped cilantro and cumin. Add the strained diced cucumbers into the yogurt mixture and season with salt and pepper to taste.
FALAFEL BURGERS
1) In a food processor add chickpeas, beet juice, cumin, curry powder, garlic powder, and onion powder. Puree mixture until smooth and add egg substitute. Continue to blend together for 30 seconds. Add flour and pulse into the mixture until combined.
2) Place mixture into a mixing bowl and add the onions and cilantro and form 4 patties.
3) In a large sauté pan over medium-high heat add the vegan butter, place the burger buns in the pan and cook until buns are toasted. Set aside.
4) Add the falafel burger patties to the same pan and sear the patties for 3 minutes on each side until patty is golden brown in color.
5) Coat bottom burger buns with tzatziki sauce, top with falafel burger patties and garnish with the peeled cherry tomatoes and pickled red onions.