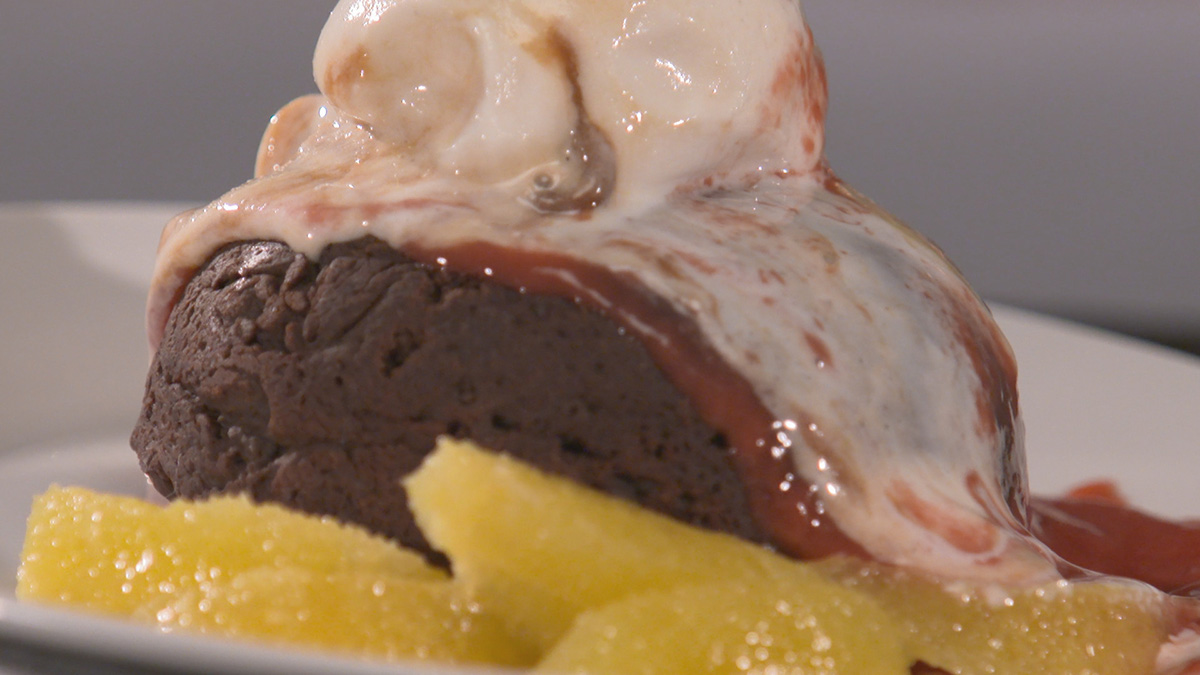 FLOURLESS, DAIRY-FREE CHOCOLATE CAKE – AS SEEN ON DINNER: IMPOSSIBLE
From the episode, "3 Weddings and a Robert"
SERVES 6
YOU'LL NEED
FOR THE CAKE
4 cups unsweetened baking chocolate
8 tbsp (½ cup) coconut oil or vegan butter
¾ cup granulated sugar
3 eggs
¼ cup unsweetened cocoa powder
½ tsp vanilla extract
¼ tsp salt
FOR THE RASPBERRY SAUCE:
1 (10oz) package of frozen raspberries, slightly thawed (or 10 oz fresh raspberries)
2–3 tbsp honey
Juice of ½ a lemon
FOR THE GARNISH
4 oz dairy-free caramel ice cream or any ice cream of choice
6 fresh orange segments
1 fresh mint sprig
MAKE IT
1) Preheat oven to 375 degrees.
2) Grease 6 individual 8oz oven-proof dishes.
3) Make your batter. Melt chocolate and coconut oil (or butter substitute) together over low heat water bath in a medium stainless steel bowl until completely smooth. While the chocolate is melting, whisk eggs together in a bowl until they are slightly lighter in color. Add the sugar and continue whipping until emulsified.
4) When the chocolate is melted, remove from heat. slowly whisk in the eggs sugar mixture. Then stir in vanilla and salt. Sift in the cocoa powder (to avoid lumps) using a sifter or fine mesh sieve and stir to just combine.
5) Pour into your prepared dishes, gently shake to settle the batter, and place in the oven.
6) Bake 15-20 minutes, or until the middle is just set but not to firm, serve immediately for a warm center or if you want a little more of a dense flourless chocolate cake then let cool 5-10 minutes onto a cooling rack before serving.
7) Make the raspberry sauce: Place raspberries, honey, and lemon juice in a blender. Puree until smooth then strain the mixture through a fine mesh strainer to remove the seeds and refrigerate until ready to serve.
8) Serve finished cakes warm with ice cream. Drizzle with raspberry sauce and garnish with orange segments and mint.