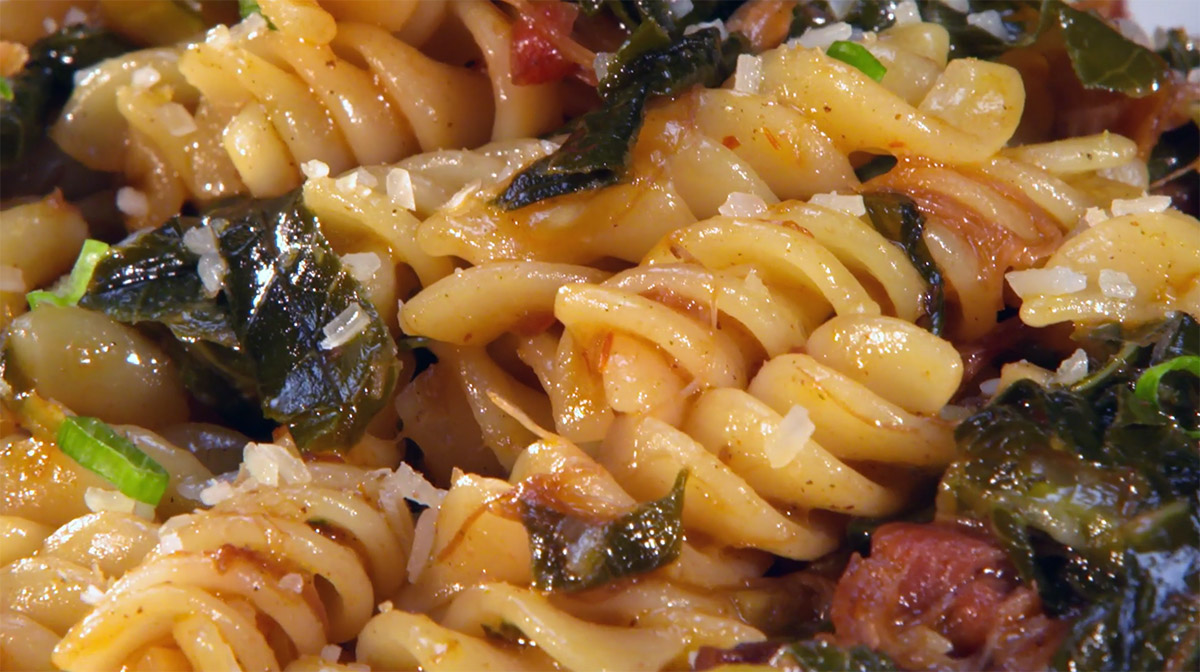 Collard Greens Pasta – As Seen on Restaurant: Impossible
From the episode, "Running on Empty"
SERVES 8
YOU'LL NEED
FOR THE COLLARD GREENS
1 tbsp grapeseed oil
½ cup diced raw bacon
1 lb fresh collard greens, chopped into large ribbons
2 cups chicken stock
2 tbsp apple cider vinegar
2 tbsp sugar
Kosher salt
Black pepper
FOR THE PULLED TURKEY LEGS
3 lbs smoked turkey legs
1 qt chicken stock
Kosher salt
Black pepper
FOR THE RAGU & PLATING
1 medium white onion, diced
2 cloves garlic, minced
2 ribs celery, diced
1 red pepper, diced
2 cups heavy cream
16 oz spiral macaroni, cooked according to the box
3 tbsp Parmesan cheese, grated
2 tbsp crumbled corn bread "breadcrumbs"
MAKE IT
COLLARD GREENS
1) In a large sauce pot over medium heat, add grapeseed oil and bacon. Cook the bacon over medium heat and allow bacon to render for about 5 minutes or until crispy.
2) Add collard greens and stir. Cook the collard greens for 5 minutes.
3) Add chicken stock, vinegar, and sugar. Bring to a simmer. Turn down the heat to low and cover. Continue to cook collard greens for 25 to 30 minutes, or until tender. Season with salt and pepper to taste.
PULLED TURKEY LEGS
1) Pre-heat oven to 325.
2) Place the turkey legs in a roasting pan, and cover with chicken stock and season with salt and pepper.
3) Cover the pan with tin foil and place in the oven for about 2 hours.
4) Using your hands or fork pull cooked turkey legs, getting rid of all bones and tendons.
5) Place the pulled turkey back into the liquid they were braised in and set aside.
RAGU
1) In medium pot over medium-high heat, add onions, garlic, red peppers, celery, and allow to sweat.
2) Add already cooked collard greens.
3) Add braised turkey legs and heavy cream.
4) Bring mixture to a boil. Season with salt and pepper.
PLATING
1) Add the already cooked pasta to the collard green ragu, and bring to a boil.
2) Place a large scoop of pasta into the middle of a bowl, and finish with shredded Parmesan and corn bread "breadcrumbs."