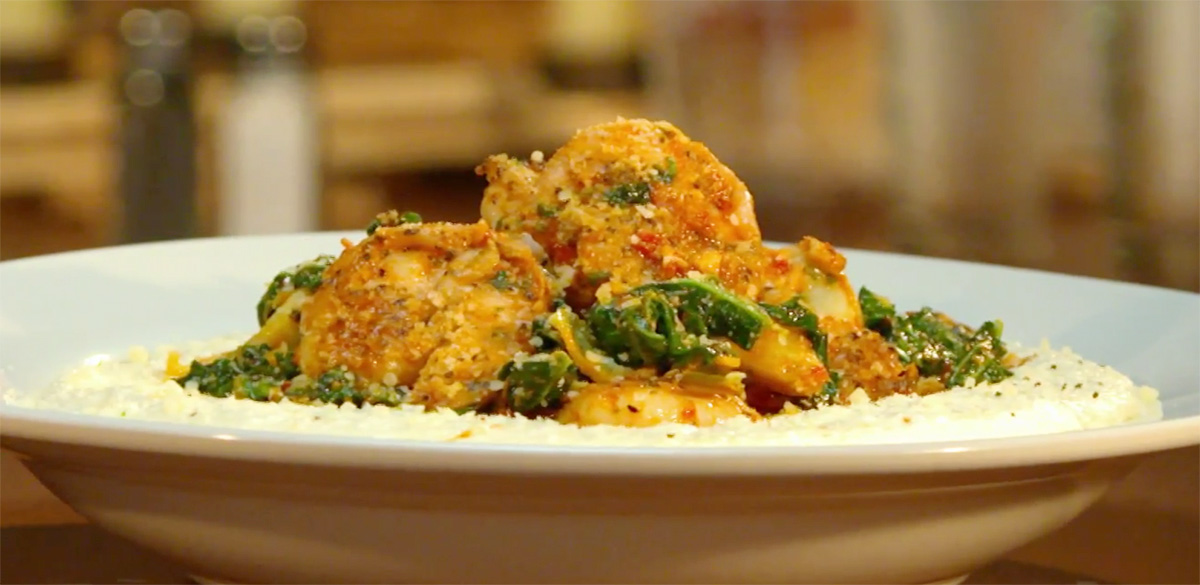 Sundried Tomato Pesto Shrimp and Grits – As Seen on Restaurant: Impossible
From the episode, "Best Friends Forever"
SERVES 4
YOU'LL NEED
FOR THE SUNDRIED TOMATO PESTO
1 cup sundried tomatoes, sliced
4 cloves garlic
1 bunch basil, chopped
1 bunch flat leaf parsley, chopped
1 cup extra virgin olive oil
2 tbsp fresh lemon juice
Salt and pepper, to taste
FOR THE GRITS
2 cups milk
1 cup water
1 cup grits
½ cup cream cheese
1 stick butter
Salt and pepper, to taste
FOR THE SHRIMP
3 tbsp grapeseed oil
2 lbs peeled and deveined shrimp (16-20)
12 artichoke hearts, quartered
16 oz kale, chopped
4 tbsp butter
Salt and pepper, to taste
MAKE IT
SUNDRIED TOMATO PESTO
1) In a food processor add sundried tomatoes, garlic, basil, parsley, and extra virgin olive oil.
2) Incorporate all ingredients together.
3) Finish with lemon juice, salt, and pepper.
GRITS
1) In a saucepan add milk and water. Bring to a boil.
2) Using a whisk, incorporate grits.
3) Drop temperature to a low simmer and allow to cook for about 12 minutes, stirring occasionally.
4) Incorporate cream cheese and butter. Season and set aside.
SHRIMP & PLATING
1) In a sauté pan over medium-high heat, add grapeseed oil and seasoned shrimp. Sear on both sides.
2) Remove shrimp from the pan and set aside. In the same pan add artichokes and kale. Sauté.
3) Add shrimp back to the pan. Then add sundried tomato pesto, and cook for about 2 minutes.
4) Finish with butter, salt, and pepper.
5) Place a scoop of grits in a bowl. Top with kale, artichoke, and shrimp mixture.