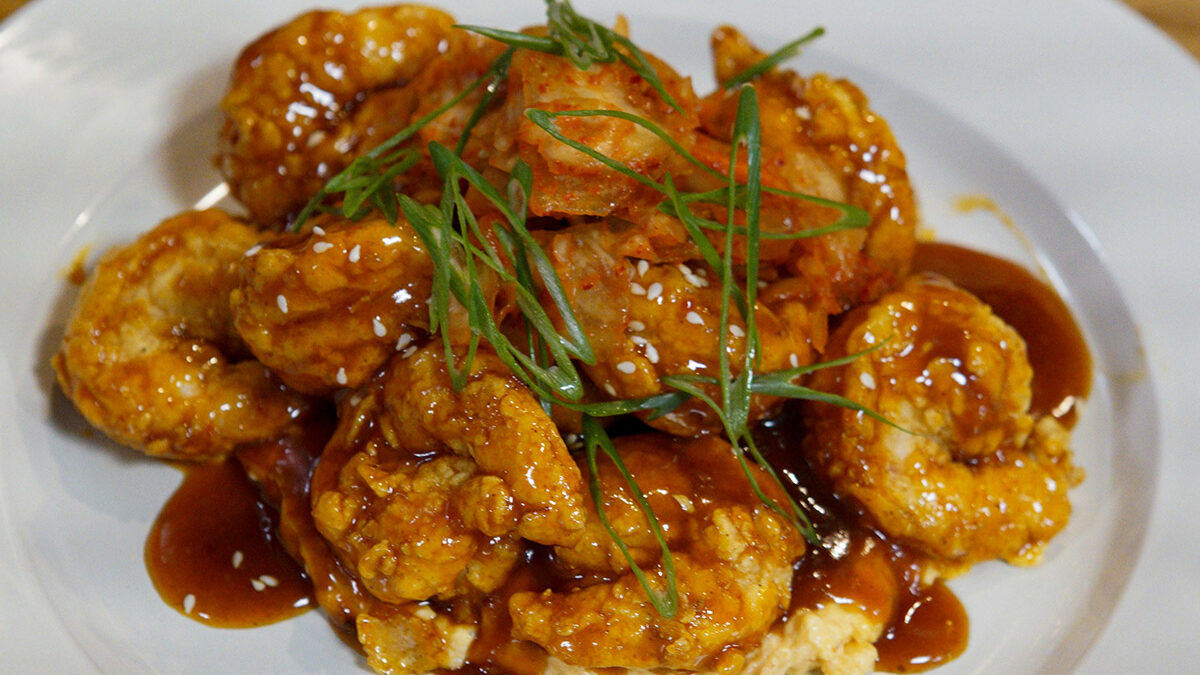 Korean BBQ Shrimp – As Seen on Restaurant: Impossible
From the episode, "My Way or The Highway"
SERVES 4
YOU'LL NEED
FOR THE "PALMETTO" STYLE CHEESE
2 cups cheddar cheese, shredded
1 white onion, diced
1 cup pickled red peppers, diced
1 cup mayonnaise
½ cup cream cheese
FOR THE KOREAN BBQ SAUCE
1 cup ketchup
1 cup gochu jang paste
1 cup sweet chili sauce
2 cloves garlic, minced
3 tbsp butter
FOR THE SHRIMP
24 shrimp, peeled and deveined
2 cups buttermilk
3 tbsp hot sauce
1 tsp Cajun spice
FOR THE SEASONED FLOUR
3 cups, all-purpose flour
3 tbsp corn starch
1 cup corn meal
1 tbsp Cajun spice
2 tbsp togarashi spice
FOR PLATING
1 tbsp sesame seeds
2 tbsp kimchi, chopped
1 bunch scallions, sliced
MAKE IT
PALMETTO CHEESE
1) Place all ingredients in mixing bowl. Using a hand blender, puree all ingredients until smooth.
2) Season with salt and pepper.
KOREAN BBQ SAUCE
1) In a sauce pot over medium heat add ketchup, gochu jang paste, sweet chili sauce, and garlic. Bring to a boil.
2) Remove pot from the heat and slowly add buttermilk using a hand blender or whisk.
3) Season with salt and pepper and set aside.
SHRIMP
1) Pre-heat fryer to 350.
2) In a mixing bowl add buttermilk, hot sauce, Cajun spice, and shrimp.
3) After about 1 hour, remove shrimp from the buttermilk marinade.
4) In a mixing bowl add all ingredients for seasoned flour and whisk together.
5) Add marinated shrimp to the flour mixture and place in the fryer.
6) Cook shrimp for about 4 minutes, or until golden brown.
PLATING
1) Add cooked shrimp to a mixing bowl and toss with Korean BBQ sauce.
2) Place a scoop of palmetto cheese on the bottom of a bowl.
3) Place shrimp on top of the palmetto cheese.
4) Finish with scallions, kimchi, and sesame seeds.