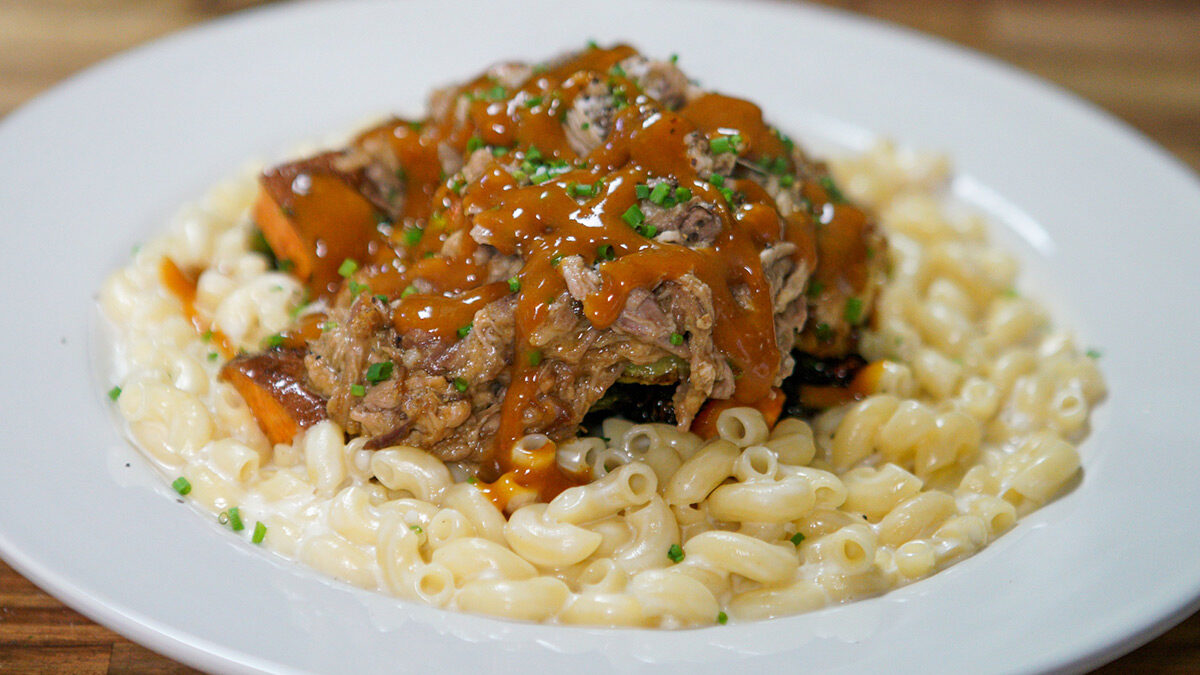 Pulled Pork and Root Vegetable Mac and Cheese – As Seen on Restaurant: Impossible
From the episode, "Marriage on the Rocks"
SERVES 8
YOU'LL NEED
FOR THE SWEET MUSTARD BBQ SAUCE
2 cups sweet BBQ sauce
1 cup mustard BBQ sauce
2 tbsp cider vinegar
Salt and pepper, to taste
FOR THE SWEET TEA BRAISED PORK SHOULDER
2 lbs pork butt, bone in
1 cup yellow mustard
4 oz BBQ spice
1 gallon sweet tea
1 gallon chicken stock
Salt and pepper, to taste
FOR THE ROOT VEGGIE MAC & CHEESE
2 cups Brussels sprouts quartered
1 medium sweet potato, diced
2 medium turnips, peeled and diced
3 tbsp maple syrup
16 oz elbow macaroni, cooked according to instructions
3 cups milk
3 cups heavy cream
4 cups white cheddar cheese, shredded
MAKE IT
SWEET MUSTARD BBQ SAUCE
1) In a mixing bowl add all ingredients and incorporate. Season with salt and pepper.
PULLED PORK
1) Pre-heat oven to 325 degrees.
2) Rub pork with mustard generously, then rub with BBQ spice and season with salt and pepper liberally.
3) Place pork butt in a roasting pan, add sweet tea and chicken stock. Cover with tin foil and place in the oven for about 3 hours.
4) Using your hands or a fork, shred the cooked pork.
5) Dress pork with BBQ sauce and set aside.
ROOT VEGGIE MAC & CHEESE
1) Pre-heat oven to 350 degrees.
2) Place Brussels sprouts, sweet potatoes, and turnips on separate baking sheets. Season with salt and pepper.
3) Place in oven and cook for about 8 minutes.
4) Place the vegetables in a mixing bowl and dress with maple syrup.
5) In a sauce pot, add heavy cream and milk. Bring to a boil. Remove from heat. Using a whisk, incorporate cheese. Cover and set aside.
PLATING
1) Place cooked macaroni in sauté pan over medium heat and toss with cheese sauce.
2) Add Brussels sprouts, turnips, and sweet potatoes. Toss through.
3) Place mixture in a serving bowl. Top mac and cheese with BBQ pulled pork.