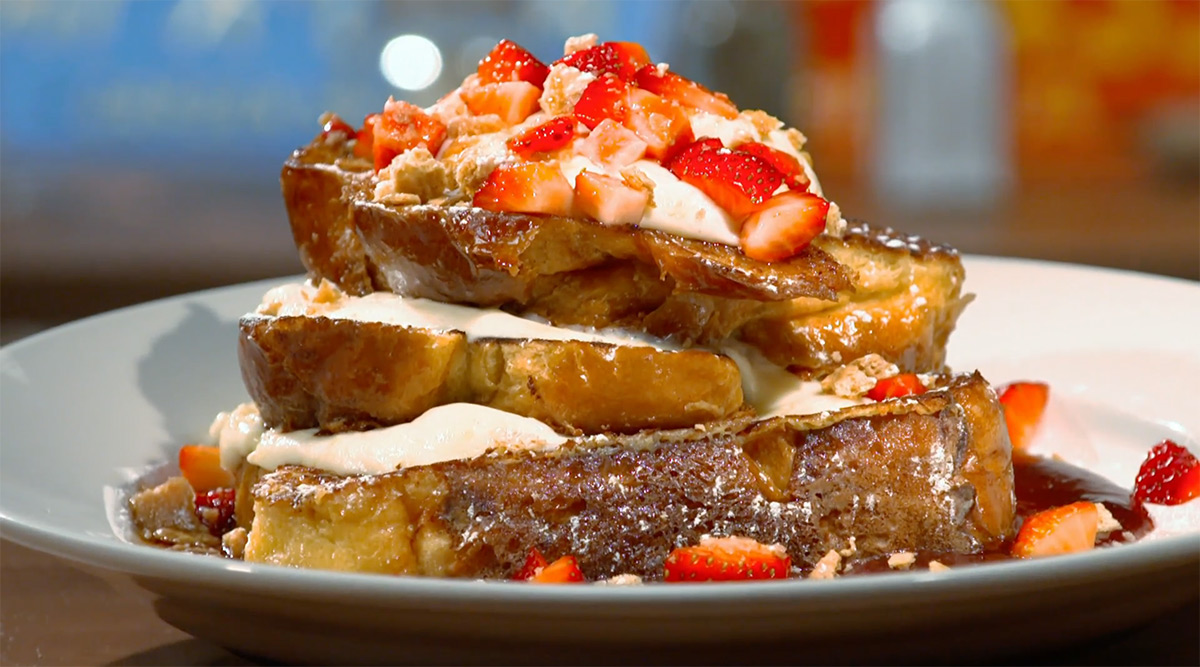 Strawberry Cheesecake French Toast – As Seen on Restaurant: Impossible
From the episode "Sub Shop SOS"
YOU'LL NEED
FOR THE FRENCH TOAST
12 slices of 1" thick-cut Challah Bread
2 cups milk
6 eggs
1 tbsp cinnamon
1 tbsp vanilla extract
3 tbsp granulated sugar
2 tbsp grapeseed oil
2 tbsp butter
FOR THE CHEESECAKE FILLING
16 oz cream cheese, softened
8 oz sour cream
3 tbsp powdered sugar
2 tsp vanilla extract
Zest of 1 lemon
FOR THE STRAWBERRY COMPOTE
2 lbs fresh strawberries, cleaned, trimmed and cut in half
6 oz granulated sugar
2 oz balsamic vinegar
Juice and zest of 1 lemon
FOR THE GARNISH
1 lb fresh strawberries, cleaned trimmed and diced
¼ cup crushed graham crackers
Powdered sugar, as needed
MAKE IT
FRENCH TOAST
In a mixing bowl, add the milk, eggs, cinnamon, vanilla extract, and sugar. Whisk these ingredients together.
Dip the sliced bread into the egg mixture.
Place a large non-stick sauté pan over medium heat with the grapeseed oil and butter.
Place the battered bread into the heated pan and allow to cook for about 2 to 3 minutes on each side or until the French toast is golden brown in color.
Remove from the pan and repeat for the rest of the French toast.
CHEESECAKE FILLING
In a mixing bowl, whisk the softened cream cheese, sour cream, powdered sugar, vanilla extract, and lemon zest together and set aside.
STRAWBERRY COMPOTE
In a medium sauce pot over medium heat, add the strawberries, sugar, balsamic vinegar, lemon juice and lemon zest. Stir and bring the mixture to a simmer for 12 to 15 minutes or until strawberries start to break down.
Using a blender, puree the compote mixture for 1 minute until smooth.
PLATING
Place ¼ cup of the strawberry compote on the bottom of the plate and spread 2 tbsp. of diced strawberries in compote sauce.
Next, place 1 piece of French toast on top of the compote and strawberries and spread 2 tbsp. of cheesecake filling on top of the French toast and garnish the cream cheese filling with 2 tbsp of diced strawberries.
Repeat the French toast / cheesecake filling / diced strawberries steps again twice, creating a triple stack of topped French toast.
Garnish with a tbsp of crushed graham crackers and powdered sugar.