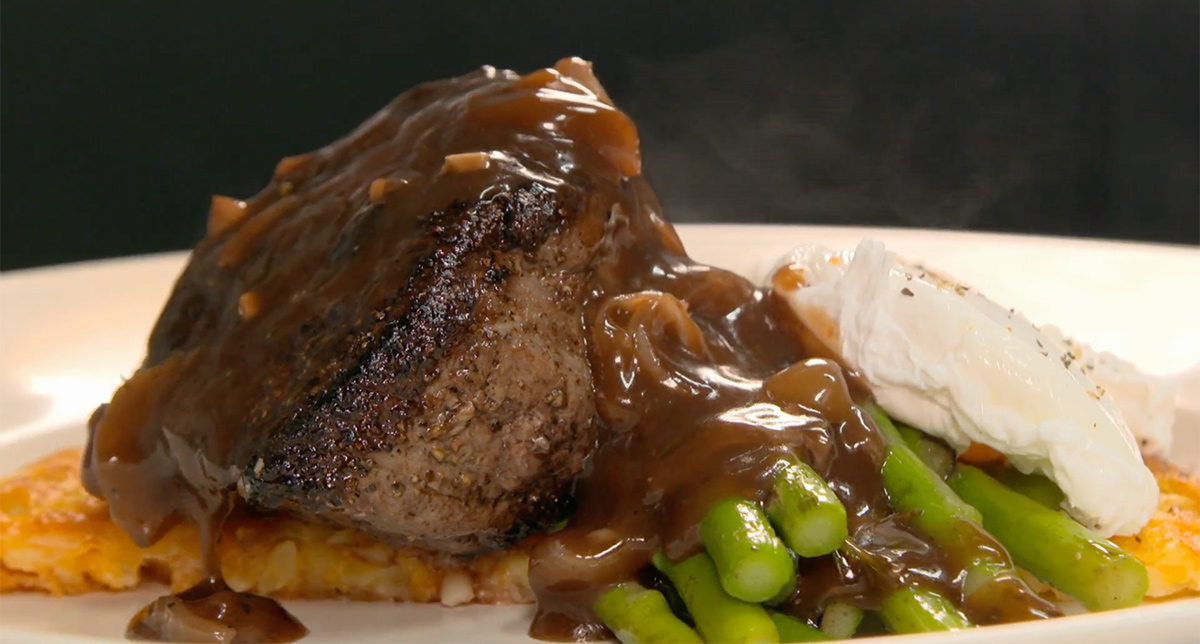 Classic Steak & Eggs – As Seen on Restaurant: Impossible
From the episode, "Sub Shop SOS"
SERVES 4
YOU'LL NEED
FOR THE BACON RED WINE DEMI-GLACE
½ cup raw bacon, diced
1 shallot, small diced
2 garlic cloves, minced
½ cup red wine
2 oz heavy cream
3 cups Demi-glace
2 tbsp sherry vinegar
FOR THE MAIN DISH
2 tbsp grapeseed oil
4 baseball steaks, 6 oz each
1 lb hash browns (store bought or homemade)
Kosher salt and ground black pepper, to taste
24 asparagus spears, bottoms trimmed off
8 eggs
3 tbsp distilled vinegar
MAKE IT
BACON RED WINE DEMI-GLACE
1) In small saucepan over medium heat, add the diced bacon and allow to render for 10 minutes, until bacon in light brown in color and crispy.
2) Add the shallots and garlic and allow to cook for another 2 minutes. Deglaze pan with the red wine and bring to a simmer.
3) Add the heavy cream and reduce by half. Add demi-glace and allow to reduce further.
4) Finish sauce with sherry vinegar. Add salt and pepper to taste. Set aside and keep warm.
MAIN DISH
1) Pre-heat oven to 350 degrees F.
2) In a large sauté pan over medium-high heat, add grapeseed oil and sear the steaks on all sides for 3 minutes.
3) Place the pan of seared steaks in the oven for 10 to 14 minutes until internal temperature reaches 125 degrees F.
4) Cook the hash browns until potatoes are crispy, and then season with salt and pepper.
5) Place a medium stock pot of salted water on high heat and bring to a boil.
6) Place the trimmed asparagus in boiling water and cook for 3 minutes until tender.
7) Place another small pot on the stove over medium-high heat and fill with water and the vinegar. Bring to a light simmer. Then place the eggs into simmering water and allowed to cook for 4 to 5 minutes or until the eggs float to the top and are set.
PLATING
1) Place the crispy hash brown potatoes on the plate.
2) Top the hash browns with cooked asparagus.
3) Place the cooked steak on top of asparagus.
4) Top steak with the sauce and place poached eggs beside the steak. Finish egg with salt and pepper to taste.