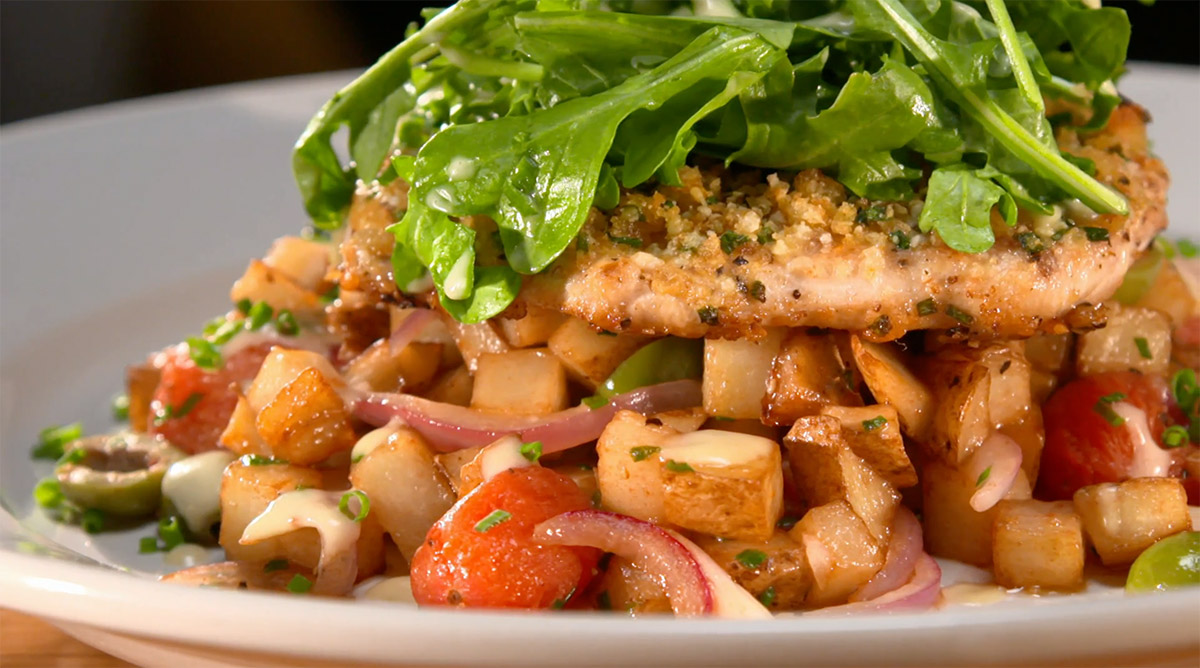 Swordfish Milanese – As Seen on Restaurant: Impossible
From the episode, "Floundering Fish House"
Serves 4
FOR THE SWORDFISH MILANESE
1 tbsp. grapeseed oil
4 each 6 oz swordfish steak portions, lightly pounded out and seasoned with kosher salt and ground black pepper
2 tbsp. Dijon mustard
1 cup panko breadcrumbs
3 tbsp. parmesan cheese
2 tbsp. fresh parsley, chopped
2 tbsp. grapeseed oil
1 cup potatoes, medium diced
2 tbsp. capers
1 cup cherry tomatoes, peeled
3 tbsp. green olives, sliced
¼ red onion, sliced
FOR THE LEMON VINAIGRETTE
3 tbsp. sherry vinegar
1 tsp. honey
1 tsp. Dijon mustard
¼ cup grapeseed oil
3 cups baby arugula
MAKE IT
SWORDFISH
Pre-heat oven to 375 degrees F.
In a large sauté pan over medium-high heat, add the 1 tbsp grapeseed oil.
Add the season pounded swordfish portions.
Sear fish on each side for 1 minute.
Next, lightly coat top of the fish with Dijon mustard then top with panko breadcrumbs, parmesan cheese and chopped parsley.
Place fish in a 375-degree oven and allow to cook for approximately 6 to 8 minutes until cooked through.
In a separate sauté pan over medium heat, add 2 tbsp. grapeseed oil and the potatoes. Stir and allow to cook for 3 to 4 minutes, allowing the potatoes to turn light brown in color and cook almost all the way through.
Next add capers, tomatoes, olives, and sliced onions.
Stir and continue to cook for another 2 minutes season with kosher salt and ground black pepper.
LEMON VINAIGRETTE
In a mixing bowl add sherry vinegar, honey, and mustard.
Using a whisk, slowly incorporate oil creating an emulsion and season with kosher salt and ground black pepper.
PLATING
Place potato mixture on the bottom of the plate.
Next, top the potato mixture with the cooked Swordfish Milanese.
Place the arugula and lemon vinaigrette in mixing bowl and toss.
Finish the dish with the tossed arugula salad on top of the Swordfish Milanese.