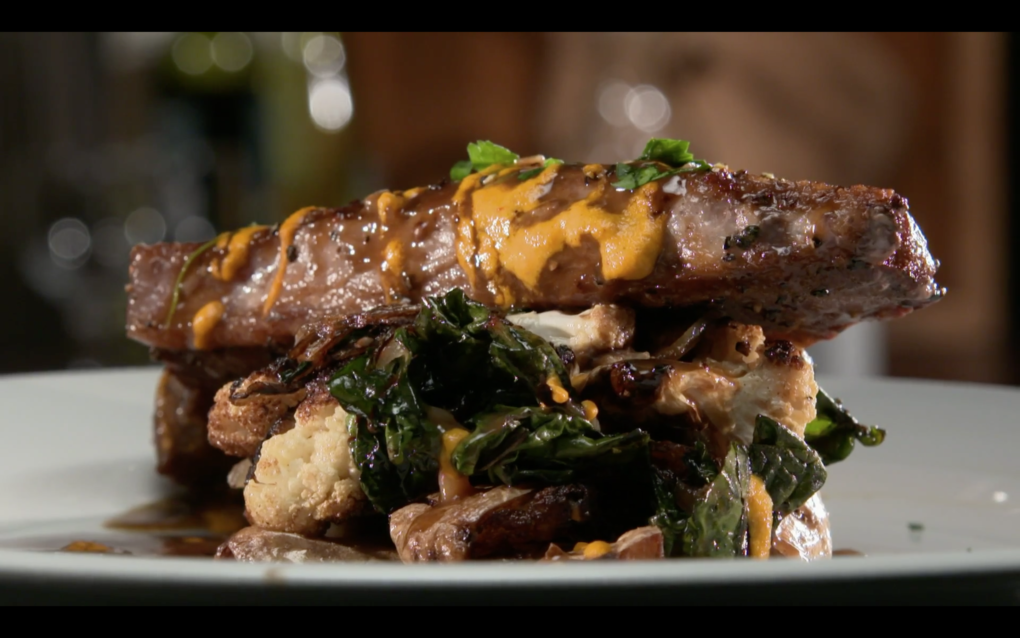 Steak Romesco – As Seen on Restaurant: Impossible
From the episode, "Old Habits Die Hard" (Perella's)
SERVES 5
YOU'LL NEED
FOR THE STEAKS
5 (10 oz) NY strip steaks
2 tbsp grape seed oil
20 fingerling potatoes, roasted
1 head cauliflower, cut into florets
2 bunches Swiss chard, chopped
16 oz beef sauce (veal demi glace)
1 tbsp butter
Sauce Romesco (see sub-recipe)
FOR THE SAUCE ROMESCO
2 roasted red peppers, cut into quarters
10 roasted cherry tomatoes
3 tbsp grapeseed oil
4 cloves garlic
1 tbsp roasted almonds
Juice of ½ lemon
MAKE IT
SAUCE ROMESCO
1) In a blender, add roasted peppers, tomatoes, and puree.
2) Next add oil, almonds, and garlic.
3) Finish with salt, pepper, and lemon juice.
STEAK
1) Season the strip steak with salt and pepper on both sides.
2) Place the steak in a sauté pan over high heat and sear on both sides.
3) Pull steak from the pan and finish in 350° oven for about 5 minutes until the internal temperature reaches 145° for medium rare or to desired temperature.
4) Season potatoes and cauliflower with salt and pepper. Roast separately in a 350° oven.
5) Blanch Swiss chard in a pot of boiling, seasoned water.
6) In a sauté pan over medium heat, add roasted potatoes, cauliflower, and Swiss chard. Season with salt and pepper.
7) In a small sauce pot, add beef demi glace. Bring to a boil.
8) Finish with butter, salt, and pepper.
9) Top steak with beef sauce, and sauce Romesco.