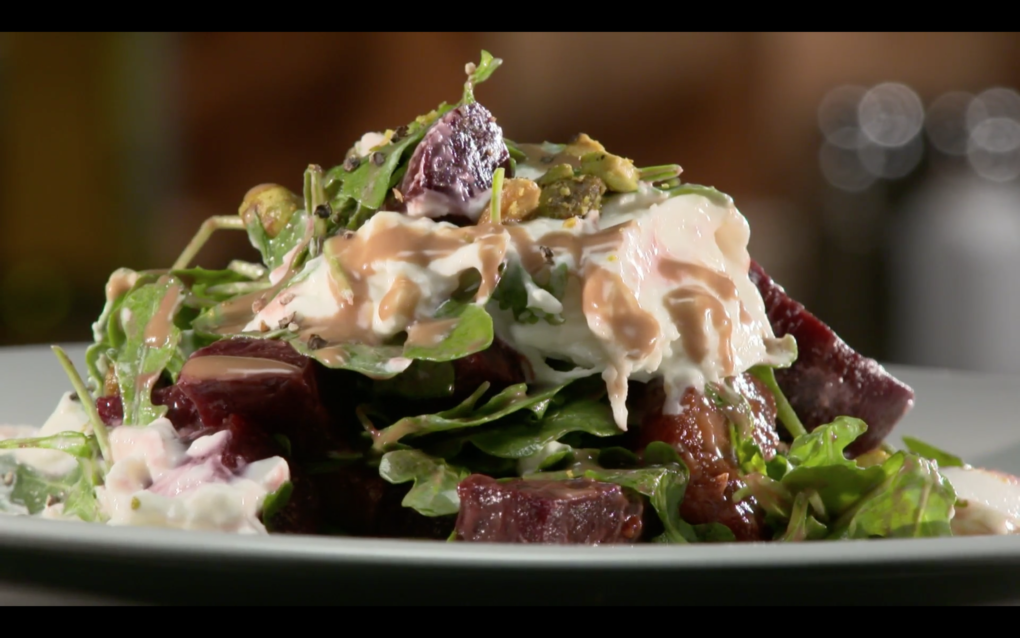 Crispy Pork Belly Salad – As Seen on Restaurant: Impossible
From the episode, "Old Habits Die Hard" (Perella's)
SERVES 5
YOU'LL NEED
FOR THE DRESSING
1 cup balsamic vinegar
3 cups extra virgin olive oil
1 tbsp Dijon mustard
1 cup honey
1 tbsp garlic
FOR THE SALAD
1 lbs pork belly or bacon, cut into 1-inch cubes
3 balls each Burrata, pulled
8 oz arugula
10 oz honey balsamic vinaigrette
3 whole red beets, roasted and cut into 1-inch cubes
3 tbsp pistachios
MAKE IT
BALSAMIC VINAIGRETTE DRESSING
1) In a large mixing bowl, add garlic, balsamic vinegar, and mustard.
2) Using a hand blender or whisk, slowly incorporate oil, creating an emulsion.
3) Season with salt and pepper.
SALAD
1) Crisp pork either in a sauté pan or in a 450° oven for approximately 10 minutes.
2) Place crispy pork belly in a mixing bowl and dress with honey vinaigrette.
3) Next add arugula, beets, season with salt and pepper, and toss.
Top with Burrata and pistachios and serve.