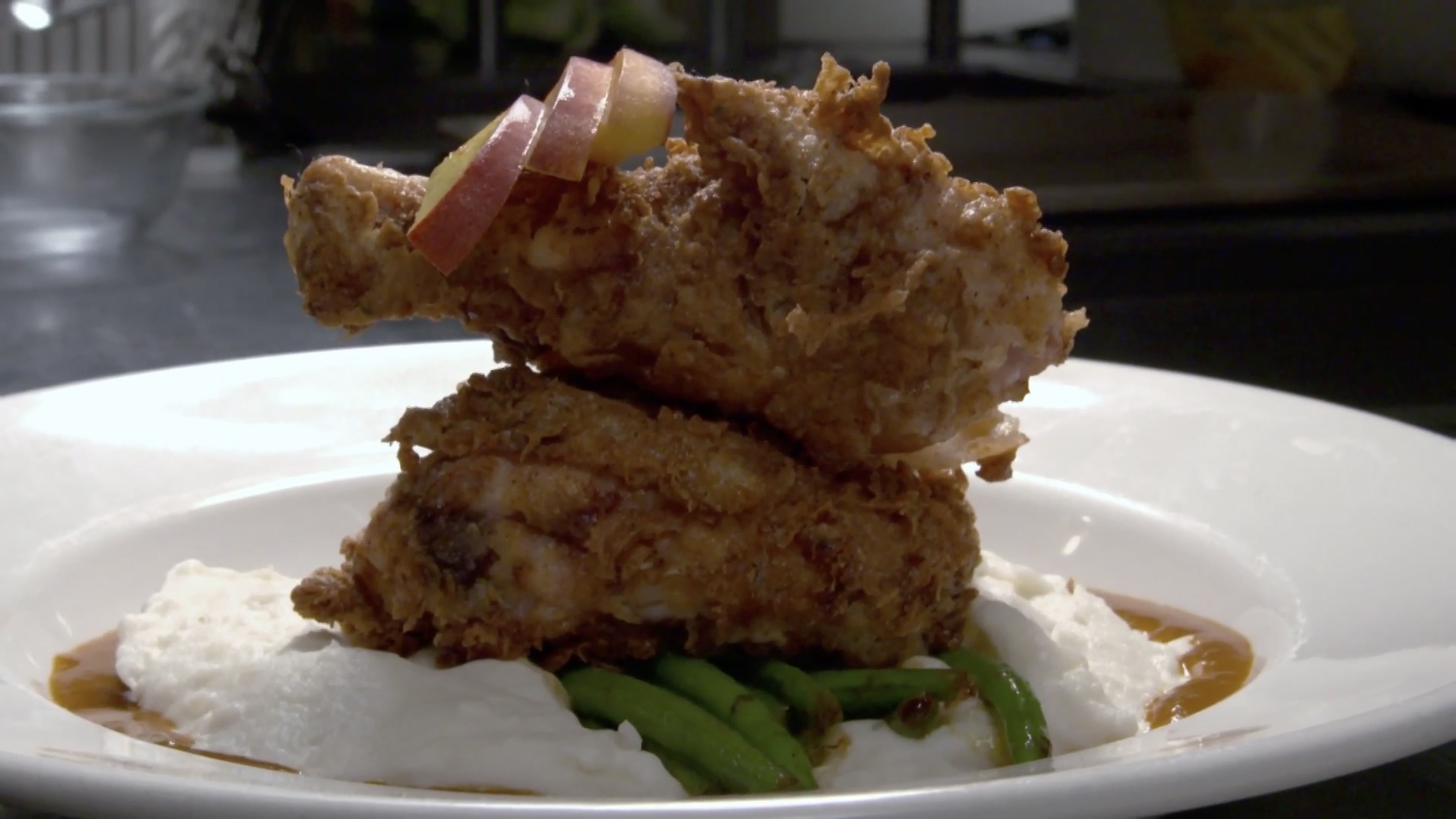 Smoked Fried Chicken with Peach BBQ Sauce – As Seen on Restaurant: Impossible
As seen on the Season 16 Restaurant: Impossible episode "Help Is On The Way"
SERVES 5
YOU'LL NEED:
5 each chicken legs and thighs
1 tbsp kosher salt
1 tbsp brown sugar
2 cups all purpose Flour
1 tbsp smoked paprika
1 tbsp paprika
2 cups butter milk
Peach BBQ
2 each local peaches (cut into quarter)
1 cup apple cider vinegar
1 tbsp brown sugar
1 tsp sriracha
¼ lb butter
Mashed Potatoes
4 each russet potatoes (peeled and medium dice)
¼ lb butter
1 pint heavy cream
Salt and white pepper
MAKE IT
Mashed Potatoes
1) In a medium sauce pot add potatoes and seasoned water. Bring to a boil.
2) Allow potatoes to boil for approximately 10 minutes.
3) Drop potatoes to medium simmer and allow to cook for 15 more minutes.
4) Potatoes should be cooked through at this point. Strain potatoes into a colander.
5) Allow potatoes to steam in the colander for 4 minutes allowing them to dry out.
6) If you have a ricer pass potatoes through, or you can use a stand up mixer with a paddle attachment. Another option would be to use a hand whisk.
7) In a small pot add heavy cream and butter and bring to a simmer allowing butter to melt into cream. Be careful not to allow the mixture to boil over.
8) Slowly incorporate butter and cream mixture into potatoes and season with salt and white pepper.

Peach BBQ Sauce
1) In a small sauce pot add peaches, apple cider vinegar, sriracha, and brown sugar.
2) Bring mixture to a boil.
3) Using a blender, puree peach mixture and butter.
4) Season with salt and pepper.
Smoked Fried Chicken
1) In a mixing bowl add salt, brown sugar, 1 tbs. smoked paprika, 1 tbs. paprika, and incorporate.
2) Coat each chicken leg and thigh with 1 tbs. of salt and sugar cure.
3) Place chicken in a 250° smoker for 2 hours.
4) Pull chicken from smoker and place in buttermilk 1 hour prior to frying.
5) In a mixing bowl add all purpose flour, 1 tbs. smoked paprika, and 1 tbs. paprika and incorporate.
6) Pull chicken from buttermilk and coat with seasoned flour. Place in a 350° fryer for 4 minutes until chicken is golden brown.
7) Serve on top peach BBQ sauce, mashed potatoes and sautéed green beans (optional).