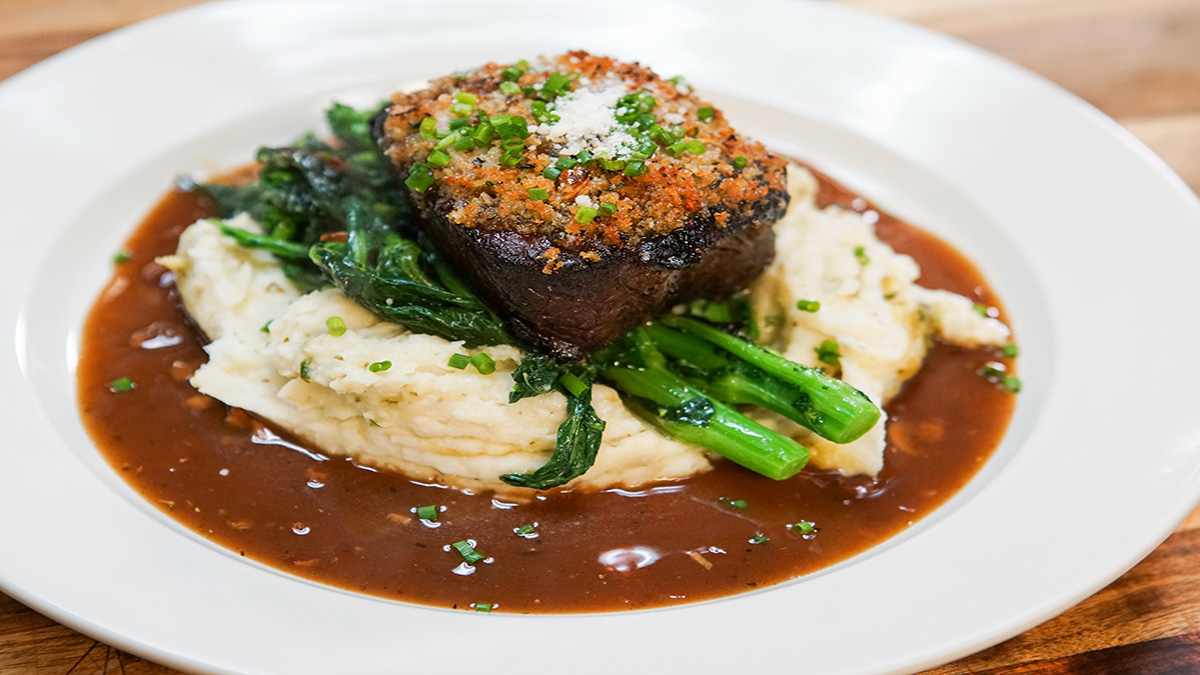 Steak Oreganata – As Seen on Restaurant: Impossible
From the episode, "Family Recipe for Disaster"
SERVES 4
YOU'LL NEED
FOR THE PESTO MASHED POTATOES
3 lbs large Idaho potatoes, peeled and quartered
4 tbsp butter
1 cup milk
1 cup heavy cream
3 tbsp pesto (store bought)
Salt and pepper, to taste
FOR THE BALSAMIC VINEGAR SAUCE
1 shallot, minced
2 garlic cloves, minced
1 cup balsamic vinegar
2 oz heavy cream
3 cups beef or veal demi-glace (store bought)
2 tbsp sherry vinegar
Kosher salt and pepper, to taste
FOR THE HERB BREADCRUMBS
1 shallot
2 cloves garlic
1 bunch flat leaf parsley
1 bunch cilantro
Zest of 1 lemon
4 cups panko breadcrumbs
Kosher salt and pepper, to taste
FOR THE MAIN DISH
2 tbsp grapeseed oil
4 baseball steaks (center cut of beef top sirloin, 6 oz each)
2 bunches broccoli rabe, blanched
4 garlic cloves, sliced
2 tsp chili flakes
Juice of 1 lemon
Kosher salt and pepper, to taste
MAKE IT
MASHED POTATOES
1) Bring a large saucepot of salted water to a boil. Add potatoes. Return to a boil and cook until fork-tender. Drain the potatoes from the water.
2) In a separate small saucepan heat butter, milk, and heavy cream.
3) Using a potato masher, or an electric hand mixer, slowly blend butter, milk, and heavy cream mixture into the cooked potatoes. Potatoes should be smooth and creamy.
4) Finish potatoes with pesto.
5) Season with salt and pepper to taste. Keep warm.
BALSAMIC VINEGAR SAUCE
1) In small saucepan over medium heat, add the shallots and garlic. Cook for 1 minute.
2) Deglaze pan with the Balsamic vinegar and bring to a simmer.
3) Add heavy cream and allow to reduce for 30 seconds.
4) Add the beef demi-glace and allow to come to a simmer.
5) Finish the sauce by whisking in sherry vinegar.
6) Add kosher salt and pepper and set aside. Keep warm.
HERBED BREADCRUMBS
1) Pre-heat oven to 300.
2) Place breadcrumbs on a baking sheet and allow to lightly toast for about eight minutes.
3) In a food processor add shallot, garlic, parsley, and cilantro. Pulse all ingredients together.
4) In a mixing bowl add breadcrumbs, garlic herb mixture, and lemon zest. Set aside.
MAIN DISH & PLATING
1) Pre-heat oven to 350.
2) Place a medium stock pot of salted water on high heat and bring to a boil.
3) Place the broccoli rabe into the boiling water and cook for 3 minutes until tender. Remove the broccoli rabe from the water and place into ice water to cool down.
4) In a large sauté pan over medium-high heat, add grapeseed oil. Season the baseball steaks with salt and pepper and sear on all sides for 3 minutes each.
5) Place the pan of seared steaks in the preheated oven for 9 to 12 minutes until internal temperature reaches 125 for medium-rare. Remove the cooked steaks from the pan and allow to rest while finishing the meal.
6) Use the same sauté pan that the steaks were cooked in and add sliced garlic and lightly toast. Then add broccoli rabe, chili flakes, and lemon juice.
7) Place the balsamic demi-glace on the center of the plate.
8) Place the pesto mashed potatoes on top of the sauce. Then add the broccoli rabe mixture. Next remove the steak from the oven and top with herbed breadcrumbs.
9) Place the steak on top of the broccoli rabe, and top with balsamic demi-glace.