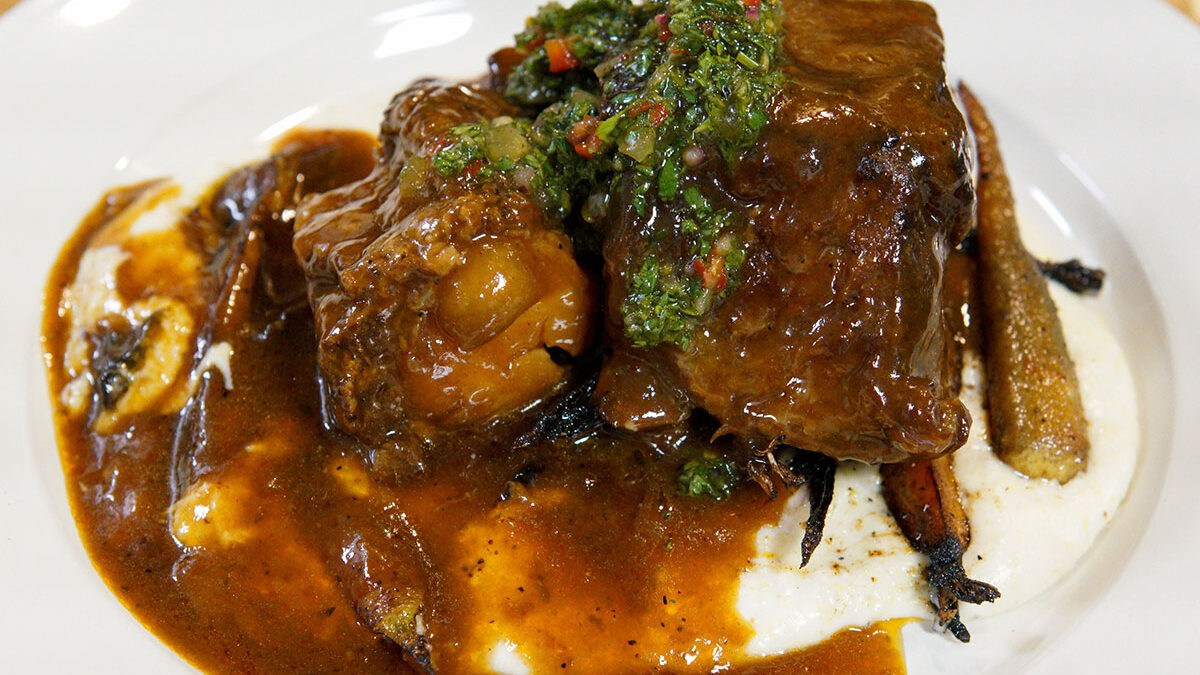 Peach BBQ Short Ribs & Grits – As Seen on Restaurant: Impossible
From the episode, "My Way or The Highway"
SERVES 4
YOU'LL NEED
FOR THE SHORT RIBS AND BRAISE
32 oz beef short ribs, bone out, cut into 8 oz portions
¼ cup grape seed oil
3 carrots, peeled and chopped
5 ribs celery, chopped
1 white onion, chopped
2 ripe peaches, pits removed and chopped
2 cups sweet white wine
4 cups beef stock
1 cup chicken stock
1 bunch thyme
Salt and pepper, to taste
FOR THE HERB SALAD
1 bunch parsley, chopped
1 bunch cilantro, chopped
1 shallot, diced
2 tbsp extra virgin olive oil
Juice of 1 lemon
Salt and pepper, to taste
FOR THE GRITS
2 cups milk
1 cup water
1 cup grits
½ cup cream cheese
2 oz cheddar cheese, shredded
1 stick butter
Salt and pepper, to taste
FOR THE VEGGIES
3 tbsp grapeseed oil
20 baby carrots, cut in half
1 white onion sliced
4 cloves garlic, sliced
Salt and pepper, to taste
MAKE IT
SHORT RIBS
1) Pre-heat oven to 325.
2) Season the short ribs liberally with salt and pepper.
3) In a roasting pan over medium-high heat, add grapeseed oil and short ribs. Sear short ribs on all sides and remove from the pan.
4) Add carrots, celery, and onions. Lightly sear. The veggies should be light brown in color.
5) Add peaches and allow to cook for approximately 2 minutes.
6) Deglaze the pan with white wine and allow to reduce. Add chicken stock, beef stock, and thyme. Add the short ribs back to the pan and cover.
7) Place the rib braise into the oven and cook for about 4 hours.
8) Pull short ribs from the oven and allow to cool in the braise.
9) Using a ladle remove 1 qt of the braising liquid and place in a separate pan. Set the liquid aside. This will be the sauce for the braised short ribs.
HERB SALAD
1) In a mixing bowl add parsley, cilantro, and shallots.
2) Add extra virgin olive oil and lemon juice.
3) Season with salt and pepper.
GRITS
1) In a saucepan add milk and water. Bring to a boil.
2) Using a whisk incorporate grits.
3) Drop temperature to a low simmer and cook for about 12 minutes, stirring occasionally.
4) Add cream cheese, cheddar cheese, and butter. Season and set aside.
VEGGIES
1) In a sauté pan over medium-high heat, add grapeseed oil and carrots.
2) Sear carrots for about 3 minutes, then add onions and garlic.
3) Lower the heat to medium-low and cover. Cook for about 4 minutes, stirring occasionally.
PLATING
1) Place a scoop of grits in the middle of the plate.
2) Top the grits with the carrot and onion mixture.
3) Place braised short rib on top of the carrots.
4) Top the short rib with the braising liquid that was previously set aside.
5) Finish with the chopped herb salad.