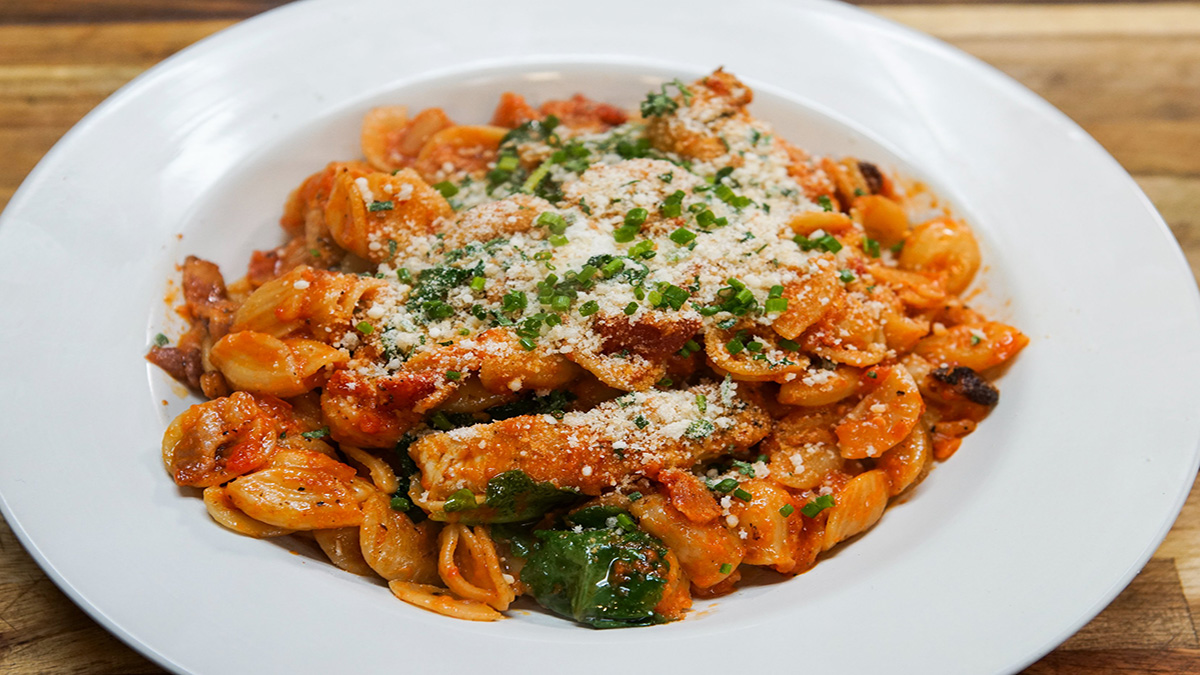 Grilled Chicken Orecchiette Pasta
From the episode, "Family Recipe for Disaster"
SERVES 4
YOU'LL NEED
FOR THE ROMESCO SAUCE
2 cups roasted red peppers
2 cups fire roasted tomatoes
½ cup sliced almonds
1 bunch parsley, chopped
1 bunch oregano, chopped
1 cup extra virgin olive oil
2 tbsp sherry vinegar
FOR THE MAIN DISH
4 portions boneless, skinless chicken breast (5 oz each)
1 lb orecchiette pasta
1 tbsp butter
12 oz bacon, diced
3 shallots, diced
8 oz baby kale
2 tbsp shredded Parmesan
3 tbsp toasted Panko breadcrumbs
2 tbsp chives, chopped
MAKE IT
ROMESCO SAUCE
1) Place all ingredients except the olive oil in a food processor fitted with the blade attachment.
2) Blend all ingredients together. Slowly incorporate olive oil.
3) Season with salt and pepper.
MAIN DISH & PLATING
1) Place sauce pot filled with salted water on the stove on high heat and bring to a boil.
2) Cook pasta in boiling water, according to the package instructions.
3) Pre-heat a grill to high.
4) Season chicken breasts and place preheated grill. Allow to cook for about 6-8 minutes on each side. Remove from the grill and slice into to strips.
5) In a separate large sauce pot over medium heat, add butter, bacon, shallots, and garlic. Allow to sweat.
6) Add grilled chicken. Stir and allow to lightly brown.
7) Add pasta, Romesco sauce and baby kale.
8) Place pasta in a bowl and top with chopped chives, Parmesan cheese, and the toasted breadcrumbs.