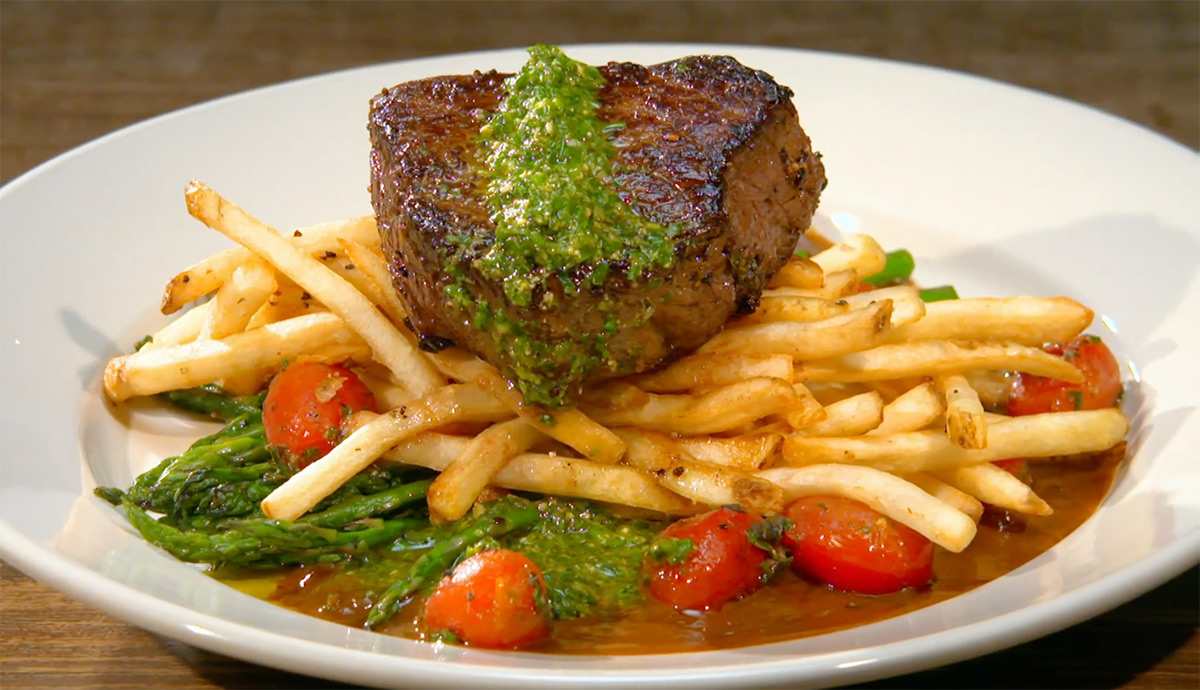 Steak Frites – As Seen on Restaurant: Impossible
From the episode, "Delusions of Grandeur"
YOU'LL NEED
FOR THE RED WINE SAUCE
1 shallot, minced
2 garlic cloves, minced
½ cup red wine
2 oz heavy cream
3 cups beef or veal demi-glace (store bought)
2 tbsp sherry vinegar
Kosher salt and pepper, to taste
FOR THE CHIMICHURRI SAUCE
1 shallot
2 cloves garlic
1 cup extra virgin olive oil
1 bunch flat leaf parsley
1 bunch cilantro
Juice and zest of 1 lemon
Kosher salt and pepper, to taste
FOR THE MAIN DISH
2 tbsp grapeseed oil
4 baseball steaks (center cut top sirloin) 6 oz each
16 oz French fries
Kosher salt and pepper, to taste
24 asparagus spears, bottoms trimmed off
24 cherry tomatoes
MAKE IT
RED WINE SAUCE
1) In small saucepan over medium heat, add the shallots and garlic and allow to cook for another 1 minute.
2) Deglaze pan with the red wine and bring to a simmer.
3) Next, add the heavy cream and allow to reduce for 30 seconds.
4) Add the beef demi-glace and allow to come to a simmer.
5) Finish the sauce by whisking in the sherry vinegar.
6) Add kosher salt and pepper to taste and set aside and keep warm.
CHIMICHURRI SAUCE
1) In a food processor add shallot, garlic, and some of the olive oil. Puree mixture. Add parsley, and cilantro and continue to puree mixture while slowly incorporating olive oil.
2) Last add lemon zest, juice, salt and pepper.
MAIN DISH & PLATING
1) Pre-heat oven to 350 degrees F.
2) Place a medium stock pot of salted water on high heat and bring to a boil.
3) Place the asparagus into the pot of boiling water and cook for 3 minutes until tender. Remove the asparagus from the water and place into ice water to cool down.
4) Score the bottom of the cherry tomatoes and place them in the same boiling water, allow to cook for approximately 1 minute and remove the tomatoes from the water and place into ice water to cool down.
5) Using a paring knife remove the skin from the tomatoes.
6) In a separate large sauté pan over medium-high heat, add the grapeseed oil, season the baseball steaks with salt and pepper, and sear the steaks on all sides for 3 minutes.
7) Place the pan of seared steaks in a 350-degree oven for 10 to 14 minutes until internal temperature steaks reach 125 degrees F for medium-rare. Remove the cooked steaks from the pan and allow the steaks to rest while finishing the meal.
8) Cook the store-bought French fries in the 350 degree F oven or air fryer and season with salt and pepper.
9) While the fries are cooking, use the same sauté pan that the steaks were cooked in, and re-warm the blanched asparagus and tomatoes over medium high heat in the pan juices from the steaks.
10) Place the red wine demi-glace on the center of the plate.
11) Place the warm asparagus and tomatoes on top of the sauce and place the crispy fries on top of the vegetables.
12) Place the steak on top of the fries and top the steak with chimichurri sauce.