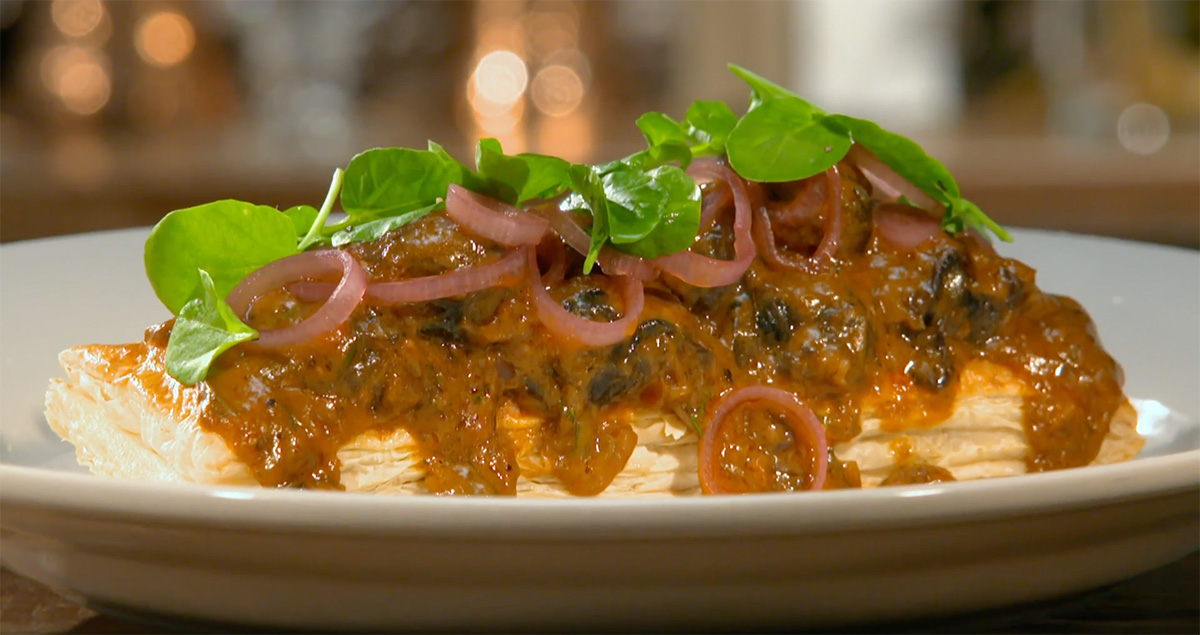 Escargot Bourguignon with Pickled Shallots – As Seen on Restaurant: Impossible
From the episode, "Delusions of Grandeur"
SERVES 4
YOU'LL NEED
FOR THE PICKLED SHALLOTS
3 shallots, thin sliced
½ cup red wine vinegar
¼ cup granulated sugar
1 tbsp honey
FOR THE PUFF PASTRY
4 pieces puff pastry cut into 2-inch squares
2 eggs
2 tbsp water
FOR THE ESCARGOT SAUCE
4 oz raw bacon, diced
2 shallots, diced
3 cloves garlic, minced
8 oz canned escargot
½ cup red wine
6 oz beef stock
2 tbsp boursin cheese
2 tbsp butter
FOR GARNISH
1 tbsp parsley, chopped
1 tbsp chives, chopped
MAKE IT
PICKLED SHALLOTS
1) In a small sauce pot over high heat, add vinegar, sugar, and honey and bring to a boil.
2) Pour vinegar mixture over sliced shallots, then cover with plastic wrap and allow to cool.
PUFF PASTRY
1) Pre-heat an oven to 400 degrees F.
2) In a mixing bowl crack both eggs and add 2 tbsp of water and whisk to together
3) Place puff pastry on a baking sheet lined with parchment paper, brush with the egg-and-water mixture and place in the pre-heated oven and allow to bake for approximately 12 minutes until golden brown.
ESCARGOT SAUCE
1) In a large sauce pan over medium heat, add the bacon and allow to render for 2 minutes.
2) Add shallots and garlic and allow to sweat for 2 minutes until onions are translucent.
3) Add escargot and allow cook over medium heat for 2 minutes.
4) Deglaze the pan with the red wine and allow to cook for 1 minute and then add the beef stock and allow to cook for another 3 to 4 minutes. Season with kosher salt and pepper.
5) Using a whisk, add the boursin cheese, butter and mix until incorporated.
PLATING
1) Place the baked puff pastry in the middle of the plate.
2) Using a spoon place escargot sauce on top of puff pastry.
3) Finish with chives, parsley and pickled shallots.