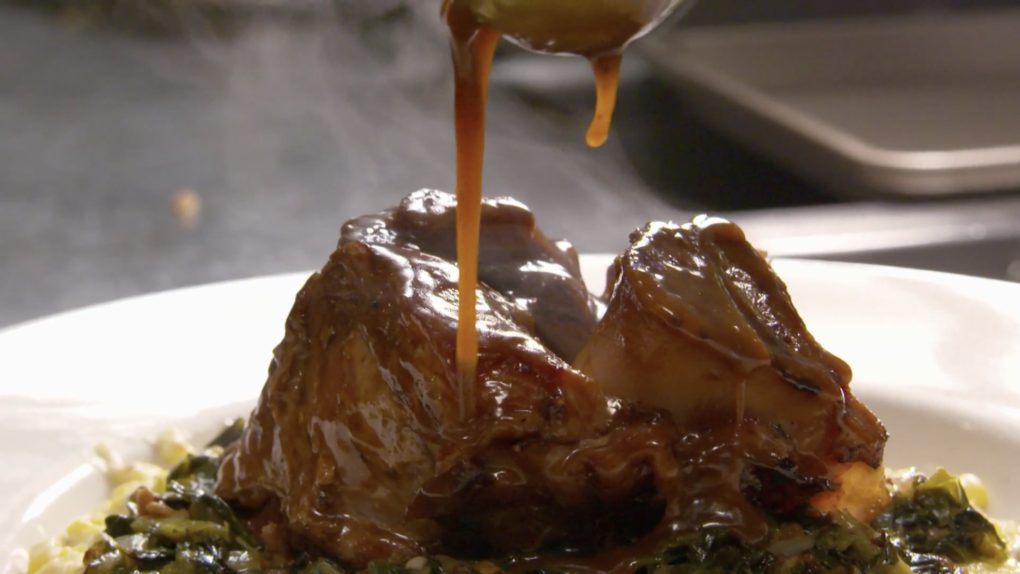 Southern Style Osso Buco – As Seen on Restaurant: Impossible
As seen on the Season 16 Restaurant: Impossible episode "Help Is On The Way"
SERVES 5
YOU'LL NEED:
Grits
3 cups water
1 cup heavy cream
1 cup grits
2 ears of corn, taken off cob
2 tbsp cream cheese
2 tbsp butter

Pork Shank
5 pork shanks
1 tsp kosher salt
1 tbsp brown sugar
1 tsp chili flakes
2 qts pork stock
Collard Greens
1 lb collard greens
1 tbsp bacon, medium diced
1 cup white wine vinegar
1/2 cup granulated sugar
3 cups chicken stock
1 tbsp grape seed oil
MAKE IT
Pork Shank
1) In a medium sized mixing bowl add salt, sugar, and chili flakes.
2) Coat each pork shank with 1 tbs. of the salt and sugar mixture. Allow to cure for 24 hours prior to cooking.
3) Using a smoker set at 250° cook pork shanks for 3 hours.
4) Finish shanks in the pork stock in a 300° oven for another hour.
5) Remove the pork shanks from the pot and reduce the liquid by half.

Grits
1) In a small sauce pot bring seasoned water and heavy cream to a boil.
2) Using a whisk add grits. Drop to a low simmer and cover.
3) Allow grits to cook for 10 minutes.
4) Finish with corn, butter, and cream cheese.

Collard Greens
1) In a medium sauce pot add bacon. Cook for 5 minutes until bacon is golden brown.
2) Add onions and cook for 4 minutes until onions are translucent in color.
3) Add chopped collard greens and stir.
4) Add chicken stock, vinegar, and sugar.
5) Season with salt and pepper.

TO PLATE
1) Place grits on plate first.
2) Top with collard greens.
3) Place the pork shank on top and if desired cover with the reduced pork stock. Garnish with fresh herbs.