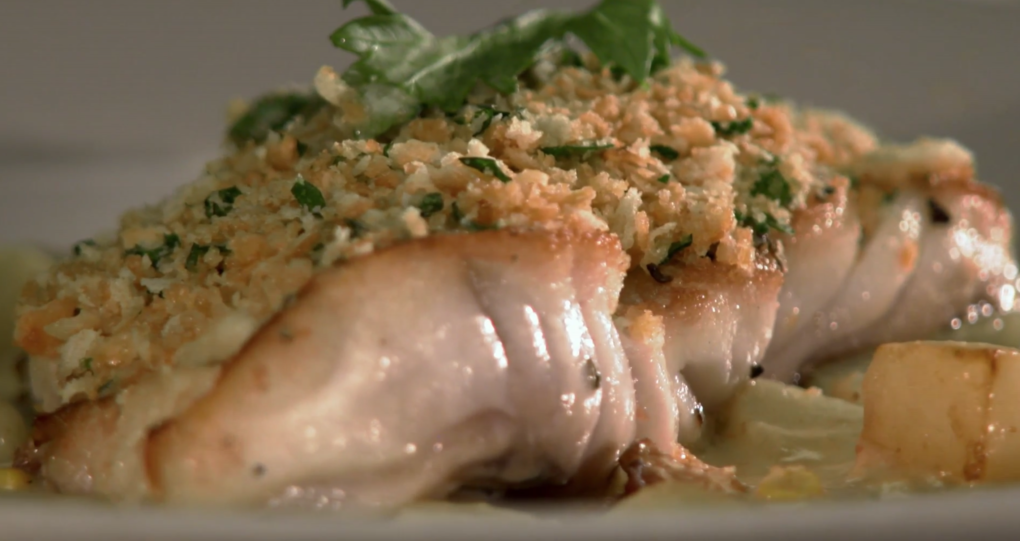 Cracker Crusted Grouper – As Seen on Restaurant: Impossible
As seen on the Season 16 Restaurant: Impossible episode "Help Is On The Way"
SERVES 5
YOU'LL NEED
For the Cracker Crumble
12 each buttery round crackers
¼ lb butter – melted
1 bunch parsley chopped
1 tsp black pepper
For the Grouper and Celery root sauce
5 six-oz grouper fillets
1 tbsp grapeseed oil
3 oz bacon medium diced
1 Yukon gold potato medium diced
½ celery root, peeled and medium diced
1 cup clam juice
1 tbsp all purpose flour
2 tbsp butter
¼ white onion medium diced
1 cup heavy cream
1 tsp cayenne pepper
½ cup white wine
MAKE IT
Cracker crumble
1) In a food processor add crackers and blend.
2) Slowly incorporate melted butter and continue to blend.
3) Next add chopped parsley and season with pepper.
Grouper and Celery root sauce
1) In a medium sauce pot over medium heat add bacon and allow to render until bacon is crispy.
2) Add celery root, onions, and potatoes. Allow to cook for 5 minutes.
3) Then add butter and allow to melt. Stir in flour to create a roux and cook for 3 minutes.
4) Next add white wine, clam juice and heavy cream.
5) In a separate sauté pan over high heat add grapeseed oil. Add fish and sear on both sides.
6) Remove fish from pan and top with cracker crumble. Finish in a 350°oven for 8 minutes. Fish should be cooked through.
7) Season with salt, pepper, and cayenne pepper.
8) Serve fish over the celery root sauce.