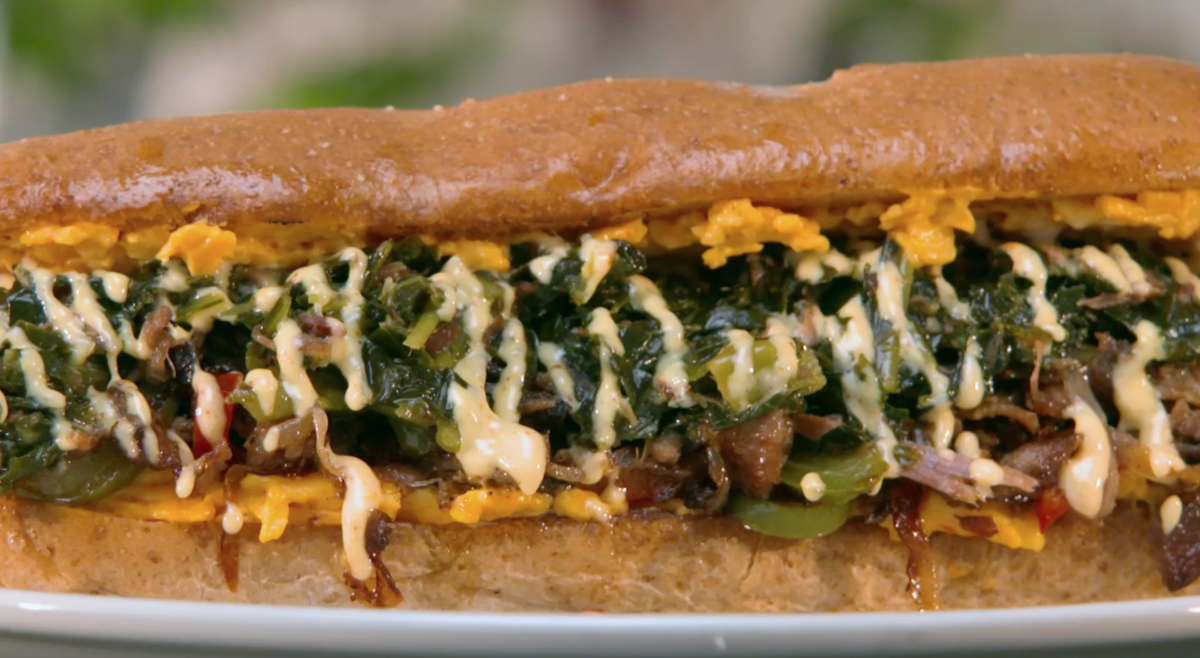 Southern Style Cheesesteak – As Seen on Restaurant: Impossible
From the episode, "Legacy on the Line"
SERVES 4
YOU'LL NEED
FOR THE COLLARD GREENS
1 tbsp grapeseed oil
½ cup diced raw bacon
1 lb fresh collard greens, chopped into large ribbon cuts
2 cups chicken stock
2 tbsp apple cider vinegar
2 tbsp sugar
Kosher salt and black pepper, to taste
PIMENTO CHEESE
1½ cups cheddar cheese, shredded
8 oz cream cheese, room temperature
½ cup mayonnaise
1 clove garlic minced
1 tsp ground cayenne pepper
4 oz diced pimento
Salt and pepper to taste
1 cup heavy cream
CAJUN SPICED AIOLI
1 cup mayonnaise
3 cloves garlic, minced
2 tbsp Cajun spice
Juice and zest of 1 lemon
FOR THE SANDWICH
4 hoagie style rolls
2 tbsp grapeseed oil
1 tbsp butter
24 oz shaved beef (skirt steak)
2 red bell peppers, sliced
2 white onions, sliced
2 garlic cloves, minced
1 oz dry white wine
16 oz store bought breaded okra or straight cut French fries
MAKE IT
COLLARD GREENS
1) In a large sauce pot over medium heat, add grapeseed oil and bacon. Render until crispy.
2) Add collard greens and stir, cooking for about 5 minutes.
3) Add chicken stock, vinegar, sugar and bring to a simmer. Turn down the heat to low and cover. Continue to cook collard greens for 25 to 30 minutes until tender. Season with salt and pepper to taste.
PIMENTO CHEESE
1) In a bowl place cheddar cheese, cream cheese, mayonnaise, garlic, cayenne pepper, pimentos, salt and pepper.
2) Using a hand blender, slowly incorporate heavy cream. The sauce should be thin in consistency and able to be poured.
CAJUN SPICED AIOLI
1) In a bowl add mayonnaise, minced garlic, cajun spice, zest and juice from a lemon – stir to combine.
SANDWICH
1) In a skillet over medium heat add grapeseed oil, butter, and hoagie roll, facedown. Toast the hoagie roll for about 2 minutes or until golden brown in color.
2) Add the shaved beef to the pan and sauté. Cook for about 4 minutes or until it's golden brown in color.
3) Add peppers and onions. Cook for another 4 minutes.
4) Spread pimento cheese on the bottom of the toasted hoagie roll.
5) Top the hoagie roll with the shredded beef, peppers, and onions.
6) Then top the entire sandwich with the collard greens.
7) Finish the sandwich with the Cajun Spiced aioli.
8) Serve with French fries or fried okra (like we did on the show).