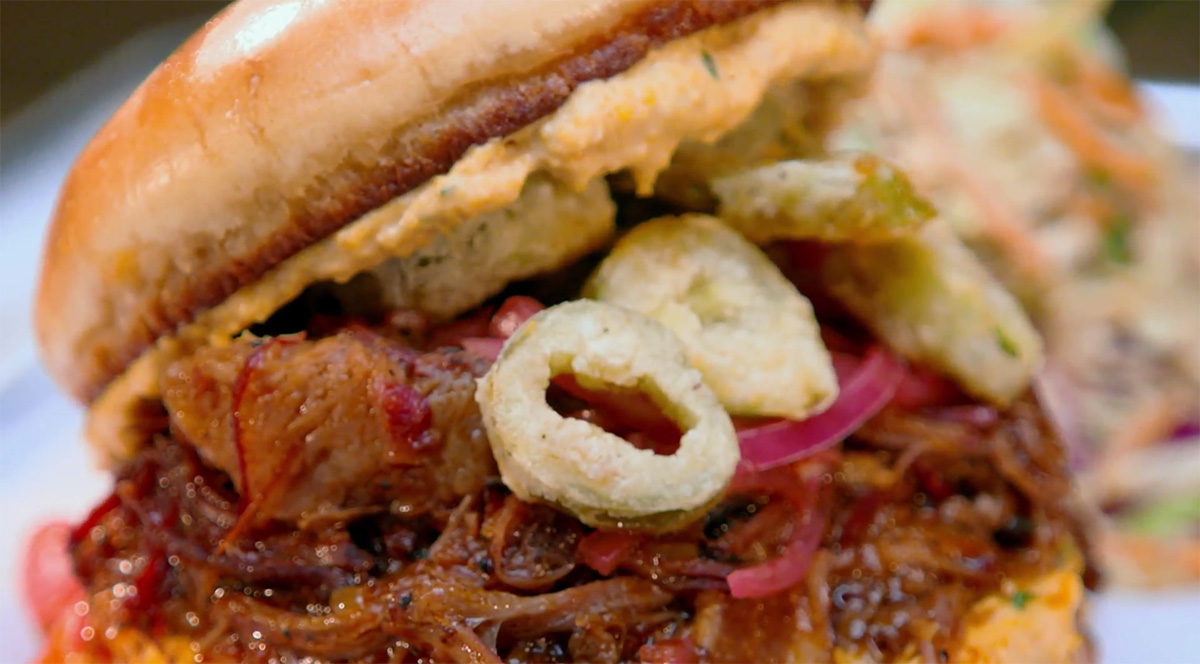 Jalapeno Popper & Braised Beef Sandwich – As Seen on Restaurant: Impossible
From the episode, "Anguish in Abilene"
SERVES 4
YOU'LL NEED
FOR THE BRAISED BEEF
3 lbs beef chuck
2 tbsp BBQ spice
2 onions, diced
2 carrots, peeled and diced
4 garlic cloves, minced
32 oz dark beer
1 qt tomato salsa
3 tbsp chipotle adobo
4 oz sweet style BBQ sauce
1 qt chicken stock
4 brioche buns
2 tbsp grapeseed oil
1 tsp butter
FOR THE BEER CHEESE
3 oz lager style beer
8 oz cheddar cheese, shredded
2 oz cream cheese
2 cloves garlic, minced
1 tsp Worcestershire sauce
2 tsp Dijon mustard
1 tsp hot sauce
FOR THE FRIED JALAPENOS
2 jalapeno peppers, sliced
1 cup buttermilk
1 ½ cups corn starch
MAKE IT
BRAISED BEEF
1) Pre-heat a smoker to 225.
2) Season beef with salt, pepper, and BBQ spice.
3) Place beef in the smoker and allow to smoke for 3 hours.
4) While your beef is smoking, place onions, carrots, and garlic in a pot. Allow to sweat.
5) Add beer, tomato salsa, chipotle adobo, sweet style BBQ sauce, and chicken stock.
6) Remove beef from the smoker and place in the braising liquid. Cover.
7) Allow to simmer for approximately 2 hours then remove from heat.
8) Allow beef to cool in the braise.
9) Once beef is cool enough to touch, shred with forks.
BEER CHEESE
1) In a food processor add beer, cheddar cheese, cream cheese, garlic, Worcestershire sauce, Dijon mustard, and hot sauce. Incorporate together.
FRIED JALAPENOS
1) Pre-heat a tabletop deep fryer or an air fryer.
2) Place sliced jalapenos in buttermilk.
3) Remove jalapenos from the buttermilk and coat in cornstarch.
4) Place in a fryer and cook for approximately 2 minutes or until golden brown in color.
PLATING
1) In a sauté pan over medium heat add grapeseed oil and butter.
2) Add brioche bun and toast until light brown.
3) Dress the brioche bun on both sides with beer cheese.
4) Top with shredded beef and crispy jalapenos.