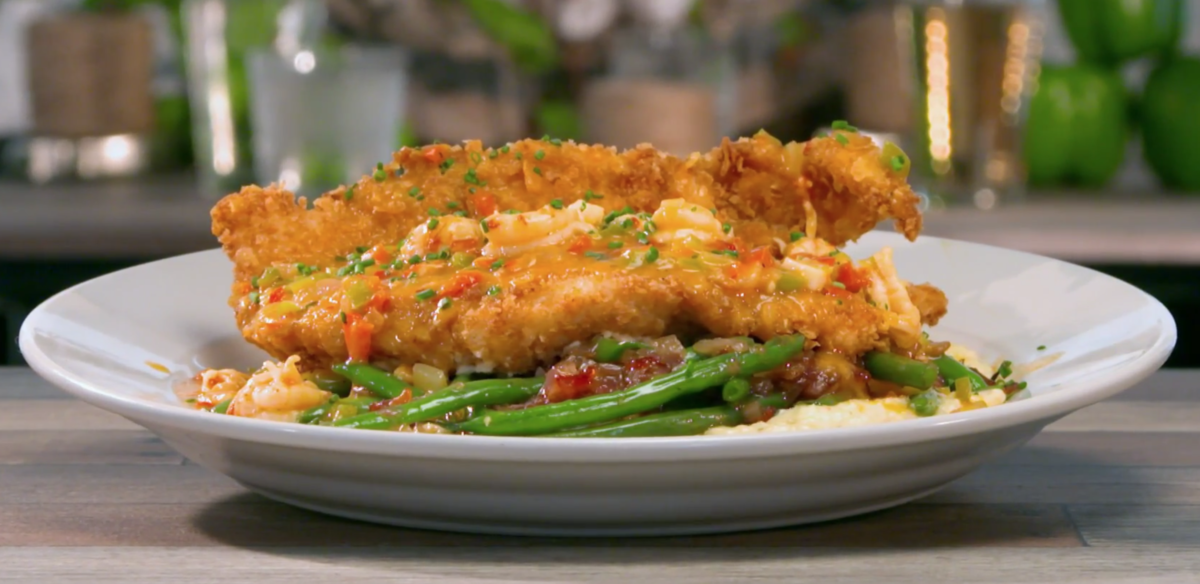 Corn Flake Crusted Chicken with Étouffée – As Seen on Restaurant: Impossible
From the episode, "Legacy on the Line"
SERVES 4
YOU'LL NEED
FOR THE ÉTOUFFÉE SAUCE
½ lb butter
1 white onion, diced
3 celery ribs, diced
1 red bell pepper, diced
3 garlic cloves, diced
1 pt all-purpose flour
3 tbsp tomato paste
1 cup white wine
2 qts chicken stock
2 tsp Worcestershire sauce
1 tsp hot sauce
Juice of 1 lemon
1 tbsp Creole Spice
FOR THE BACON JAM
1 lb bacon, diced
1 white onion, diced
1 cup sweet chili sauce
¼ cup rice wine vinegar
2 tbsp granulated sugar
1 stick butter
CHEDDAR POLENTA
2 cups water
2 cups heavy cream
1 cup polenta
3 tbsp cream cheese
1 cup shredded cheddar cheese
FOR THE CHICKEN
4 boneless skinless chicken breasts, pounded ½ inch thick
2 cups all-purpose flour
4 eggs
1 cup Panko breadcrumbs
1 cup corn flakes, crushed
16 oz green beans, blanched
Sliced chives (for garnish)
MAKE IT
ÉTOUFFÉE SAUCE
1) In a large sauce pot over mediu add butter, onion, celery, and bell pepper. Cook for about 4 minutes.
2) Add garlic and cook for another 2 minutes.
3) Stir in flour and continue to cook at a low temperature, stirring frequently.
4) Add tomato paste and cook for another 3 minutes.
5) Deglaze the pan with white wine, chicken stock, Worcestershire sauce, hot sauce, lemon juice, and creole spice.
6) Season with salt and pepper and set aside.
BACON JAM
1) In a small sauce pot over medium-high heat, add bacon and allow to render. Cook for about 8 minutes or until the bacon is brown and crispy.
2) Add white onion and cook for another 4 minutes or until the onions are cooked through and translucent.
3) Add sweet chili sauce, rice wine vinegar, and granulated sugar.
4) Bring mixture to a boil. Continue to stir.
5) Remove the mixture from the heat and stir in butter.
CHEDDAR POLENTA
1) In a medium sauce pot add water and milk and bring to a boil.
2) Using a whisk, slowly incorporate polenta.
3) Cook polenta over medium heat for approximately 12 minutes, stirring occasionally.
4) Remove the polenta from the heat and incorporate cream cheese and shredded cheddar.
CHICKEN
1) Pre-heat an air fryer or deep fryer to 350 degrees.
2) Season the chicken breast with salt and pepper.
3) In three separate bowls add flour, eggs, and Panko breadcrumbs with crushed corn flakes.
4) Place the pounded chicken breast first in the flour, then in the egg, and finally in the Panko/corn flake mixture.
5) Place chicken breast either in the air-fryer or tabletop fryer and cook for about 8 minutes, or to an internal temperature of 165 degrees.
PLATING
1) In a sauté pan over medium-high heat, add blanched green beans and bacon jam.
2) On a plate add polenta and then top with green beans.
3) Top with crispy fried chicken.
4) Cover the chicken with Étouffée sauce.
5) Finish the chicken with sliced chives.