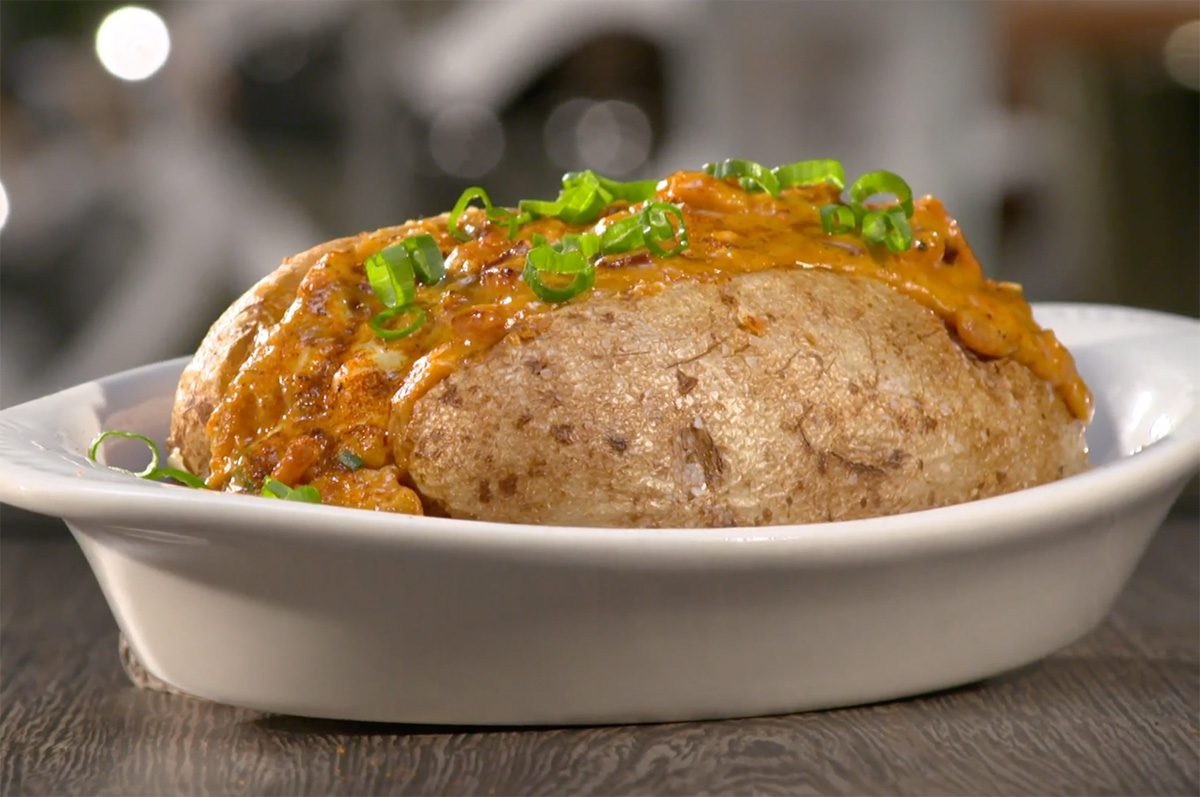 Smothered Baked Potato – As Seen on Restaurant: Impossible
From the episode, "A Friendship in Peril"
SERVES 4
YOU'LL NEED
FOR THE POTATO
¼ cup kosher salt (for pan)
4 large Russet potato
2 tbsp grapeseed oil
FOR THE CHEESE SAUCE
6 oz whole milk
8 oz American cheese
8 oz cheddar cheese, shredded
1 tsp Cajun spice
FOR TOPPING & GARNISH
4 oz bacon, diced
1 white onion, diced
4 oz ham, diced
8 oz roasted turkey breast, diced
2 tbsp scallions, sliced
Cajun spice, as needed
MAKE IT
POTATO
1) Preheat oven to 425 degrees Fahrenheit.
2) Make a bed of salt on a baking sheet.
3) Rinse and pat dry potatoes.
4) Toss potatoes in a bowl with oil, and season with salt and pepper.
5) Place potatoes on bed of salt and bake for 45 minutes or until fork tender.
CHEESE SAUCE
1) In a saucepan, bring milk to a simmer.
2) Whisk in American and cheddar cheese until smooth.
3) Add Cajun spice and set aside.
TOPPING
1) Render bacon in a sauté pan until just beginning to crisp.
2) Sweat onions in bacon for 2-3 minutes or until translucent.
3) Add ham and turkey and cook for 1 minute.
4) Add cheese sauce and bring to a simmer.
PLATING
1) Split potatoes open lengthwise.
2) Fill with meat topping and cheese sauce.
3) Finish with scallions and a pinch of Cajun spice.